Australian Open day seven: Barty beats Anisimova, Monfils in action – live!
Oh yes! Monfils raises break point and absolutely spanks a forehand winner from the middle of the baseline into the forehand corner! The handspeed there, oof madone! Kecmanovic 5-7 (4)6-7 3-4 Monfils
Monfils and Kecmanovic are 3-3 in set three, but as I type that, Monfils makes 0-30 on the Kecmanovic serve. Kecmanovic, though, wins four points in a row … only to be diddled by an incredible lob; deuce it is, then again when Monfils nails a blazing forehand. Meantime, Carreno Busta has started well against Berrettini, a love hold giving him 2-1.
Berrettini had to survive a four-hour-plus thriller in the last round, beating Carlos Alcaraz 10-5 in a tiebreak decider. That's no mean feat – Alcaraz is going to be very serious – so much so that there was a school of thought saying if Berrettini was going to win a major, it'd have to be soon, because Alcaraz and others have even more talent than him, so he needs to get it done before they're at the necessary level.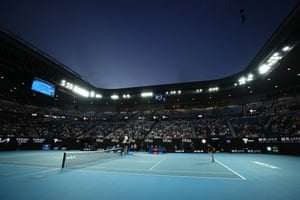 Kecmanovic gets himself to deuce on the Monfils serve, so Monfils clouts down an ace and quickly closes out. He leads 7-5 7-6(4) 2-2.
Next on Laver: Carreno Busta [19] v Berrettini [7]. That should be decent…
"I'm enjoying the AO coverage you and your colleagues give us," emails Craig McEwan. "I see Madison Keys beat Paula Badosa earlier. That's a big result I think. Keys getting back to her best maybe?"
I hope so. I really enjoy her, and Badosa too, but her problem has always been the mental game – I can't get her US Open final against Sloane Stephens out of my mind, where she just couldn't settle playing so big a match against a good mate and totally collapsed. But she's gorra lorra talent, and women's tennis being women's tennis – the least predictable sport in the world – I'd not be totally shocked if she did something spectacular. At 26, she's still got time.
Oh go on then, more Barty, speaking to Europsort. "No pressure, just fun," she says, and she loved seeing a dog in the crowd helping a member of it. She's trying to serve towards her opponent's weakness or to set up the next shot, and is especially pleased she broke back immediately after being broken herself "and put Amanda under the pump."
Asked who she learns from, she says she doesn't watch that much tennis apart from the match before her to see when she's on – there's another sport in Australia that she's into, she reminds us, having previously been a cricketer. How much talent is too much talent? Er none, especially when its purveyor wears it so beautifully. She's just trying to do her thing, she concludes, and yes, that definitely appears to be the case.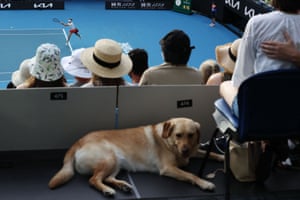 Barty says it's much better playing in front of fans – does every player get asked that after every match? – and that Anisimova is an incredible athlete and competitor, able to play every point seriously. She could be describing herself there, then notes that all she can do is be her and she's pretty good at it.
She reckons Pegula played really well today, toughing out big points from the back. She doesn't think they've played before but they've definitely practised together so "No secrets, come in here, compete, enjoy it."
She is a spectacularly pleasant, charismatic person, with the tennis to match.
Monfils has taken a brilliant breaker and now leads Kecmanovic 7-5 7-6(4).
If I'm honest, Anisimova looked a long way off. She'll get better quickly, but the nous and hands gap is significant.
Anisimova swipes a forehand long, and that is that! Barty is just brilliant, so clever, so calm and so consistent. She meets Pegula next; good luck, Jessica old mate.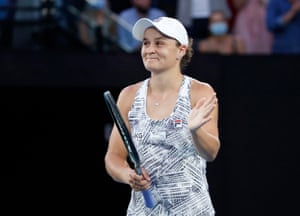 Excellent dee-fence from Monfils earns him 4-4, while a forehand return onto the line gives Barty two match points.
Kecmanovic gets the first mini-break, and just as it looks like Monfils has retrieves it via backhand slice zoning over the net, he finds a terrific volley for 4-3. Back on Laver, Barty consolidates to 15 and is a game away at 6-4 5-3.
A banging forehand arranges Barty a deuce, and break point down, Anisimova folds under pressure – not necessarily the stage of the match, but the pressure of playing someone you know rarely misses. She goes long, and this is nearly over. Barty 6-4 4-3 Anisimova
Two set points saved and a big forehand earns Kecmanovic a second-set breaker. This development pleases him.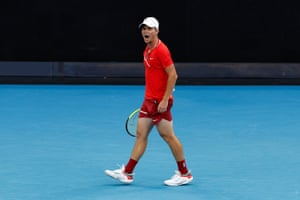 Kecmanovic is serving to stay in the second set at 5-6, having lost the first 7-5. At 0-15, he'll have been having flashbacks, at 15-all he nets a backhand for no reason whatsoever, and at 30-all he goes long on the forehand for no reason. I say no reason, I mean P-R-E-S-S-U-R-E, but Monfils then nets on the run, and we're at deuce. Not for long, first Kecmanovic misses a game point then Monfils earns a set point, setting it up with an excellent backhand only to net that same forehand on the run. Back to deuce we go while, on Laver, a hold each means it's 3-3 in set two.
Is Barty about to be broken again? Er no. At 30-40, she finds a big serve, and on advantage, Anisimova slips when poised to unleash a big forehand. Barty 6-4 2-2 Anisimova
Oh dear. Barty is so consistent, a consequence of mental equanimity and a rounded game. She quickly makes 15-40, and though Anisimova saves one break-back point, she then swipes a backhand wide and plenty. That is going to sting, and I'd not be surprised to see Barty accelerate away from here.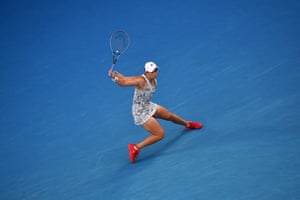 Monfils has broken Kecmanovic back in set two and now leads 7-5 4-4.
Now then: Anisimova gets to 15-40 and lands a really good forehand on the line, but Barty gets it back and when she tries the same again, she drops fractionally long. However! Anisimova gets a second serve to go out, she wallops a forehand return, and Barty can't respond! That's the first time she's been broken in the competition, and do we got ourselves a ball-game?!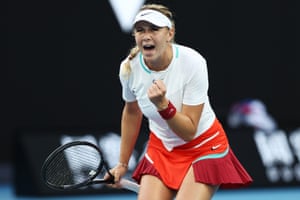 Ooh yeah! Barty coaxes a luscious forehand down the line and into the corner for deuce, then clouts a forehand winner for break point; Anisimova is hanging on here, but a forehand error from Barty gives her deuce and she closes out well enough. Courtside, Barbara Schett notes that a big difference between the players is the spin Barty's able to impart on the ball – but she's also won 63 consecutive service games, which is ridiculous. Barty 6-4 0-1 Anisimova
Ach, Barty is just so good. An ace out wide gives her 40-0, then a serve down the middle allows a clean-up forehand at the net. She takes the first set 6-4, but the difference between the players is chasmic. Barty 6-4 Anisimova
Anisimova finds her groove with consecutive aces but still finds herself at 40-30, whereupon another biggie forces Barty to serve for it.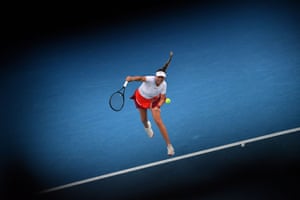 Hello! Barty seems to lose concentration and a netted forehand hands Anisimova an immediate break-back point at 30-40, followed by a second serve to go at. Understandably, she unloads the suitcase when it arrives, but the length was decent and the backhand return goes long – way long. A rueful smile follows, and seconds later the game is done. Barty 5-3 Anisimova
Meantime, Kecmanovic has broken Monfils and leads 2-1 in set two, Monfils having taken set one 7-5.
A fantastic forehand return from Barty, cross-court and breaking the sideline, sets up a gorgeous backhand-slice winner from the opposite corner and that's 0-15. 0-30 follows, and Anisimova is being gradually broken down here, the broadsword to Barty's rapier. Another point follows that's typical of the match, Barty directing her opponent around the court before unfurling that backhand-slice winner again; 0-40. Anisimova gets the power going to claw back two break points, but is then incited to go long on the forehand, and that was coming. Barty leads 4-3 and looks great out there.
Barty holds to love for 3-3 while, on Cain, Kecmanovic is struggling to hold, trailing 5-7 0-1.
Yup, Barty is working this out. She's mixing up spins and speeds, and at 15-30 comes to the net again, sending an underarmer to the corner then putting a way a volley. But she wastes her first break point, sending a forehand return long, then nets on the backhand; neither was necessary, but Anisimovic did well to get her first serves in and eventually secures another hold with the help of an ace. I guess if she can keep doing that, she can reduce the contest to a few points here and there, in which case she's a good chance of winning it, but already it's clear that the style match-up suits Barty. Anisimova leads 3-2.
First break point of the match and it goes to Anisimova, but she makes a hash of a backhand from the corner when she didn't need to, and Barty quickly cleans up. She's much the better mover of the two, and based on what we've seen so far, I'd be surprised if she didn't find a way to win this. Barty 2-2 Anisimova
There we go! More set points for Monfils, and this time he doesn't let them (all) slip away, thunking down a shoulder-high winner to the delight of Elina Svitolina, his wife, in his box. Kecmanovic 5-7 Monfils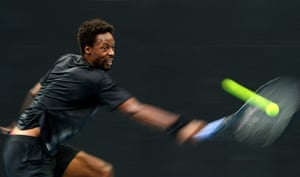 A lovely exchange at the net, Barty hanging in there via lob, before clattering down a smash, is the best point of the match so far – it looks like she's got the touch and tennis-brain advantage – but Anisimova holds easily enough for 2-1.
Barty nets a forehand, then redeems it with that kick-serve of hers – her ability to do so is doubly impressive given her height, which is to say Stefan Edberg she is not. An ace follows, and it's quickly 1-1.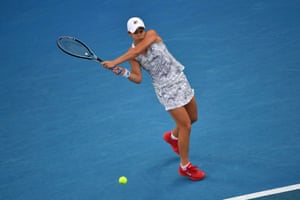 On Laver, Anisimova has again started slowly, facing a break point first up; she saves it with a booming serve and an inside-out forehand from mid-court. She quickly cleans up for 1-0, and we'll now get a look at Barty's serve.
Back on Cain, Kecmanovic has just saved three set points at 4-5 in set one; Monfils was as chuffed by this development as you'd expect.
I'm looking forward to the Barty match, partly because how can you not look forward to watching such ray of sunshine, but also because Anisimova can play – just ask Naomi Osaka, who she beat the day before last. Though Barty beat her in Paris the year before last, it was from a set down and a break down and she was playing well enough to win the thing then; she might be now too, but those who know more than me are certain Anisimova is going to win majors.
On Cain, Monfils leads Kecmanovic 4-3 on serve.
"Not much I can say that's positive about today," Zverev has just said with his head in his hands. He says Shapovalov has worked hard and improved, but that was the worst he's played since Wimbledon – "awful from myself".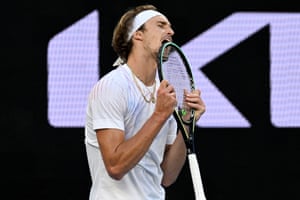 Greetings! It's already been a decent day in Melbourne: just when he looked to be over the hump, Alex Zverev [3] was whacked by Danie Shapovalov [14], the rejuvenated Madison Keys whacked Paulo Badosa [8] and Barbora Krejcikova [4] whacked Victoria Azarenka [24]; Jessica Pegula [21] despatched Maria Sakkari [6]; and Rafael Nadal [6] survived a epic first-set tiebreaker to get by Adrian Mannarino.
But, as Jimmy Cricket would say, there's more: Gaël Monfils [17] and Mimir Kecmanovic are just underway, in a few minutes Ash Barty [1] and Amanda Anisimova will be too, then when they're done, we've got Pablo Carreño Busta [19] and Matteo Berrettini [7].
On we go!