UK Covid live: health minister says more cases of Omicron expected to be confirmed in England
John Swinney, Scotland's deputy first minister, told the BBC this morning that some of the six confirmed Omicron cases in Scotland are people who have not been travelling, which means the variant is spreading in the community. Swinney said:
We obviously have some travel history on some of the cases, I don't have all of that detail available to me at this stage, but on some of the cases we are aware that there is no travel history involved on some of the cases.

So what that tells us is that there must be a degree of community transmission of this particular strain of the virus in the absence of direct travel connection for some of the cases in the southern African area.

So that obviously opens up further challenges for us in terms of interrupting the spread of this particular strain of the virus and that will be the focus of the contact tracing operation that is under way already.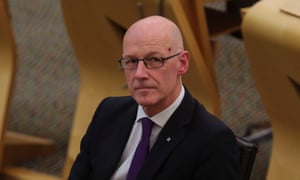 A person infected with the Omicron variant in Essex is "well" and isolating with their family, the region's top public health official has said. Essex's director of public health, Dr Michael Gogarty, told BBC Breakfast:
Most importantly with the confirmed case is that they are well, they are isolating with their family. When I say that they are well, I mean they are not seriously ill. They have some symptoms but they do not require hospitalisation.
Good morning. So far there have been only three confirmed cases of the new Omicron variant found in England. But this morning the Scottish government announced that it has six confirmed cases, and Edward Argar, the UK government health minister (which means health minister for England, in practice) told the Today programme that more cases will be confirmed south of the border. Asked if he was expecting more cases to be confirmed in England, he said yes. He went on:
We've seen three confirmed cases in England. But I think we've been clear since we first knew about this new variant that we would expect to see the number of cases rise. And I think what we're seeing in Scotland reflects that. That's in the nature of the virus, and the likely – not certain but likely – increased transmissibility of this variant.
According to Harry Cole in the Sun, government sources say there are 75 "probable" case of Omicron in the UK – with possibly more than 150 more.
Here are the main UK Covid developments around this morning.
Steve Baker, deputy chair of the Tory lockdown-sceptic Covid Recovery Group, has criticised rules saying school pupils, like other people, who are close contacts of someone testing positive with the Omicron variant will have to isolate for 10 days. He told the Telegraph this will "cause chaos including collateral harms like damage to children's education".
Here is the agenda for the day.
10.30am: Nicola Sturgeon, Scotland's first minister, holds a Covid briefing with Scotland's chief medical officer, Gregor Smith.
11am: Angela Rayner, Labour's deputy leader, gives a speech on standards in public life. As my colleague Peter Walker reports, ministers would be barred from lobbying or other paid work connected to their government roles for five years after they leave office under Labour's plans.
11.30am: Downing Street holds its lobby briefing.
12pm: Sturgeon is due to give her speech to the SNP's online conference.
2pm: The Commons standards committee publishes its report proposing changes to the code of conduct for MPs.
After 3.30pm: Sajid Javid, the health secretary, is expected to give a statement to MPs on Covid.
At some point today we are also expecting the Joint Committee on Vaccination and Immunization to make an announcement about extending the booster programme.
I will be mostly looking at UK Covid developments today, but I will covering non-Covid politics too. For global Covid developments, do read our global live blog.
I try to monitor the comments below the line (BTL) but it is impossible to read them all. If you have a direct question, do include "Andrew" in it somewhere and I'm more likely to find it. I do try to answer questions, and if they are of general interest, I will post the question and reply above the line (ATL), although I can't promise to do this for everyone.
If you want to attract my attention quickly, it is probably better to use Twitter. I'm on @AndrewSparrow.
Alternatively, you can email me at andrew.sparrow@theguardian.com