England v Bangladesh: T20 World Cup – live!
4th over: Bangladesh 18-2 (Shakib 1; Mushfiqur 3) Morgan gives Woakes another bite of the cherry too. It's not quite as eventful as Moeen's second, but Mushfiqur gets hit on the bottom hand by a beauty, a ball that zips up off the pitch like a suddenly released bramble.
"Talking of Rich Tea (inferior but safer dunking biscuits are available)," writes Brian Withington, "our three retired/failed guide dogs love a crescent of said biscuit in the morning. At the first hint of my tea mug arriving they each take up station in anticipation, and wait to be served their respective crescents to much ceremony. They are duly gobbled up gratefully (much like the Bangladesh openers to Mo)."
3rd over: Bangladesh 15-2 ( Shakib 0; Mushfiqur 1) The rise and rise of Moeen Ali continues! A superb come-back after Bangladesh tucked into his first over.
Dances prettily down the track, but it is a reckless shot which lopes straight to Woakes at mid-on. Moeen is on a hat-trick!
A straight one deceives Liton who has a slug and top-edges!
2nd over: Bangladesh 13-0 (Naim 4; Liton 9) Woakes is instantly more parsimonious, just three off his first. Naim rides his luck and lofts Woakes just over Dawid Malan's grasp at mid-wicket.
"Morning Tanya." Morning Brian Withington.
"Splendid rendering of Bangladeshi national anthem. Reminded me a little of Within You, Without You off the Sergeant Pepper album. Less said about our pompous dirge the better. Game on.
The problem with ours, apart from the tune, is its appeal both monarch and god is not a universal winner these days.
1st over: Bangladesh 10-0 (Naim 1; Liton 9) There's a bit of spin straight away for Moeen, and Liton and Naim both pick up singles into the onside before Liton gallops down the pitch and dispatches a straight six. The next ball is a dab wide and is punched through the covers for 4. Dainty feet. The pitch really does look ping-pong table dry and Rich Tea coloured.
It looks as if Moeen Ali will take the new ball, but first both teams and support staff take the knee.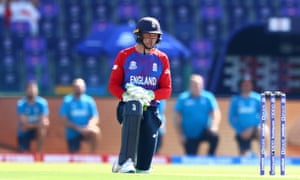 It's time for the anthems. Bangladesh sing merrily along to rather an epic. England, who look suddenly gigantic, sing mostly out of the sides of their mouths.
James Walsh, who wrote this excellent spin on Bangladesh…
…pings over an email.
"Morning Tanya!
"I was in Cardiff for the Bangladesh / England match in the 2019 World Cup – remember that? The Bangladesh fans were magnificent, and the whole day had a magical and surreal air, a match in this huge global tournament taking place in a city that barely knew it was happening, due to the ECB hiding it away on Sky.
It were a bit chilly up in the stands, which I suspect isn't going to be an issue today…"
Yes, mid 30s and rising…
The boundaries are big in Abu Dhabi, especially on one side of the ground – which should work in the spinners' favour.
Here is some stattage for you, about the likelihood of Moeen Ali taking the new ball again.:
England: (unchanged) Roy, Buttler (wk), Malan, Morgan (c), Bairstow, Livingstone, Moeen, Woakes, Jordan, Rashid, Mills.
Bangladesh: Litton Kumer Das, Naim Sheikh, Shakib Al Hasan, Md Mushfiqur Rahim, MD Mahmudullah (c), Afif Hossain Dhrubo, Nurul Hasan Sohan (wk), Shak Mahedi Hasan, MD Shoriful Islam, Nasum Ahmed, MD Mustafizur Rahman
Slow pitch, big ground, very hot, lots of spinners. "Looks like a very good wicket to bat on," says Mahmudullah.
Eoin Morgan says he's not that bothered, new ground, need to adapt.
Good morning! It's Wednesday, so England are taking on Bangladesh in Abu Dhabi. Unbelievably, this is the first IT20 between the two sides, in a format where money-making means match-ups are ten-a-penny. The Bangladesh board aren't rich enough, you say? Don't be ridiculous!
England, who thrashed West Indies, are huge favourites against a Bangladesh side who lost against Scotland in the qualifying round-robin, and then lost against Sri Lanka in their first Super 12 match.
As an afternoon game, there will be no problems for either side with the dew that so troubled India in the field against walking-on-air Pakistan.
My colleague Simon Burnton is already at the ground and reports things are somewhat subdued.
Both teams will be taking the knee, happily avoiding yesterday's controversy when Quinton de Kock refused and missed South Africa's game against West Indies. Much more to come out there, I'm sure.
Play starts at 11am BST.