A New "War on Terrorism" Is the Wrong Way to Fight Domestic Extremists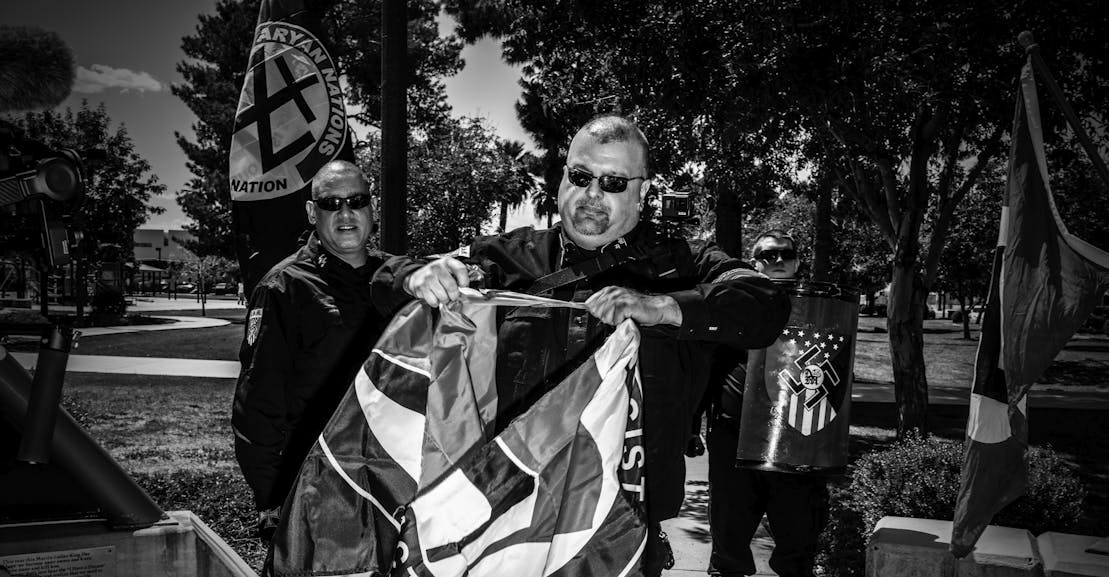 Gebert's case presents its own challenges, but his ability to retain a top-secret security clearance raises serious concerns about the process by which investigations are carried out. It's especially worrying given that some members of the national security infrastructure have suggested such exhaustive background checks as a means of rooting out far-right extremists in the military and elsewhere in government. The whole purpose of a domestic "war on terrorism" would be to turn the tools of the national security state against white supremacists, but how effective could such tools be when white supremacists themselves are deploying them? Furthermore, the means to root out people like Gebert already exist. Much of his activity and commentary as a far-right extremist, though under a pseudonym, was carried out in public. Since 2016, a policy document, Security Executive Agent Directive 5, has ensured that federal investigators can take publicly available social media posts into account while "cyber vetting" applicants. Standard Form 86, a questionnaire given to all applicants seeking a security clearance, does ask for nicknames or other aliases, which presumably guide the assessment of social media accounts. Another section asks explicitly about affiliations with groups promoting or using violence against those exercising their constitutional rights, as well as promoting terrorism.
German, the Brennan Center fellow, said part of the problem was the FBI's limited role in holding participants at Unite the Right accountable for the violence. "I assumed that at the very least the FBI was going to have extensive enforcement coverage and video coverage of everything that happened there," he said. Instead, he observed, the FBI turned its sights on only one of the dozens of extremist groups involved in the protest. Specifically, the agency targeted the white nationalist street-fighting group the Rise Above Movement, after reports from ProPublica and PBS's Frontline detailed its involvement in the demonstration and in other instances of violence throughout the country. A handful of participants faced significant criminal charges, but the majority of organizers have faced civil lawsuits, not criminal charges. In this climate of law enforcement apathy, someone like Gebert, then, could slip through the cracks.
---
With Gebert's departure from the State Department, the white power movement lost one of its men on the inside. But for Gebert himself, the news was far from catastrophic for his career as a hawker of white nationalist propaganda. He had mentally prepared for this moment, he confessed on an episode of the alt-right podcast Fatherland—losing his job, his paycheck, and perhaps even some of his friends—because the formation of a whites-only ethnostate was, at the end of the day, "the most important thing to me in my life." Thus, in 2020, Gebert and his family fled for even whiter pastures. In the midst of a nationwide Covid-19 lockdown, Gebert and his wife sold their Virginia home and moved into a two-bedroom house in Purgitsville, West Virginia. That August, someone, presumably Gebert or his wife, registered a business consulting firm dubbed Young Wolf Consulting at their new home.
Officials at the State Department have not confirmed whether Gebert is still being paid, despite several requests for comment by the Southern Poverty Law Center since 2019. (A spokesperson from the State Department said it does not comment on an individual's security clearance and stated that matters of payroll were protected from disclosure by the Privacy Act. Gebert himself did not respond to The New Republic's request for comment.) Vanity Fair speculated that he was on unpaid leave, adding that a source had told the magazine that he had not been on payroll since October 2019. All the while, Gebert has remained active in hate groups, and his once part-time gig as a peddler of racist dreck has transformed itself into a full-time job.