Minister defends right of business leaders to call PM as 'government by WhatsApp' controversy continues – politics live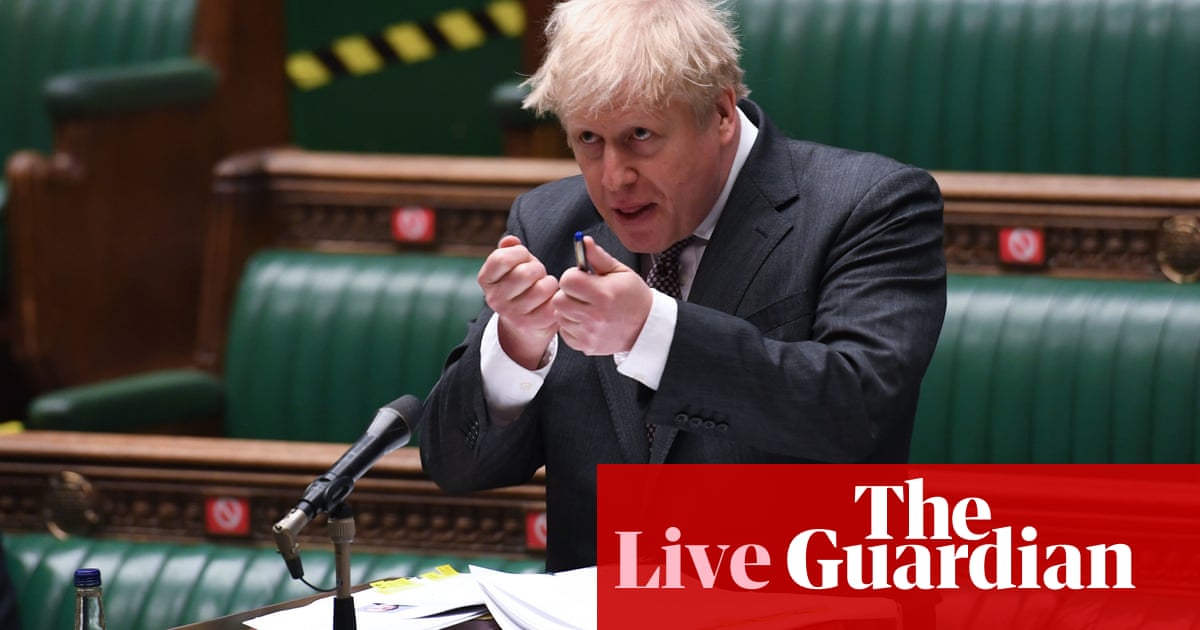 Coronavirus was no longer the leading cause of death in both England and Wales in March for the first time since October, PA Media reports. PA says:
Office for National Statistics (ONS) data shows that Covid-19 was the third leading cause of death in both countries in March, accounting for 9.2% of all deaths registered in England and 6.3% in Wales.

It was previously the leading cause of death each month from November to February.

The leading cause of death was dementia and Alzheimer's disease in England, accounting for 10.1% of all deaths registered in March, and in Wale it was ischaemic heart diseases, at 11.8% of all deaths.
The public accounts committee hearing has started, but Meg Hillier, the chair, says they will start with questions about equitable life. That means the Greensill section will start a bit later.
The Commons public accounts committee is about to take evidence from Treasury officials about Greensill Capital, and other topics. The Greensill section is only due to last about 15 minutes, but it should come up first.
The witnesses are Sir Tom Scholar, the permanent secretary; Cat Little, director general, public spending; Charles Roxburgh, second permanent secretary; and Martin Clarke, the government actuary.
Here is an excerpt from Harry Yorke's story in the Daily Telegraph (paywall) about the concerns in No 10 about Boris Johnson's willingness to hand out his phone number. Yorke says:
A well-placed source said that Mr Johnson's use of the WhatsApp messaging service was a "perennial problem" and had been a source of frustration among some figures in Number 10.

"The problem with Boris is that he replies to everyone," another said. However, they suggested Mr Johnson was often attempting to get people "off his back" rather than succumbing to any requests for his personal assistance.

Others joked that the prime minister was too liberal in handing out his phone number to people he meets, leading to an ever-burgeoning list of people able to contact him.

One claimed there had been at least one occasion last year when the prime minister held a conference call with a small number of regional politicians, after which he gave out his number, seemingly not realising that the call was being listened to by a larger group of people.
And here is an extract from Steven Swinford's story in the Times (paywall) on the same theme.
Simon Case, the top civil servant, is said to have recommended [that Johnson change his phone number] last year because of the ease with which MPs, lobbyists and others from the business world were able to contact the prime minister.

Johnson, who has had the same phone number for more than a decade, was reluctant to change it and rejected the advice. A Whitehall source said the extent of the contact was a consistent cause for concern among officials.
Sarah Champion, the chair of the committee, starts by asking why Raab did not make an oral statement to the Commons about the aid spending for 2021-22.
Raab says these figures would not normally be published at the start of the financial year. But he published the written statement so the committee could ask him about that today, he says.
Dominic Raab, the foreign secretary, is about to give evidence to the Commons international development committee. He is, of course, now secretary of state for foreign, Commonwealth and development affairs after the Department for International Affairs was merged with the Foreign Office.
He will be asked about the aid spending announcement made last night in the form of a Commons written statement.
Good morning. As my colleagues Jessica Elgot and Dan Sabbagh report, after yesterday's revelations about Boris Johnson agreeing by text message to amend tax rules at the request of Sir James Dyson to make it easier for his firm to get involved in the emergency ventilator production effort, there is increasing concern about extent to which Johnson is operating "government by WhatsApp". This might seem innocuous, but it means the usual rules about the disclosure of contacts with third parties are much harder to apply.
There is a new twist to the story today with reports, in the Telegraph and in the Times, that Simon Case, the cabinet secretary, suggested Johnson should change his mobile phone number to stop people using it to lobby him.
As the BBC's Laura Kuenssberg points out, No 10 is denying this – although, given that there is a big difference between Case "telling" the PM to change his number and Case "floating the idea" it is not quite clear yet how comprehensive the denial is.
This morning Kwasi Kwarteng, the business secretary, defended the right of ministers to communicate with people outside government in this way. He said it was "very good" that business leaders and constituents had "direct access" to ministers and those making decisions in Whitehall. He told Sky News:
I think that in the real world, in reality, people are contacting ministers, contacting MPs, all the time.

Business people are contacting MPs all the time, constituents also contact me on my phone.

I think that in a modern democracy it's very good that people actually can have direct access to ministers and people who are taking responsibility.
Here is the agenda for the day.
9.30am: Dominic Raab, the foreign secretary, gives evidence to the Commons international development committee.
9.30am: The ONS publishes its latest figures on coronavirus infections in schools.
10am: Sir Tom Scholar, permanent secretary at the Treasury, and other Treasury officials give evidence to the Commons public accounts committee about Greensill Capital.
Around 11.30am: Ben Wallace, the defence secretary, gives a statement to MPs about the failure of the Commonwealth War Graves Commission to properly commemorate thousands of mostly African and Asian soldiers who died in the first world war.
12pm: Downing Street is due to hold its daily lobby briefing.
After 1pm: Boris Johnson is due to speak at the virtual leaders' climate summit hosted by the US president Joe Biden.
Covid is the issue dominating UK politics this year and Politics Live is often largely or wholly devoted to coronavirus at the moment. But I will be covering non-Covid politics too and – depending on what seems most important and most interesting to readers – sometimes these stories will take precedence.
For global coronavirus news, do read our global live blog.
I try to monitor the comments below the line (BTL) but it is impossible to read them all. If you have a direct question, do include "Andrew" in it somewhere and I'm more likely to find it. I do try to answer questions, and if they are of general interest, I will post the question and reply above the line (ATL), although I can't promise to do this for everyone.
If you want to attract my attention quickly, it is probably better to use Twitter. I'm on @AndrewSparrow.