After The 'Space Jam' Sequel Trailer, People Are Missing The Original's Big Scene-Stealer Bill Murray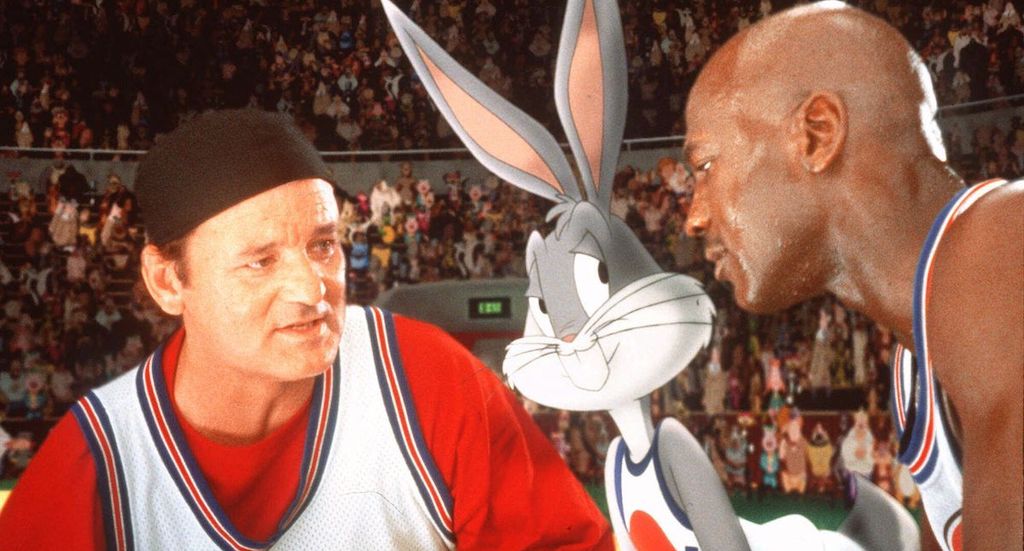 Bill Murray isn't in the forthcoming Space Jam sequel, but his absence was very much felt on Saturday when the movie's trailer debuted. At one point LeBron James — who replaces original star Michael Jordan and tries to save his son by winning an all-Warner Bros. basketball game — hatches his dream team, and it's filled with superheroes and sorcerers and giant robots and kaiju: Superman, Gandalf, the Iron Giant, King Kong. That only prompted people to point out that Jordan fared well with the Looney Tunes stars and Bill Murray…and Wayne Knight.
In the 1996 original, Murray technically wasn't playing himself, but he might as well have. He was simply a Bill Murray-esque actor who was also good friends with Jordan, who was playing himself, more or less. Murray appears relatively late in, offering his assistance in the big game. It was even reportedly Murray's idea to do the part, even if he declined to return for more.
Space Jam arrived just before the second act of Murray's career, in which he moved away from goofball roles and started doing more melancholic (but funny!) performances. Just two years he earned the best reviews of his career for Rushmore, and was soon doing others like it, such as Lost in Translation, Broken Flowers, even Hamlet (in which he made for an excellent Polonius). So in a way, Space Jam — along with the following year's The Man Who Knew Too Little — were farewell to his mostly comedic early period.
So when people saw James hoping to recruit known badasses and not, say, one of the most beloved comic performers in history (and Wayne Knight, no slacker himself!), people made the same joke.
The GOAT debate is over after that new Space Jam trailer.

LeBron out here trying to recruit Superman and Gandalf and MJ went out and beat wholesale Monstar ass with Bill Murray and Newman from Seinfeld. pic.twitter.com/5PXgJIhzzd

— Danny V (@dmv8286) April 3, 2021
LeBron can't even do Space Jam without assembling a super team. Michael Jordan won that shit with Bill Murray and Newman from Seinfeld pic.twitter.com/bYld2B4aQi

— Mike (@ThatsJustPr1me) April 3, 2021
As you can see here according to the trailer of Space Jam 2, Lebron tries to recruit his own "Elite" team to defeat the bad guys to save his son. Michael Jordan on the other hand only needed Bill Murray to save the Looney Tunes. 🤙🏼 pic.twitter.com/bWavYSmzAO

— ➰ (@nik0music) April 3, 2021
Michael Jordan had Wayne Knight and Bill Murray and still managed to get the W but Lebron needs Superman and Gandalf https://t.co/GfkZmHPbMr

— david cage's closet toilets hex my thoughts (@mrfeelswildride) April 3, 2021
Some pointed out that Murray is a superhero in and of himself.
everybody talking about michael jordan beat the monstars with just bill murray like that wasn't bill murray in his prime

— ye 🌍 (@yedoye_) April 3, 2021
And others roped in another actor who's shared the screen with Bugs and company: Looney Tunes: Back in Action star Brendan Fraser.