Rishi Sunak defends budget amid claim it will plunge 500,000 more people into poverty – politics live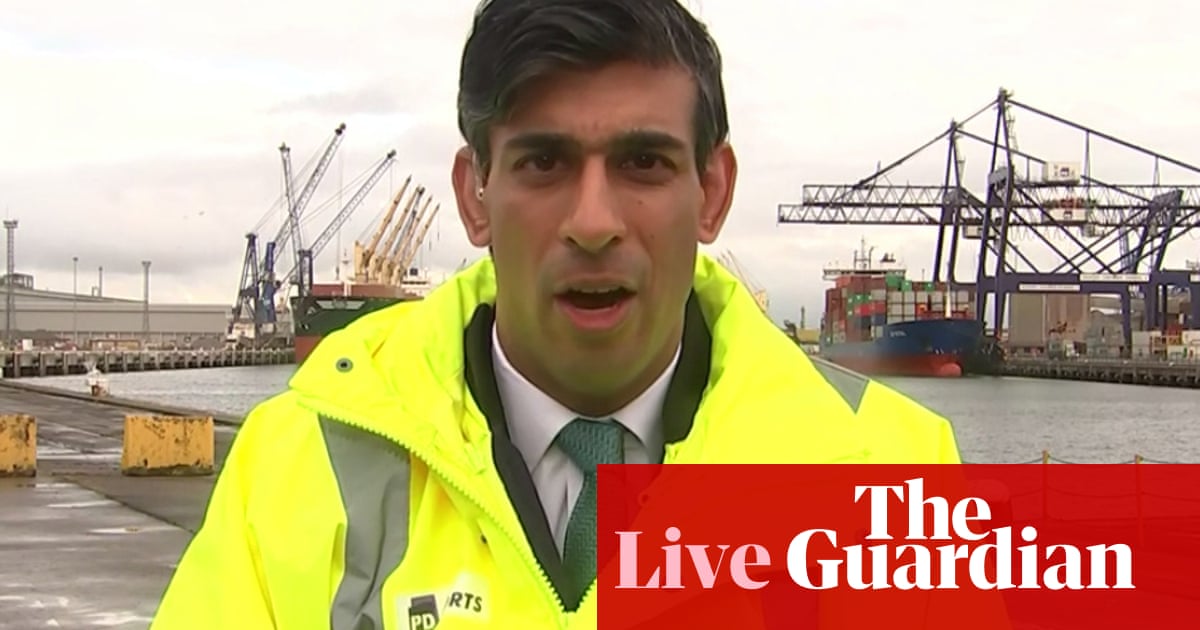 Rishi Sunak, the chancellor, has given a series of interviews this morning although, as usual, much of them covered similar ground.
Rather than wrap them all up together in one post, I will write them up topic by topic.
Asked to defend his decision to go ahead with the cut to the £20-per-week universal credit uplift – albeit six months later than originally planned – Sunak made two arguments. He suggested that this was more generous than phasing it out gradually over the next six months; and he said other measures on pay and training would help people likely to be affected.
Asked on the Today programme why he was creating a "cliff edge" with the withdrawal of the uplift at the end of September, he said:
Because we are taking a more generous approach and keeping it in full without phasing it out.
It is in full all the way through to the end of September because I think that is a more generous approach.

And it is right to also focus on all the other things that we are doing to help families in that situation and those things don't phase out.

The national living wage increase is something that will benefit families over the whole year, the local housing allowance uplift of £1bn – that's a million-and-a-half families who will get up to £600 help with their rent payments next year, 3.5 million families getting £150 for their council tax bills.

Our lifetime skills guarantee is here to stay, it is permanent, the kickstart scheme is going to help a quarter-of-a-million young people – many of those people will be on universal credit and will be able to benefit from all of these initiatives, and helping people into good-quality work is absolutely our focus.

And, as the economy reopens, it is right that that is our focus because that is the best way to help people over time to create a better life for themselves, and that is why we are throwing absolutely everything we have at protecting, supporting and creating as many jobs as possible.
Good morning. We live in an age of instant news, but budgets are political events that take time to analyse in full and the day after is often the point when their full implications start to become a lot clear. Today is no exception. Rishi Sunak, the chancellor, has been doing the morning broadcast interview round, but as he's been on air thinktanks have been out with new reports saying his measures will increase poverty.
The Joseph Rowntree Foundation, a thinktank focusing on poverty, says Sunak's decision to go ahead with the reversal of the £20 per week universal credit uplift, albeit delayed for six months, will plunge 500,000 people into poverty. It says:
The government's decision to cut universal credit and working tax credit in six months – just as the furlough scheme ends and unemployment peaks – will pull 500,000 people including 200,000 children into poverty as we head into winter.

The OBR's latest forecasts show that unemployment is expected to increase by a further 500,000 people between now and the peak towards the end of the year. Despite that, the government has chosen to cut the main rate of unemployment support to its lowest level since 1990.
And the Resolution Foundation, a thinktank focusing on living standards, especially for the low paid, says the poorest households will see their incomes fall by 7%. It says:
The poorest households will face a 7 per cent fall in income in the second half of 2021-22 due to the removal of the £20 a week universal credit uplift, which will take the basic level of benefits back to levels not seen since the early 1990s at the same time as unemployment is due to peak.
I will be summarising what Sunak has been saying in all his interviews shortly.
Here is the agenda for the day.
9am: Richard Hughes, head of the Office for Budget Responsibility, speaks at a Resolution Foundation budget analysis event.
9.30am: The ONS publishes reports on Covid and the economy, and attitudes to vaccines among the over-80s.
10am: The Institute for Fiscal Studies publishes its full budget analysis.
11am: NHS test and trace publishes its weekly performance figures.
12pm: Downing Street is due to hold its lobby briefing.
12.30pm: Nicola Sturgeon, Scotland's first minister, takes questions in the Scottish parliament.
2.30pm: The Commons women and equalities committee takes evidence from various experts on vaccine take-up among BAME communities and women.
Politics Live is now doubling up as the UK coronavirus live blog and, given the way the Covid crisis eclipses everything, this will continue for the foreseeable future. But we will be covering non-Covid political stories too, like the budget reaction, and when they seem more important or more interesting, they will take precedence.
Here is our global coronavirus live blog.
I try to monitor the comments below the line (BTL) but it is impossible to read them all. If you have a direct question, do include "Andrew" in it somewhere and I'm more likely to find it. I do try to answer questions, and if they are of general interest, I will post the question and reply above the line (ATL), although I can't promise to do this for everyone.
If you want to attract my attention quickly, it is probably better to use Twitter. I'm on @AndrewSparrow.