Coulibaly embraces the competition in practice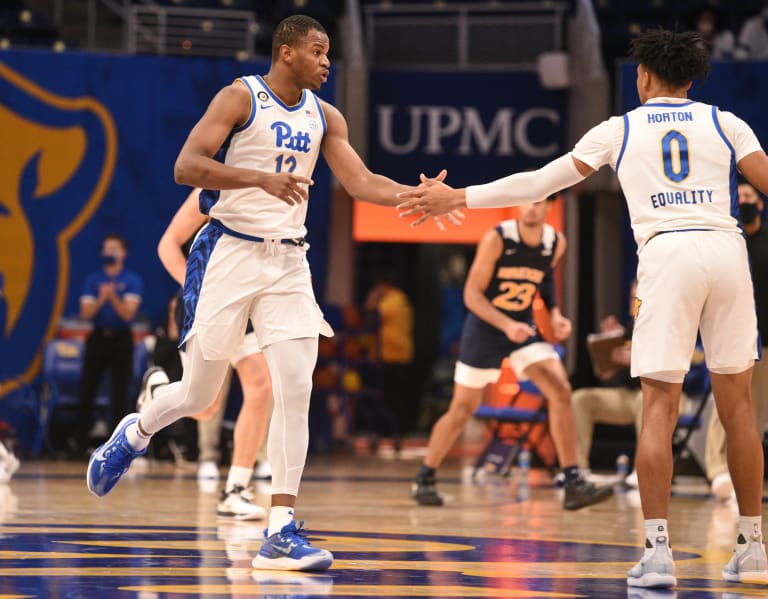 Pitt head coach Jeff Capel is still looking for the right lineup combination in the early parts of the 2020-21 season. There have been two games with two different starting lineups so far.
Freshman John Hugley started the opener against Saint Francis at the center position, but it was Abdoul Karim Coulibaly to earn the start in the second game, an 83-74 win over Drexel last Saturday.
It was a big step for Coulibaly in what has been a long journey for him personally. He of course is a native of Mali, and had success playing for the nation's U19 team last summer before arriving at Pitt. He also had a decorated career playing for Scotland Campus, a prep school in Eastern Pennsylvania.
Coulibaly has yet to have a big breakthrough in the college game, however, but his first career start signals that it is coming at some point.
Coulibaly had a modest stat line against Drexel: four points, three rebounds, two steals, and an assist, but he logged a career-high 29 minutes. Right now it looks like he has a leg up to being the team's starting center as the season continues.
"I thought he started to make a lot of progress last year towards the end of the year," Capel said of Coulibaly. "He played really well in our first game of the ACC Tournament. I do think becoming more comfortable with everything and certainly this year as a sophomore having the experience and having some success he had towards the end of last year."
Part of Coulibaly's emergence already this season is practicing better, or at least the Pitt coaches knowing what to expect from him in a game versus practice. He did not always show up well in practice, but in a pinch when he was needed on the court last season, Coulibaly would produce and that showed up more and more.
Capel realized that's just the type of player he is, and the staff has adapted to him because of it.
"I think us as a coaching staff understanding him as a player, understanding that he's a guy that does some things in games that doesn't necessarily show up in practice," Capel said. "That's one of the things that I learned about him last year that I've tried to do a better job with in coaching him."
For Coulibaly's part, he's been looking to change his mindset about practice and has been working hard to show up to every single day with the right frame of mind.
"I have the mindset to come everyday to get better, so I come here ready to go," Coulibaly said following practice on Thursday. "Get taped, put my shoes on, and go get some shots up before the time in before practice."
Practice has become more competitive according to Coulibaly. The influx of a five-man freshman class is the biggest reason. He is competing for minutes with senior Terrell Brown, but is also being pushed by freshmen post players like Hugley, Max Amadasun, and Noah Collier as well.
"We go hard, everybody is trying to make it, everybody is trying to play," Coulibaly said. "If you want to play, you have you work hard and push yourself."
Coulibaly appreciates the competition. He said he likes going up against Hugley, even though they are fighting for the same spot.
"It's very fun, we're getting each other better everyday," he said. "We compete everyday against each other, so I love it because we're getting better."
Pitt is set to take the floor tonight against an 0-2 Northern Illinois team. The Panthers are looking to build off the Drexel win and make it two in a row before the team makes its first road trip on Wednesday to take on Northwestern in the ACC/Big Ten Challenge.