UK coronavirus live: Johnson tells people 'don't get hopes up too soon' over early vaccination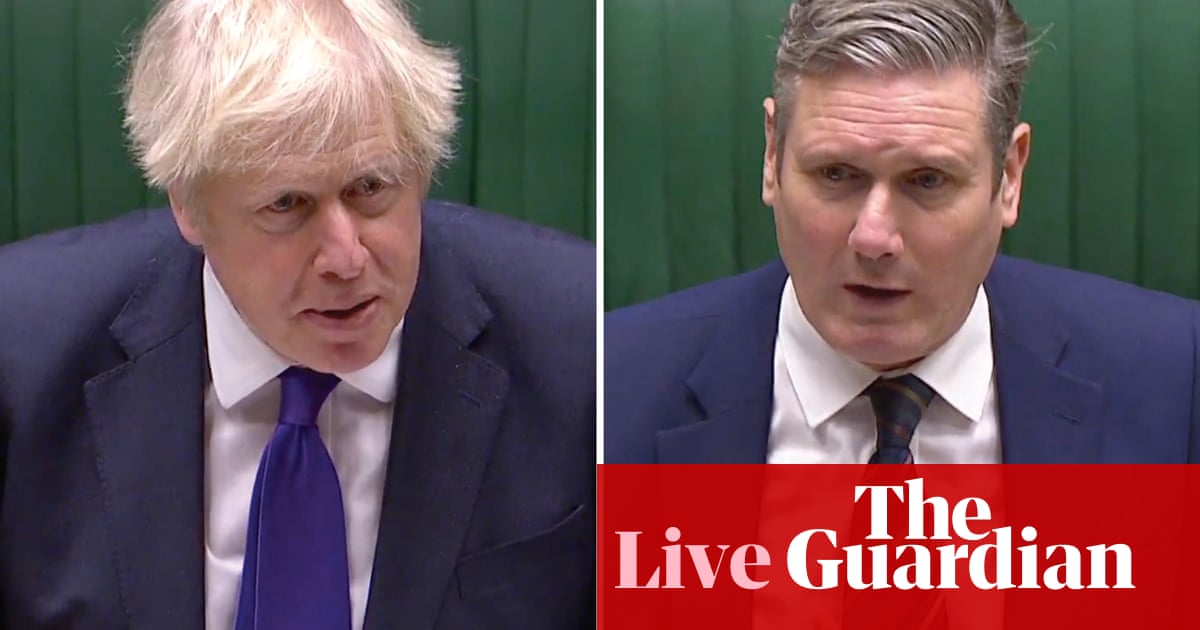 Scott Mann (Con) says levelling up should not just be seen as a north/south issue. There are pockets of deprivation in Cornwall, he says. He asks for an assurance that the shared prosperity fund will not be the same as the levelling up fund.
Johnson says they will be different.
Wendy Chamberlain (Lib Dem) asks about a constituent with ME who cannot get the personal independence payment (a disability payment).
Johnson says this is an important issue. Many people suffer from this, he says. He says he will arrange for Chamberlain to have a meeting with a minister.
Emma Lewell-Buck (Lab) says next week will mark the first anniversary of Johnson's election victory. Since then there have been more than 70,000 Covid deaths and debt has reached £2 trillion. What is he proud of?
Johnson says he would take this more seriously if Lewell-Buck had voted last night.
She points out that she did vote; she was one of the Labour rebels who voted against the restrictions.
Johnson says he is making a point about the Labour party.
Liam Fox, the former international trade secretary, asks the government to apply a small business test, so that every proposed government measure is judged on its impact on small businesses.
Johnson says the government already considers the impact of all measures on business.
Alex Davies-Jones (Lab) asks for a sector-specific support plan for the aviation industry.
Johnson says the government is already doing a lot for this sector. Its problems are global, he says.
Johnson says it is small business Saturday on Saturday. Everyone should be shopping locally, he says.
Sir Mark Hendrick (Lab) asks when the PM will deliver on his promises, instead of behaving like a second-hand car salesman.
Johnson says, if Hendrick wants to keep the UK in the EU, he is going to be sorely disappointed.
Robin Millar (Con) asks if the vaccine news gives hope for a better 2021.
Johnson agrees. He says it's a shame Labour did not support the plan to open up the economy.
Liz Saville Roberts, the Plaid Cymru leader at Westminster, says funding for transport in Wales has been cut. Welsh taxpayers are paying for English transport and HS2. They don't get a full return, she says. She asks why HS2 is labelled as an England and Wales scheme when not a line of track goes through Wales.
Johnson says the Welsh Labour government spent £144m on plans for a bypass that they then junked.
Ian Blackford, the SNP leader at Westminster, says the vaccine news is what people have been waiting for. But 3m self-employed people are still waiting for hope. He says he spoke to some people in this category aware of eight people who have taken their lives within the last 10 days. Will the PM consider the case of a support package again?
Johnson says he sympathises with the families. A huge package of support has already been put in, he says.
Blackford says this isn't good enough. These people need help. The prime minister has been missing in action, he say. Why can't the government change its mind? These people have been ignored for nine months. ExcludedUK has not been offered one meeting with ministers.
Johnson says the government has excluded nobody. The best way to help the self-employed is to get the economy moving again. He again attacks Labour for not supporting it.
Imran Ahmad Khan (Con) asks the PM to establish the new infrastructure bank to go to Wakefield.
Johnson says the chancellor will consider this.
Starmer says, when he abstains, he comes to the Commons to explain why. When Johnson does, he runs away abroad, costing the taxpayer £20,000.
That's a reference to Johnson going to Afghanistan when he was foreign secretary to avoid the embarrassment of the vote on the Heathrow third runway, which he had always opposed.
Johnson criticises Labour again for abstaining. It abstained on legislation to protect veterans from prosecution. Captain Hindsight is becoming General Indecision. "He dithers, we get on with the job," he says.
Starmer asks what the government is doing to protect the jobs and pensions of those affected by Arcadia going out of business.
Johnson says the government wants to protect all jobs. He says the conduct of Arcadia directors is being scrutinised. And he says the government has a plan to protect high streets.
He attacks Labour for abstaining in the vote yesterday.
Starmer says he will pay tribute to everyone involved in the vaccine project.
Does the government back Labour's call for emergency legislation to tackle anti-vaccine misinformation online.
Johnson says the government will publish a paper on this shortly.
Starmer asks what is being done to get the vaccine into care homes.
Johnson says Starmer is right to raise this as an issue. This vaccine has to be kept at -70 degrees, which creates practical problems. He says the government is working with the NHS to ensure it can be distributed "as fast and as sensibly" as possible.
That is why it is also important to get the Oxford/AstraZeneca vaccine, he says.
He says Starmer should pay tribute to the government's vaccines taskforce.