Instant takes: Iowa 26, Nebraska 20
IOWA CITY, Iowa – Here are some instant takes and reactions following Friday's Iowa vs. Nebraska game.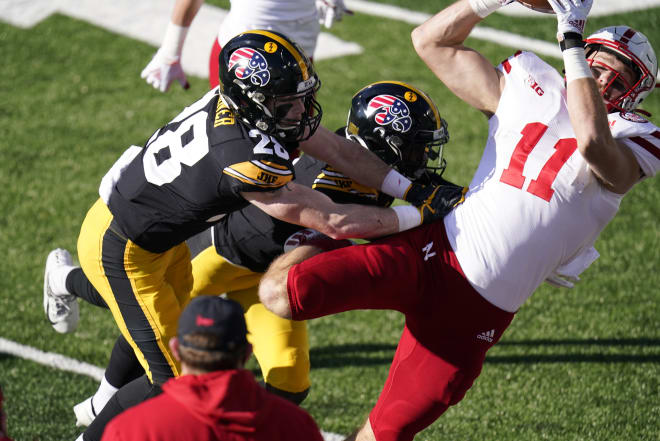 This game was honestly about what we thought
Going into Friday, my honest expectations where Nebraska would play Iowa close, but the little things would once again cost them.
This was a very winnable game for NU, as we haven't seen QB play this limited at Iowa since 2014.
The Huskers had a very good plan defensively. They slowed down the Hawkeye's run game enough and forced them to throw a lot more than they normally do.
However, the little things once again cost Nebraska in their 26-20 loss. A holding call on Bryce Benhart took away a Adrian Martinez run inside the 15-yard line.
Center Cameron Jurgens was once again firing first-half snaps past his quarterback. Iowa also dominated special teams play and the killer came on a muffed punt by Cam Taylor-Britt after the defense forced a three-and-out.
Then finally, NU got the ball back with a chance to win the game and Iowa forced a fumble on Martinez.
The bottom line is you aren't going to win a Big Ten football game on the road against a quality opponent if little things like this keep happening. There was a lot of good that came out of Friday's game, but the bad is hard to look past.
The defense played well enough to win this game
If you told me Nebraska would hold Iowa to just 129 yards rushing and 2.9 yards per carry, there was a good chance NU would win this game.
Erik Chinander's defense played well enough to win this game. They forced a key turnover early in the game as well to spark the Huskers.
They also got their first sack against Iowa since 2016. The bottom line is the Huskers didn't lose this game in my opinion due to their play on defense.
The offense and special teams put them in a lot of tough spots today, and they played well enough to give the Huskers a chance.
Make it six in a row now for Iowa
If you are a Husker fan, this one hurts. Iowa has now won six in a row vs. the Huskers and holds a commanding 7-3 lead in the Heroes Trophy game series.
Ever since Bo Pelini beat the Hawkeyes in overtime during his final season, both Mike Riley and Scott Frost are 0-3 vs Iowa.
There's something about this series that brings the best out of the Hawkeyes. You see Kirk Ferentz call games more aggressively and take more chances on fourth down.
You can tell this is a rivalry to the Hawkeyes, especially in a season where they didn't get to play Iowa State.
It also feels like Iowa is miles ahead of Nebraska, but in all reality, Frost has lost to them on the final possession three years in a row.