Coronavirus live news: Brazil passes 6m cases as South Australia reports new case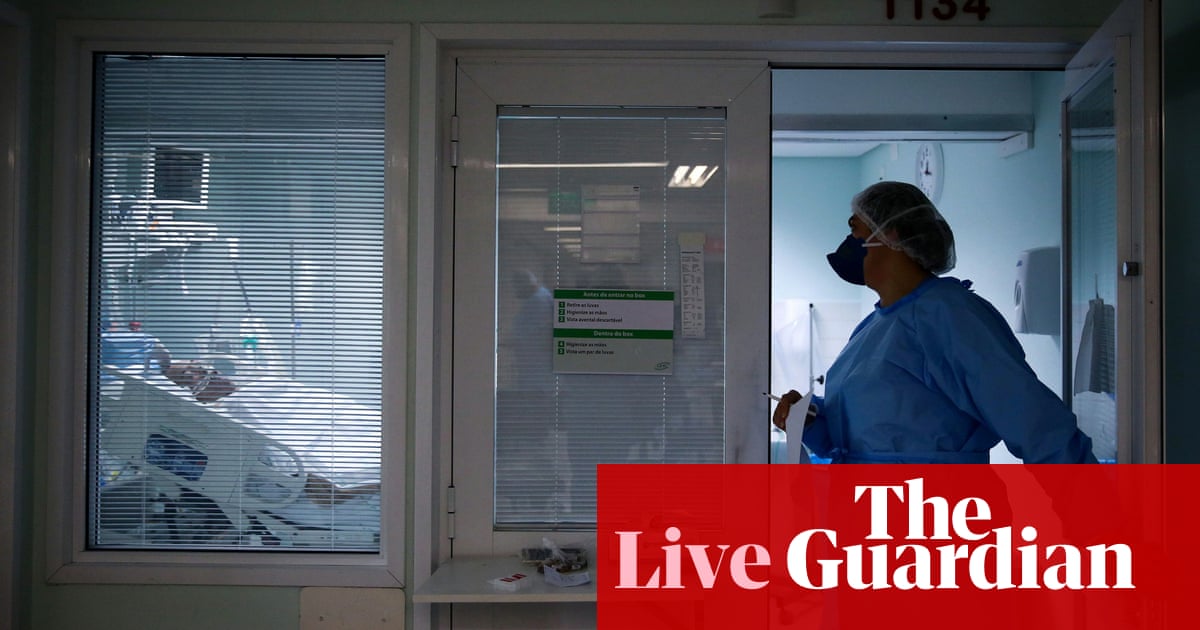 Reuters reports:
Mainland China reported 16 new COVID-19 cases on Nov. 20, down from 17 the previous day, with seven cases of local transmission and nine cases originating overseas, the country's health authority said on Saturday.
The National Health Commission said in its daily bulletin that five of the local transmissions took place in Tianjin and two in Shanghai.
Tianjin, which neighbours the capital Beijing, will launch a three-day universal screening programme covering nearly 3 million of its residents on Saturday.
Local officials said on Friday that one community in Tianjin had been placed in lockdown and around 1,900 people have been quarantined, according to the China Daily newspaper.
Mainland China also reported another 18 cases of asymptomatic cases on Nov. 20, up from 14 on the previous day.
It has so far reported an accumulated total of 86,414 COVID-19 cases, with the official death toll at 4,634.
In Mexico, the Covid-19 death toll has passed 100,000, with more than 1 million cases.
Mexico's health ministry on Friday reported 6,426 new confirmed coronavirus infections in the country and 719 deaths, bringing the official totals to 1,025,969 cases and 100,823 dead, Reuters reports.
Health officials have said the real number of cases is likely significantly higher than the official tally.
In case you missed it earlier:
In Australia, New South Wales has reached two weeks – one complete infection cycle – without a single locally transmitted coronavirus case, AAP reports.
Ten cases of the virus were diagnosed in hotel quarantine in the 24 hours to 8pm on Friday, from more than 16,000 tests.
While Victoria on Saturday announced it had just one active virus case remaining, NSW Health is still treating 70 cases.
"While there have been no new locally acquired cases in NSW for the past 14 days, we continue to encourage people to get tested, even if they display only the mildest of symptoms such as a runny nose, scratchy throat, cough or fever," NSW Health's Dr Jan Fizzell said on Saturday.
NSW has reached the milestone as South Australian brings its outbreak under control and as the due date for a decision on Queensland's border with NSW approaches.
Queensland health authorities have said Sydney must go 28 days – two whole infection cycles – without any locally transmitted virus cases for restrictions to lift.
The coronavirus pandemic and Victoria's 112-day lockdown has decimated the Australian state's coffers, with treasurer Tim Pallas expected to outline a $23.3bn deficit and more than $150bn in net debt in Tuesday's budget.
AAP reports:
But it is not all bad news, with the budget also expected to include tax cuts and incentives to lure global companies to the state, as well as already-announced boosts for mental health and social housing.

Details obtained by AAP show the Andrews government will undertake record borrowing which will grow net debt to $86bn in 2020/21, before reaching $154bn by 2023/24.

The state was already borrowing billions for major infrastructure projects before the pandemic hit.

Interest rates are at record lows, so increased borrowing is among the best ways to revive the economy and support Victorians, Mr Pallas says.

"This is a budget that puts the Victorian people first, with the support they need to recover and rebuild," he said in a statement on Saturday.

"We're following the blueprint of jurisdictions around Australia and the world, who are using their own budgets to protect household and business budgets."

With economic output plummeting and unemployment skyrocketing as a result of the pandemic, much of the money borrowed will be spent on job-boosting infrastructure projects and social and business supports.

The government's infrastructure spend is forecast to average $19.6bn each year over the forward estimates – which the treasurer says is four times the 10-year average prior to 2014.
Welcome to our ongoing live coronavirus coverage. Here is what you need to know about events around the world so far today:
The number of coronavirus cases in Brazil has surpassed 6 million, becoming the third country in the world to pass that milestone after the United States and India. Brazil recorded 38,397 additional confirmed cases in the past 24 hours and 552 deaths from Covid-19, the health ministry said. The official death toll has risen to 168,613, according to ministry data.
Donald Trump Jr tested positive for Covid-19 this week. A spokesman says he is quarantining but has had no symptoms.
The city of Toronto has returned to lockdown amid a surge of coronavirus cases in Canada.
France has recorded a further 1,138 deaths over the past 24 hours from the virus, taking the total to 48,265. France has also reported 22,882 cases in the past 24 hours, compared with 21,150 on Thursday.
Iran will impose tougher restrictions nationwide as the Middle East country hardest hit by the coronavirus battles a third wave of infections. The toughest measures, under which non-essential businesses and services are to close, will be imposed in the capital Tehran and about 160 other high risk "red" cities and towns, state media said.
In South Australia, police continue to investigate a Covid-19 case linked to a pizza bar in Adelaide after a worker lied to contact tracers about his job at there. South Australia recorded one new Covid-19 case on Saturday, a close contact of another case. The state's lockdown lifts at midnight, Australian time.
The Australian state of Victoria has recorded its 22nd day of no new coronavirus cases but authorities are asking anyone in the Altona catchment to get tested if they have symptoms after coronavirus was detected in sewage. NSW recorded no new locally acquired Covid-19 cases. Two new cases were reported in Queensland today, both in hotel quarantine.
Portugal's parliament approved a 15-day extension of a state of emergency from next week to allow continuation of coronavirus measures as the government considers fresh steps.
Drugmaker Pfizer Inc is hoping to rapidly roll out its experimental Covid-19 vaccine around Latin America soon after it gets emergency authorisation in the US, a senior executive said, which could be as early as next month.