Trump targets Michigan as Biden remains winner in Georgia – live updates
While it looks like Donald Trump and the Republican party's attempted coup to subvert the outcome of the 2020 has little chance of succeeding, it does appear to be working for them in one way – firing up the base.
In Reuters interviews over the last couple of days with 50 Trump voters in Texas, all said they believed the election was rigged or in some way illegitimate. Of those, 20 said they would consider accepting Biden as their president, but only in light of proof that the election was conducted fairly. Most repeated debunked conspiracy theories espoused by Trump, Republican officials and conservative media claiming that millions of votes were dishonestly switched to Biden in key states by biased poll workers and hacked voting machines.
Many voters interviewed by Reuters said they formed their opinions by watching emergent right-wing media outlets such as Newsmax and One American News Network that have amplified Trump*s fraud claims. Some have boycotted Fox News out of anger that the network called Biden the election winner and that some of its news anchors – in contrast to its opinion show stars – have been skeptical of Trump's fraud allegations.
The widespread rejection of the election result among Republicans reflects a new and dangerous dynamic in American politics: the normalization of false and increasingly extreme conspiracy theories among tens of millions of mainstream voters, according to government scholars, analysts and some lawmakers on both sides of the political divide. The trend has deeply troubling long-term implications for American political and civic institutions, said Paul Light, a veteran political scientist at New York University (NYU). "This is dystopian," Light said. "America could fracture.*
Adam Kinzinger, a Republican member of the US House of Representatives, is among the few party members to publicly recognize Biden's victory. He called his Republican colleagues reluctance to reject Trump*s conspiracies a failure of political courage that threatens to undermine American democracy for years. If citizens lose faith in election integrity, that could lead to "really bad things," including violence and social unrest, he said in an interview.
David Gergen – an adviser to four previous US presidents, two Democrats and two Republicans – said Trump is trying to "kneecap" the Biden administration before it takes power, noting this is the first time a sitting American president has tried to overthrow an election result.
It may not be the last time. Many Republicans see attacks on election integrity as a winning issue for future campaigns – including the next presidential race, according to one Republican operative close to the Trump campaign. The party, the person said, is setting up a push for "far more stringent oversight on voting procedures in 2024," when the party*s nominee will likely be Trump or his anointed successor.
Brett Fryar, a 50-year-old chiropractor, owns a small business in Texas. He has two undergraduate degrees and a master*s degree, in organic chemistry. He told Reuters "If President Trump comes out and says: 'Guys, I have irrefutable proof of fraud, the courts won't listen, and I'm now calling on Americans to take up arms,' we would go."
Nothing will convince Fryar that Biden won. And as CNN's Jake Tapper notes, this isn't the fringes of the internet enabling it, this isn't just Trump and his outriders, this is the Republican party itself.
Here's the Washington Post today on the strategy that Joe Biden is pursuing while he waits for the transition period to the new Biden-Harris administration to become official.
President-elect Joe Biden tried Thursday to minimize as an irresponsible distraction the ever-escalating attempts by President Trump and his allies to undermine or overturn the presidential election results.

The decision reflected confidence among Biden's advisers that Trump's maneuverings — from pushing Michigan Republicans to block certification of the results to unfounded claims that US voting machine software had been tampered with by allies of the late Venezuelan leader Hugo Chávez — were little more than public spectacle aimed at satisfying Trump's sense of grievance with no chance of overturning the vote.

Biden said he did not plan any new legal moves in response to Trump's latest efforts, but also did not rule out taking action against the General Services Administration at a future date to force a belated recognition of his presidential transition. The GSA, following Trump's dictate, has refused to allow the traditional exchange of information with the incoming administration, even blocking intelligence and pandemic briefings.

Democratic strategists and elected officials have largely closed ranks behind Biden's strategy to avoid engaging directly with Trump's efforts to spread false conspiracy theories about voter fraud.

"The president-elect has taken the right tack, frankly, to stay above it, to keep focused on preparing himself for the work ahead, to be meeting with people who can help prepare him, even if the president continues to stonewall the transition — and let other actors push back," Rep. Adam B. Schiff said.
Read more here: Washington Post – Biden brushes aside Trump attempts to overturn the election, confident his victory will stand
The New York congresswoman Alexandria Ocasio-Cortez was among members of the 'Squad', a group of progressive Democrats, who spoke at a Sunrise Movement rally in Washington yesterday to push Joe Biden on tackling the climate emergency.
AOC said they would urge Biden to 'keep his promises' to working families, women, minorities and climate activists as he fills his cabinet.
In July, Biden outlined an ambitious climate plan that would spend $2tn over four years investing in clean-energy infrastructure while vowing to cut carbon emissions from electrical power to zero in 15 years.
Chris McGreal has been in Howard county, Iowa for us, looking at how Donald Trump managed to boost his support among rural Americans in the election, despite his overall defeat.
Just a few months ago, Neil Shaffer thought Iowa was lost to Donald Trump.

"I was worried. We were in the midst of Covid and the economy wasn't doing so good and Trump wasn't handling the Covid interviews very well, and I was thinking this is gonna be a bloodbath," said the farmer and chair of a county Republican party in the north-east of the state.

But on election day, rural Iowa turned out in force for Trump. He not only beat Joe Biden decisively in a state that opinion polls consistently predicted would be close, but the president significantly increased his vote in counties that put Barack Obama into the White House and which then flipped to Trump.

"Out here, I think 2016 was less a vote for Trump than a vote against Hillary," said Shaffer. "A lot of people were not sold on her and so they were willing to roll the dice on Trump. Now they are Trump people. They believe in him. They came out in force."

Shaffer said Trump commands a loyalty among a core of rural voters that he has not seen for a president before, and that it isn't going away even when he leaves office.
Read more of Chris McGreal's report here: 'He made a connection': how did Trump manage to boost his support among rural Americans?
Donald Trump is currently spreading more paranoid conspiracy theories about the election on social media, by retweeting charts that show that mail-in ballots were counted after election day. This is an extremely normal part of the election process, and has been for many years.
Indeed, it is worth reminding ourselves that in several of the crucial battleground states, Republican legislators took action to ensure that – unlike, in say, Texas or Florida – mail-in ballots were not allowed to be processed before election day. That is the simple reason that counts in Texas and Florida were much faster than those in Wisconsin, Pennsylvania and Michigan.
I mentioned earlier that today Donald Trump is planning to meet Michigan's state legislative leaders, Senate majority leader Mike Shirkey and House speaker Lee Chatfield, where he is expected to pressure them to find a way to award the state's 16 electoral college votes to him, rather than Joe Biden who won the vote.
Also in the president's diary today, early morning he is taking part in a virtual Asia-Pacific Economic Cooperation (APEC) Economic Leaders' Meeting at, and later will be delivering remarks on lower prescription drug prices at 2.30pm.
He's also up and tweeting and plugging Congressman Matt Gaetz's book "Firebrand: Dispatches from the front lines of the MAGA revolution", which I'm sure is a cracking read.
Vice president Mike Pence is in Georgia, and will be speaking at campaign rallies for Republican Senate candidates David Perdue and Kelly Loeffler in Canton at 1.05pm and Gainesville at 4.10pm.
President-elect Joe Biden and vice president-elect Kamala Harris meet House speaker Nancy Pelosi and Senate Democratic minority leader Chuck Schumer in Wilmington. Pelosi is also expected to give her own press conference this morning.
And there's a couple of hearings worth keeping an eye on: House Armed Services Committee will hold a hearing on the US military mission in Afghanistan at 9am, and Internal Revenue Service commissioner Charles Rettig testifies before the House Ways and Means Subcommittee on Oversight at 10am.
What happens next after that Pfizer move for emergency permission to start deploying its Covid-19 vaccine? Here's what Associated Press say:
The public's first chance to see how strong the evidence really is will come in early December at a public meeting of the FDA's scientific advisers.
So far, what's known is based only on statements from Pfizer and BioNTech. Of 170 infections detected to date, only eight were among people who'd received the actual vaccine and the rest had the placebo shot.
On the safety side, the companies cites results from 38,000 study participants who've been tracked for two months after their second dose. That's a milestone FDA set because historically, vaccine side effects don't crop up later than that.
A few days before the meeting, the FDA will release its own internal analysis. That sets the stage for the advisers' daylong debate about any signs of safety concerns and how the new vaccine technology works before rendering a verdict.
They'll recommend not just whether FDA should allow broader use of the vaccine generally but if so, for whom. For example, is there enough proof the vaccine works as well for older, sicker adults as for younger, healthier people?
There's still no guarantee. "We don't know what that vote's going to be," said former FDA vaccine chief Norman Baylor.
If there's an emergency green light, "that vaccine is still deemed investigational. It's not approved yet," Dr. Marion Gruber, chief of FDA's vaccine office, told the National Academy of Medicine this week.
There will be a lot of unknowns. For example, the 95% protection rate is based on people who developed symptoms and then were tested for the virus. Can the vaccinated get infected but have no symptoms, able to spread the virus? How long does protection last?
And at least for now, pregnant women won't qualify because they weren't studied. Pfizer only recently began testing the vaccine in children as young as 12. A decision on Pfizer's vaccine won't affect other Covid-19 vaccine candidates in the pipeline, which will be judged separately.
It is another government group – advisers to the Centers for Disease Control and Prevention – who decides who is first in line for the initially scarce doses. Health and Human Services Secretary Alex Azar said he hopes that decision can be made at the same time as FDA's.
A quick snap from Associated Press here – Pfizer has said it is asking US regulators to allow emergency use of its Covid-19 vaccine, starting the clock on a process that could bring limited first shots as early as next month. and eventually an end to the pandemic – but not until after a long, hard winter.
The action comes days after Pfizer and its German partner BioNTech announced that its vaccine appears 95% effective at preventing mild to severe Covid-19 disease in a large, ongoing study.
The companies said that protection plus a good safety record means the vaccine should qualify for emergency use authorization, something the Food and Drug Administration can grant before the final testing is fully complete.
In addition to today's FDA submission, they have already started "rolling" applications in Europe and the UK.
Today's meeting between Donald Trump and Republican leaders from Michigan has been described as "an embarrassment to the state" by Michigan's Democratic Governor Gretchen Whitmer.
Whitmer, who was subject to a right-wing kidnap plot earlier this year over her attempts to curb coronavirus in Michigan, added "It's incredibly dangerous that they are even entertaining the conversation."
Sidney Powell, one of Trump's lawyers, told Fox Business television on Thursday "The entire election, frankly, in all the swing states should be overturned, and the legislatures should make sure that the electors are selected for Trump,"
Trump's focus on Michigan and Pennsylvania for now, but even if both those states ignored the popular vote and their electors pledged for Trump, he would need another state to overturn its vote to surpass Biden
Michigan's state legislative leaders, Senate majority leader Mike Shirkey and House speaker Lee Chatfield, both Republicans, will visit the White House at Trump's request, according to a source in Michigan.
The two lawmakers will listen to what the president has to say, the source told Reuters. Shirkey had told a Michigan news outlet earlier this week that the legislature would not appoint a second slate of electors.
Is there any route for Donald Trump to retain the White House? Yesterday he was claiming his lawyers would outline a viable path to victory.
Tom Hals at Reuters writes that Trump's latest strategy for attacking the legitimacy of the US election appears to be focusing on persuading Republican state lawmakers to overturn the vote in states won by his Democratic challenger Joe Biden.
To succeed, Trump would have to surmount considerable legal hurdles, overcome public condemnation and sway lawmakers in at least three states to break with democratic norms.
Most election scholars said the odds of Trump ultimately being named president are exceedingly slim. But the laws have never been tested like this before.
Biden won by a comfortable 306-232 margin in Electoral College votes. The process for formalizing his win, however, will take place in the coming weeks. Electors are party loyalists who pledge to back the candidate who won the popular vote in their state and are allotted among the states based roughly on population.
Typically, a state certifies a Republican or Democratic slate of electors based on which candidate won the popular vote. Electors convene on 14 December to formally select the president, and the results are sent to Congress to tally on 6 January. On 20 January, one presidential term ends and the next begins.
Delaying or blocking the state certification process could potentially clear the way for legislators to appoint electors pledged to Trump, even in states where Biden won the popular vote.
Usually, the secretary of state or governor certifies the vote. State legislators generally have no role in the process. But Trump supporters have seized on language in the US Constitution that says each state shall appoint electors "in such manner as the Legislature thereof may direct."
"Everyone should remember the central role of state legislatures in picking a president," Newt Gingrich, a former speaker of the US House of Representatives, said on Twitter on Saturday. "The Legislature, not the Secretary of State, Governor or court."
The Trump campaign took this argument a step further on Wednesday, claiming in a lawsuit that the administration of Pennsylvania's election was so flawed that state officials had usurped the power of the legislature to set election rules.
The campaign's proposed fix: let the state's Republican-controlled legislature appoint electors and declare Trump the victor of the state, even though Biden won the popular vote.
This is a difficult legal argument since the campaign is asking a court to override the vote of millions of Americans because of relatively minor alleged voting irregularities.
An obscure federal law provides another opening for lawmakers to appoint Trump electors in states won by Biden. That law allows state legislators to appoint electors if voters "failed to make a choice" on election day. Legal experts said legislators could pass a resolution saying the election was so marred by irregularities that the outcome could not be determined and then proceed to appoint their own electors.
This is particularly true in Wisconsin, Michigan and Pennsylvania, where the legislature is controlled by Republicans while the governors and secretaries of state are Democrats. That would swing 46 electoral college votes away from Biden and to Trump, pushing the incumbent over the 270 vote victory threshold.
"There's a lot of reasons to think that's illegal and improper and politically infeasible," said Paul Smith, a professor at Georgetown and a vice president for the Campaign Legal Center, a voter advocacy group. "But some people are talking about it for sure."
"That's what is so dangerous about this entire process which has been predicated on norms for so long that it has disguised just how rickety the system is if someone wanted to play this kind of hardball," said David Daley of FairVote, which advocates for election reforms.
Rudy Giuliani's stock as a lawyer has not exactly risen over the last couple of the weeks. First there was the Four Seasons Total Landscaping debacle, then a humiliating appearance this week in a Pennsylvania court, and yesterday his hair dye appeared to be running down his face as he made a series of further baseless claims and cited conspiracy theories about the election.
As several commentators have noted though, it may be an inept attempt to overturn the US election result and keep Donald Trump in the White House, but it is nevertheless an attempt to overturn the US election result – and one of the major parties plus a whole host of Senators and House representatives are going along with it. For whatever motive that may be, it is still a shocking moment in US politics.
Yesterday, for example, the official Republican Twitter account was putting out false statements that "President Trump won by a landslide".
It is just not true. Joe Biden has 79,685,131 votes to Donald Trump's 73,701,667. That's a lead of just under 6 million votes. In terms of the electoral college, Biden currently looks set for 306 votes to 232.
Even, in the unlikely event that Trump can find some legal means to overturn that electoral college lead and bag another 38 votes, it would not by any stretch of the imagination be "a landslide". The Republican party is simply putting out lies about the election on its social media channels.
Wisconsin has another battle on its hands as well as fighting coronavirus. Today the state has to begin recounting election votes at the insistence of defeated president Donald Trump. It will do so using face masks, protective equipment and perspex screens to protect workers.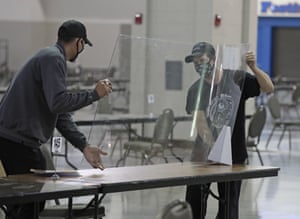 It's a ridiculously longshot bid by Trump who has paid a required $3 million fee to try and undo Joe Biden's victory.
Trump, who lost by more than 20,600 votes in Wisconsin, has alleged "mistakes and fraud" in the two counties that will recount, though he has produced no evidence to back up his claims.
Biden's victory over Trump was fueled by Democrat-heavy Milwaukee and Dane counties, making them targets for Trump to try and discount votes. The counties are home to Milwaukee, the state's most racially diverse city, and Madison, the state capitol. Combined, Biden won the counties by a more than 2-to-1 margin, report the Associated Press.
The recount will bring together hundreds of people at a time when the coronavirus is ravaging Wisconsin. One in every 118 people in Wisconsin has tested positive in the past week. To help reduce the risk, both counties are renting convention centers so that workers and observers can be properly distanced.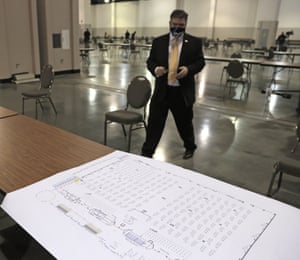 Both counties plan to use machines to recount the ballots, although Dane County says it will do some hand-counting from randomly selected precincts for an audit, as required by law.
Will this change things? Not likely. Wisconsin's 2016 recount, which was statewide and was requested by Green Party candidate Jill Stein, barely moved the needle on any candidate's totals, netting Trump an additional 131 votes.
More broadly, there's no precedent of a recount changing the outcome of an election in which the margin between the top two candidates is as large as the one Biden holds over Trump.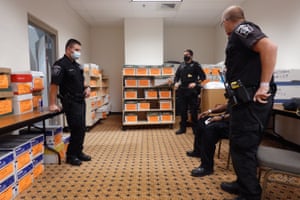 The recounts must be finished by a 1 December deadline. Milwaukee County expects to be finished the day before Thanksgiving. Dane County is planning 16-hour days but hasn't given expected completion date.
Faced with hospitals running out of beds and staff to treat the rising number of COVID-19 patients, the leader of the Wisconsin Hospital Association pleaded Thursday with Democratic Gov. Tony Evers and state legislative leaders to come together immediately to fight the virus before the current crisis becomes a catastrophe.
"Wisconsin faces a public health crisis the likes of which we have not experienced in three generations," Hospital Association President Eric Borgerding wrote in the letter. "A crisis of this magnitude caused by a virus that is so clearly raging across all of Wisconsin demands a unified and substantial response. Your joint leadership is critical to improve this situation, allowing everyone to get back to our way of life sooner."
According to Associated Press reports, Republican Assembly Speaker Robin Vos, who has sued Evers over his orders to slow the virus and who has not put forth any specific alternative plan of his own, said in a statement that he agreed more needed to be done to fight the virus.
"I join the call for unity in Wisconsin and hope my Senate colleagues and the governor can join me in putting aside partisan differences to find bipartisan answers," Vos said.
Republicans have fought Evers in court over his attempts to curb the virus spread, including his "safer at home" order that was struck down by the conservative-controlled Wisconsin supreme court in May and his current mask mandate that the court heard arguments over on Monday.
As of Thursday, there were 2,104 coronavirus patients hospitalized across the state, down slightly from an all-time high recorded Tuesday.
Yesterday's US coronavirus figures set two bleak landmarks. The 187,833 new cases recorded by the Johns Hopkins University tracker mark the highest single daily rise since the pandemic started. And with 2,015 deaths recorded, it is the first time since mid-April that over 2,000 people have died in a single day.
CNN report that experts warn the coming weeks will likely be brutal and the pandemic's death toll will keep climbing.
"We expect daily deaths to reach a peak of over 2,500 a day in mid-January," the University of Washington's Institute for Health Metrics and Evaluation modeling team wrote on Thursday.

The group also hiked its Covid-19 death forecast considerably, now predicting a total of 471,000 American deaths by March 1 — up more than 30,000 since their last projection about a week ago.

On Thursday, the US reported a new high of more than 80,600 hospitalized patients nationwide, according to the COVID Tracking Project.

"It's sometimes very frustrating because we know what works," Dr. Anthony Fauci told CNN's Chris Cuomo Thursday night. "If we had everybody pulling together as a country, doing the fundamental things that we've been speaking out, the mask wearing, the keeping the distance, the avoiding congregate settings and crowds, doing things outdoors … that's not big stuff. It's easy to do."
The medium term prospects do not look good. As the New York Times reports:
Even if the current seven-day national average of about 166,000 daily cases were to hold until the end of the year, nearly seven million more people would contract Covid-19. That is roughly equivalent to about 2 percent of the population.
The eight states showing the steepest rises over the last 14 days are North Dakota, South Dakota, Wyoming, Iowa, Nebraska, Minnesota, Wisconsin and Montana.
Women have long been front and center when it comes to making things happen on the Navajo Nation. But never has that role been so apparent – or so perilous – as during the pandemic. Ever since the coronavirus arrived on the 27,000-square-mile reservation, women in this matriarchal society have been putting themselves at risk, taking on ever more responsibilities, culturally and in everyday life reports Sunnie R Clahchischiligi for us today.
"The sacred side of women has changed with Covid," said Charles-Newton, 43, one of three female delegates on the Navajo Nation Council. Girls used to learn traditions through celebrations, face-to-face talks with elders and communal gatherings. But the pandemic has squelched those opportunities. "It's taking away a part of the culture."
Across every sphere – from economics and education to health – the impacts of Covid-19 are exacerbated for women and girls "simply by virtue of their sex", the United Nations has concluded. Women are more exposed to the virus because they're more likely to be frontline workers, such as nurses and healthcare staff. They hold more than 77% of jobs in US hospitals, healthcare facilities and nursing homes, US labor statistics show. They hold essential jobs, albeit low-paying ones, in groceries and retail stores.
On the Navajo Nation, women are even more vulnerable to the virus, as a result of poor healthcare, poverty, trauma and high rates of illnesses like diabetes.
Navajo women not only hold high-exposure jobs but also are keepers of the cultural flame – and caretakers of the many people around them who have tested positive for the virus. When they become sick or die, the whole culture suffers.
Read more of Sunnie R Clahchischiligi's report here: Women have long been the leaders in Navajo culture. Now they're steering the fight against Covid