Rafael Nadal v Stefanos Tsitsipas: ATP Tour Finals – live!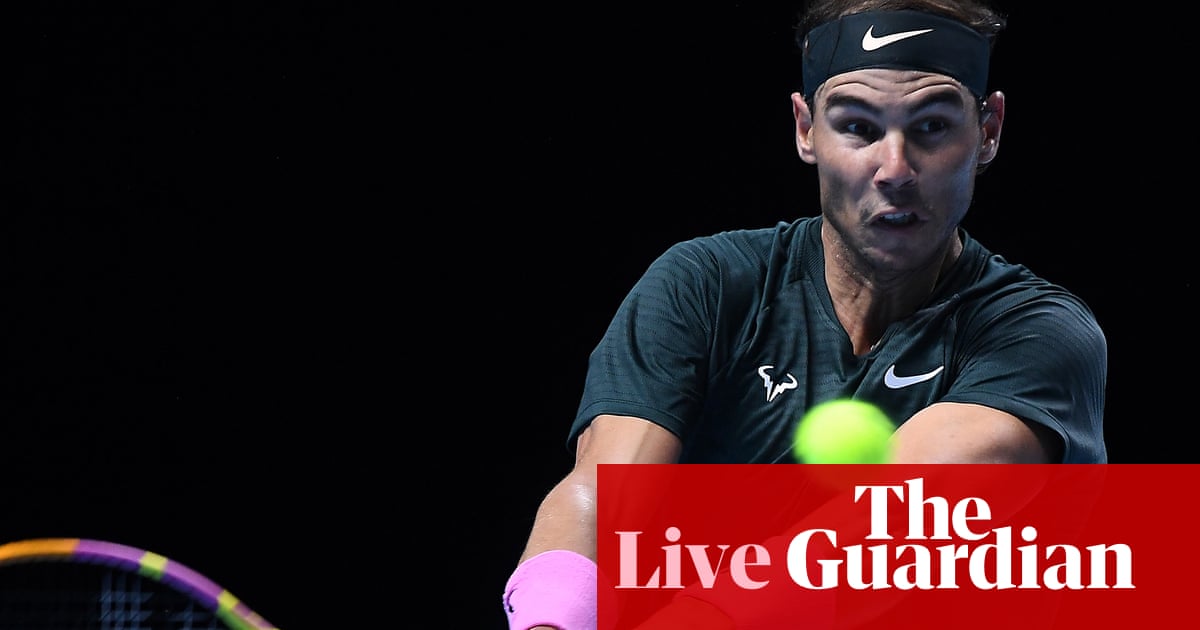 Head to head:
Rafael Nadal leads the head to head 5-1 against Stefanos Tsitsipas.
Their last meeting? Nadal beat Tsitsipas 6-7(4) 6-4 7-5 here last year in a long, fun and gruelling match in 2 hours 52 minutes. Nadal faced zero break points in the entire match.
Stefanos Tsitsipas on tonight's match.
Q. I want to ask you what are your memories from last year game against Rafa, and what key points do you have to improve to have a chance to beat him this time?

STEFANOS TSITSIPAS: I was very concentrated on our match last year and was playing each point individually. I'm going to try and play an aggressive — in aggressive tennis, you can play defensive with Rafa. Try to play the rallies, you know. Play rallies, apply pressure, serve well.

It is all part of my — it's part of the game that I want to play against Rafa. I think everyone has to play this way.

I just have to be solid. Have to be more solid than him to win. I know that. I have to start strong and finish even stronger.
Rafa after his loss to Dominic Thiem on Tuesday:
Q. Although you lost the match, you have shown a pretty nice round game, especially at the net. Do you think this is the style that you need to play to finally wrap an ATP Finals?

RAFAEL NADAL: I don't know. I think even if I never won here, I really, I don't want to pretend to be arrogant at all, no? Because I am not. But I really don't need to show even to myself or to no one that if I am playing my best tennis I think I can win in every surface and against any player, no?

Is true, but I never won in the World Tour Finals. That's the real thing at the same time. So no problem about that. I know I have to play my best if I want to have chances.

Today have been a match that I played at very high level, and my goal is just to keep going, no? I have a match against Tsitsipas in two days. Gonna be another tough one. But I hope to be ready, no? I think playing like this I am confident that I can have my chances in the tournament.
Hello! Welcome to our coverage of the penultimate day of round robin action at the ATP Finals. These final matches of the round robin stages can be so complicated with the semi-finalists often determined by set and game percentages. Thankfully, things are very simple this year and the winner of tonight's match between Rafael Nadal and Stefanos Tsitsipas will qualify for the semi-final in second place behind Dominic Thiem. Daniil Medvedev awaits.
Nadal arrives in this final at an interesting moment. This is only his second tournament on hard courts since February. Despite the fact that he fell in two tiebreak sets against Thiem, he did so while playing some incredible tennis himself aside from on the most important moments deep in the two tiebreaks. After the match, he was satisfied despite the loss. The question is whether he can use it as a stepping stone to advance further in the tournament.
Defending champion Tsitsipas has been struggling with a leg injury in recent weeks and although he took a set from Thiem, he was understandably more frustrated by his performance than Nadal. He rode his luck and demonstrated his mental fortitude in the following match as he recovered from match point down against Andrey Rublev to keep himself alive in the event. Now let's see what he can do against the very best.