The Future of the Democratic Party Is in Pennsylvania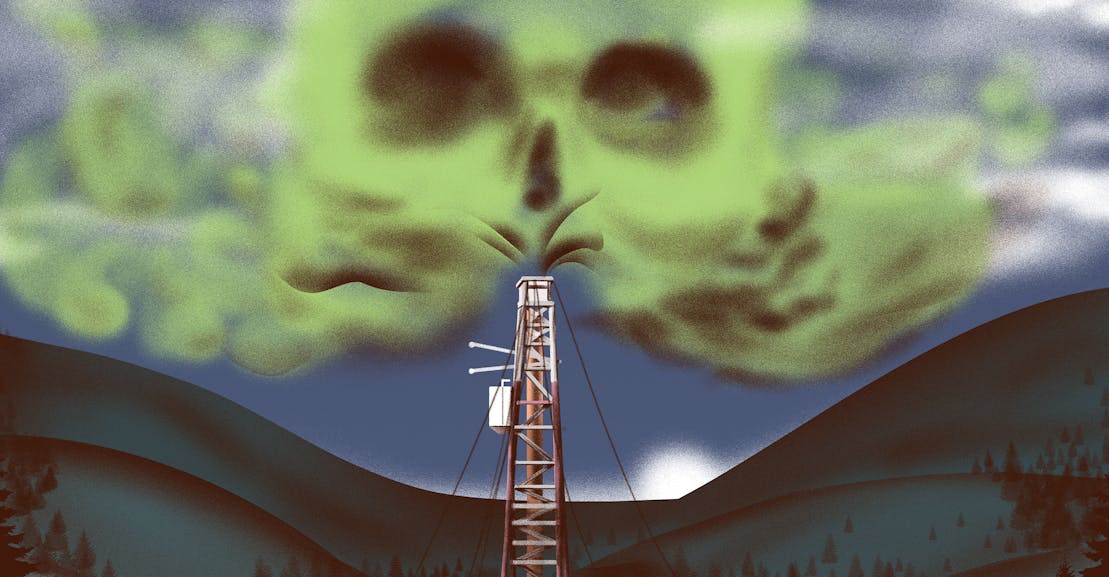 Then there was the air. The smell from putrefying waste water in open pits was nauseating. Airborne chemicals burned the throat and irritated exposed skin. One witness had a name for it: "frack rash." It felt like having alligator skin. At night, children would get intense, sudden nosebleeds; the blood would just pour out.…

Many of those living in close proximity to a well pad began to become chronically, and inexplicably, sick. Pets died; farm animals that lived outside started miscarrying, or giving birth to deformed offspring. But the worst was the children, who were the most susceptible to the effects. Families went to their doctors for answers, but the doctors didn't know what to do.
The imprint of the industry could be seen throughout Pennsylvania's government, not least of all in the Democratic Party. In 2003, Ed Rendell, now the governor, appointed Katie McGinty as his secretary for the DEP. This was when the shale boom was taking off, and 130,000 acres of public land were opened to drilling (a move that Governor Rendell later said he regretted). From 2008 until her appointment as Governor Tom Wolf's chief of staff in 2014, McGinty served on the boards of two energy companies and was managing director of a consulting firm that was a member of the Marcellus Shale Coalition, an industry trade group. She then ran unsuccessfully for U.S. Senate in 2016. A Republican Super PAC used the industry connections to attack her in an ad. (I knocked doors for her in Northeast Philadelphia, where people I talked to derided her, in the attack ad's language, as "shady Katie.")
With fracking no longer seen as a boon for foreign policy, the economy, or the climate, its basic toxicity ought to be obvious. Yet Democrats ostensibly committed to fighting climate change regularly support subsidies for the industry. Partly this is due to the binding of fossil fuel jobs to building trades unions—many of whose members would work in renewable energy, if there were sufficient will to boost it. Now that fracking is considered even by Wall Street to be in decline, Pennsylvania has doubled down on petrochemical plants that use ethane, a product of fracking, for manufacturing plastic—a way of managing the overabundance of natural gas. Beaver County is the site of one such "cracker" plant, owned by Shell, which received the largest tax break in recent Pennsylvania history, $1.65 billion. Employing 600 permanent workers, the plant reaped $2.75 million in public subsidies per employee. Supporters of fracking worry about lost jobs. But depending on tax credits on this scale to create a relatively meager number of jobs would, in any other sector, not be considered a sustainable business model. As Kate Aronoff has argued in this magazine, the industry is in trouble. Some form of government nationalization and a wind-down is the way to save workers from crashing out of it altogether.
For Democrats, fracking and the fossil fuel industry are seen as complex liabilities to tiptoe around, rather than what they are: polluting, corrupt, dangerous, and unpopular. When two of the leading Democratic presidential candidates, Bernie Sanders and Elizabeth Warren, announced support for a fracking ban, a flurry of stories appeared signaling danger not only for them but for all Democrats in Pennsylvania should either of them win the nomination. The prospect of a pro-fracking backlash remains so strong that Trump has steadily campaigned on the false claim that Joe Biden himself would ban fracking. The Biden campaign has devoted considerable time to a strenuous and constant objection, when it has a powerful clean energy program to tout.
The fact is that most Pennsylvanians support an end to fracking: A slim majority (52 percent) in a CBS/YouGov survey published in August supports an outright ban, while a sizable majority (62 percent) supports phasing out fracking by 2050, according to a poll from the Global Strategy Group published in August. According to the latter, most Pennsylvanians also favor "bold action" to fight climate change. Permitting fracking to continue unabated is not what they mean.