Shell to cut up to 9,000 jobs; UK house prices jump – business live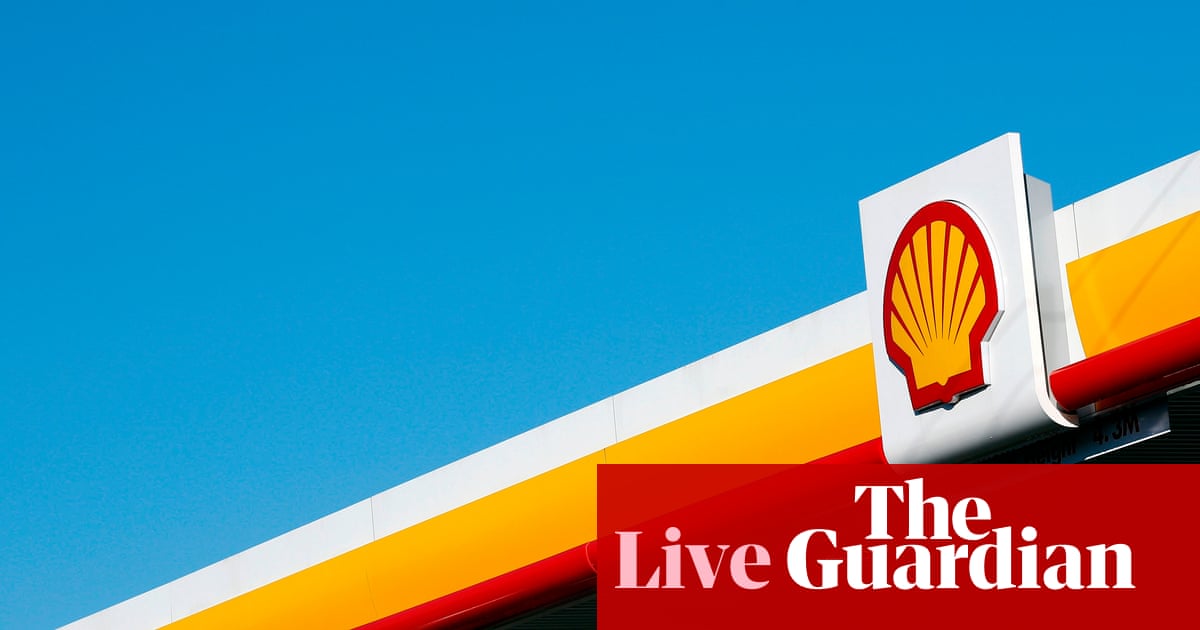 The FT's Anjli Raval says Shell is trying to streamline its business after the shock of Covid-19, writing:
Shell has in recent months reviewed its operations as it seeks not only to become more financially resilient, but better set up for a shift towards lower-carbon energy businesses.

Job reductions of between 7,000 and 9,000 are expected by the end of 2022, including 1,500 people that have chosen to take voluntary redundancy.

Energy companies have seen earnings plunge as the coronavirus outbreak and measures to curb its spread by governments hit demand for oil and prices.
Shell's job cuts mean that tens of thousands of positions are being lost across the energy industry – due to Covid-19 and the push towards less polluting sources of power.
Bloomberg has the details:
Royal Dutch Shell Plc will cut as many as 9,000 jobs as Covid-19 precipitates a companywide restructuring into low-carbon energy.

Job reductions of 7,000 to 9,000 are expected by the end of 2022, including around 1,500 people taking voluntary redundancy this year, Shell said Wednesday in a statement. The company sees sustainable annual cost savings of $2 billion to $2.5 billion by that time.

"We have to be a simpler, more streamlined, more competitive organization," Chief Executive Officer Ben van Beurden said. "We feel that, in many places, we have too many layers in the company: too many levels between me, as the CEO, and the operators and technicians at our locations."

The move adds to the growing list of major announcements this year which has seen Big Oil slash dividends, take multibillion-dollar writedowns and ax jobs following oil's coronavirus-induced plunge. BP said in June it planned to cut 10,000 jobs as it moved into cleaner energy, Chevron Corp. intends to trim 10% to 15% of its global workforce, while Exxon Mobil Corp is reviewing staffing country by country.
Shell chief Ben van Beurden is also pledging to push governments and regulators towards a low-carbon future.
In an article outlining his net-zero strategy, and the sweeping job cuts, van Beurden says:
We simply have to be better at making decarbonisation a reality in society and that means having a loud, clear voice. If we want to make hydrogen happen, for example, it is not going to be by just building the infrastructure and seeing what happens next. It is going to be by working with decision makers and policy makers so we can find ways forward: what legislation and standards need to be put in place, what bottlenecks need to be cleared.

We cannot just be quiet. If we stay quiet we risk ending up saying: "Well, I am sorry, it didn't happen because we failed to speak up." We have to be proactive and help things happen.
Excellent. But in the short-term, Shell is still planning to produce an awful lot of oil – adding to the climate emergency.
Today's operations update states that Shell expects to produce between 2,150 and 2,250 thousand barrels of oil equivalent per day, including a loss of up to 70 thousand barrels per day from hurricanes in the US Gulf of Mexico.
Good morning, and welcome to our rolling coverage of the world economy, the financial markets, the eurozone and business.
We start with some breaking news — oil giant Royal Dutch Shell is cutting up to 9,000 jobs as it overhauls its operations towards greener energy sources.
The cuts equate to around one in ten staff across Shell, adding to the swathe of jobs lost this year since Covid-19 plunged the world into a deep recession.
Ben van Beurden, Shell's CEO, announced the cutbacks this morning. As well as cutting costs, he argues they will help Shell become a net-zero emissions energy business within 30 years.
Van Beurden says that a major restructuring is now needed:
It is very painful to know that you will end up saying goodbye to quite a few good people. I know I, and many others in Shell, will be saying goodbye to people we know well and really like and who have great loyalty to the company. But we are doing this because we have to, because it is the right thing to do for the future of the company.

We have to be a simpler, more streamlined, more competitive organisation that is more nimble and able to respond to customers.
And that means massive job cuts, Van Beurden warns:
COVID-19 has shown we can work very effectively in ways we did not think we were ready for yet. But a large part of the cost saving for Shell will come from having fewer people.

We do not have an exact figure because the details are still being worked out, and we have never had a target to reduce a particular number of jobs. But we can say that, because of the efficiencies we expect to gain, we will reduce between 7,000 and 9,000 jobs by the end of 2022.

This includes around 1,500 people who have already agreed to take voluntary redundancy this year, but excludes any who may leave Shell because of divestments.
The sweeping jobs cuts are part of a plan to save Shell between $2bn and $2.5bn per year — as it also wrestles with the slump in the oil price since the Covid-19 pandemic, and the hit to energy demand.
We've also just learned that UK house prices continued to rise sharply last month, increasing at the fastest rate in four years.
Nationwide has reported that:
Annual price growth picked up to 5.0% in September, the highest rate since Sep 2016
Prices rose 0.9% month-on-month, after taking account of seasonal factors
Most regions saw a pickup in house price growth rates in Q3
Stock markets are expected to fall back today, as investors recoil from a bitter and chaotic presidential debate overnight in which Donald Trump repeatedly interrupted Joe Biden, attacked mail-in balloting, and failed to denounce white supremacist violence .
The agenda
8.20am BST: European Central Bank president Christine Lagarde at The ECB and its Watchers XXI Conference in Frankfurt
8.55am BST: German unemployment data for September
9.30am BST: Bank of England's chief economist Andy Haldane speaks at the Cheshire and Warrington LEP Economic Summit
1.15pm BST: The ADP survey of private sector US job creation in September
3.30pm BST: The weekly EIA crude oil inventory figures