England v West Indies: fifth and final women's T20 international – live!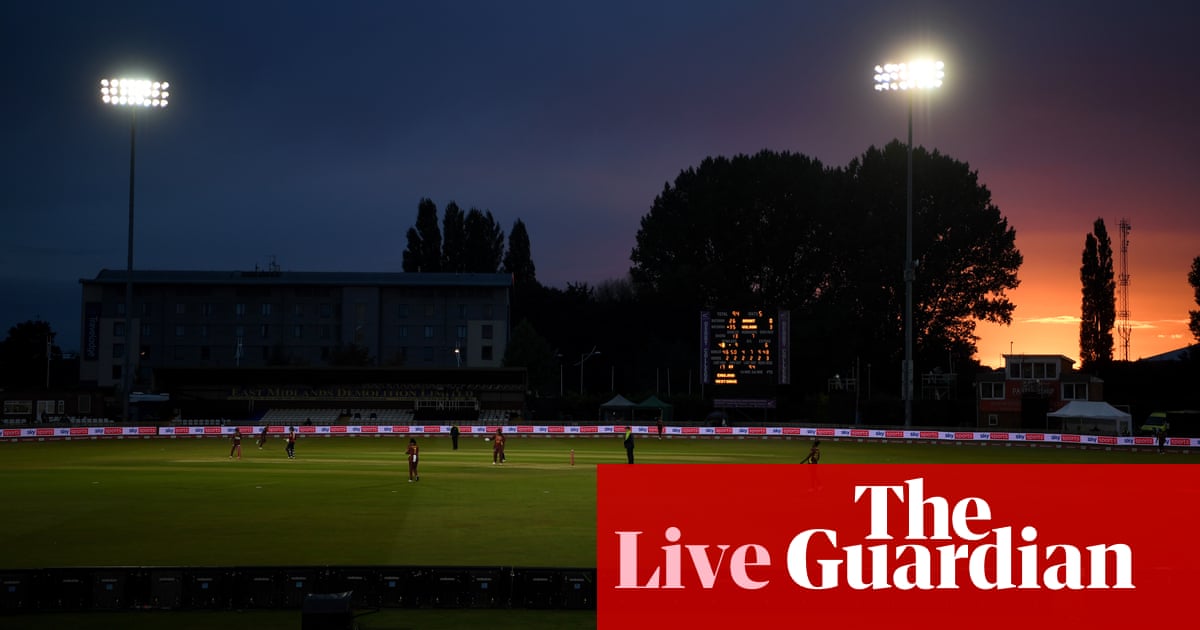 Sake and double sake. Sky spend all of three minutes in Derby before heading straight back to Dubai, where Buttler has 21 off 15 now, with the Royals 39-2 needing 175 against KKR. Oh, and there it is: Buttler slashes at a wide one and picks out short third-man.
Not gonna lie, sportsfolk having to play in inclement conditions makes me kind of happy, and these are most definitely those. Should we get any action, I predict much hand-wringing. The woke epidemic spreads ever further.
"Grim-looking," says Mark Butcher of the County Ground. He's not lying.
In Dubai, Joseph Buttler is at the wicket, with 15 off nine, including two sixes.
Here's one of mine. When I had exams, I'd never listen to this during the revision period, then get back home or to my room and stick this on as loudly as possible.
I'm sat here forlornly looking at radars and such. What songs remind you of sunshy-iiine?
That YouTube autoplay function is extremely dangerous. I was lucky enough to spend a bit of time in Jamaica a few years ago, and this was my driver's favourite.
Meanwhile, Phill Simmons has noted that England need to give something back to West Indies in the way of matches in the Caribbean. Quite right and yes please.
Good news for Zak Crawley, Ollie Pope and Sibley Dom Dom, less good news for Jonny Bairstow and Mark Wood.
I appear to have been unduly optimistic. My sources at the Met Office inform me that it's raining at the County Ground, and that it'll be raining for the next three hours. Should that eventuate, we're not getting a game.
Friends, I say this with intense trepidation and profound regret, but I fear we have finally reached the end of the cricketing summer. I'm so, so sorry.
England have been excellent in this series, not only winning all four matches but winning them by significant margins – 47 runs, 47 runs, 20 runs and 44 runs. Which is to say that they've batted first on each occasion – three of them by choice – so perhaps West Indies can win the toss here, have first knock, and set a target to put England under pressure.
Their problem is that England have so much firepower. You can dismiss some of their batters out cheaply but all of their batters? Good luck with that. West Indies, meanwhile, are extremely reliant on Deandra Dottin, and everybody knows it; get her, and you're a chunk of the way towards getting them.
But, in the meantime, if someone could let us know what on earth we to do tomorrow, that'd be very much appreciated.
Play: 6pm BST