Tottenham v Chelsea: Carabao Cup fourth round – live!
That's superbly taken! Reguilon gives the ball away in midfield and Chelsea attack down his left flank. He sprints back to close down Azpilicueta and then slides past him comically as the right-back checks his run, and his low cross reaches Werner, who has pulled to the edge of the area, and he hits a lovely low shot through a group of players and just inside the post!
17 mins: Chelsea have had 80% of possession so far, and now they've had a chance as well! A cross from the left reaches Hudson-Odoi, but his left-footed half-volley is a bit weak, and almost totally straight at Lloris, and is therefore saved.
15 mins: Nathan Stroomberg is Lewes' goalkeeper, as you may have gathered. Meanwhile at Spurs Lamela tackles Jorginho, who tackles him back, but is tackled back again.
13 mins: An update from Martin Brown! At the Dripping Pan, as Lewes' stadium is magnificently called, the home side are down to 10 men!
11 mins: Chelsea pass the ball around for a while, mainly to Tomori. They've had about 30 passes so far and are yet to cross the halfway line.
7 mins: A slightly messy start, from both teams. "I counted the letters and Alderweireld is an even bigger name than the impressive Azpilicueta," writes Peter Oh. "Don't believe Jose's mind games. Spurs are here to compete and win."
5 mins: Hudson-Odoi significantly overhits a cross, but Chilwell keeps it in and passes back to Werner, who also overhits his cross, slightly less significantly. Goal kick.
4 mins: Gareth Bale is at the ground, but is mainly texting rather than watching the football. I suppose he's sat and watched quite a lot of football of late.
1 min: Peeeeep! Spurs get the game started! But Lee Mason isn't happy about it, so we all have to do it again. Peeeeeep! Spurs get the game started!
Out come the players! Actual football in just a jiffy.
Frank Lampard isn't surprised to see a few big names in the Spurs side:
I was never taken in by Jose yesterday talking about how they wouldn't compete – that's a team to compete. They've got a very strong squad here and they've added to that in this window. We knew they could pick a lot of players who maybe weren't involved at the weekend or won't be involved on Thursday. We expected a strong team and we got that.
Martin Brown emails from an actual football stadium, where an actual crowd is watching actual football. It's Lewes v Worthing. "450 sold out crowd for this Sussex derby," he brags. "Social distancing going well!"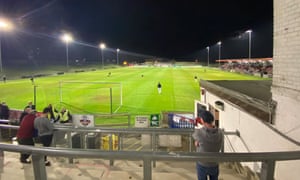 More from Jose Mourinho's pre-match chat:
We are going to fight. We don't have the same conditions as others, but we are going to fight for sure. I don't like at all to go to the next round without playing. Unfortunately, also for us but especially for Leyton Orient, we didn't play that game which makes me sad about it. But today we don't have the same conditions as our opponent, not just the fact we played Sunday and they played Saturday, we play after tomorrow a very important game for our season, both for the sports side and also the economical side. So we don't have the same ammunition as they have, but yes, we're going to fight.
Jose Mourinho says "nobody" is going to play at centre-forward – "today we don't have a nine" – and refuses to talk about Dele Alli: "I'm not going to speak about players who are not here. Are you going to ask Frank, no Thiago Silva, is it because of the mistake he made or another reason?"
A little pre-match news from another Premier League team:
Those teams in full, in totally textual form:
Tottenham Hotspur: Lloris, Alderweireld, Dier, Tanganga, Aurier, Fernandes, Ndombele, Sissoko, Reguilon, Bergwijn, Lamela. Subs: Doherty, Hojbjerg, Sanchez, Kane, Hart, Lucas Moura, Davies.
Chelsea: Mendy, Azpilicueta, Tomori, Zouma, Chilwell, Jorginho, Kovacic, Hudson-Odoi, Mount, Werner, Giroud. Subs: Arrizabalaga, Kante, Barkley, Abraham, James, Havertz, Emerson Palmieri.
Referee: Lee Mason.
PA Media have filed a little team-news reaction update latest:
Dele Alli was again left out of Tottenham's squad for the Carabao Cup against Chelsea. Alli has only featured in two of Spurs's six games so far this season as his future at the club looks bleak. Sergio Reguilon was handed a debut as Jose Mourinho made nine changes from the side that drew with Newcastle. Chelsea named a strong line-up as goalkeeper Edouard Mendy was given a debut, while Ben Chilwell made his first start at left-back.
And here's the Spurs line-up. As trailed, it's a stronger side than might have been anticipated:
Chelsea's line-up is more than decent, with a debut for Mendy and a first start for Chilwell. I haven't seen Tottenham's yet.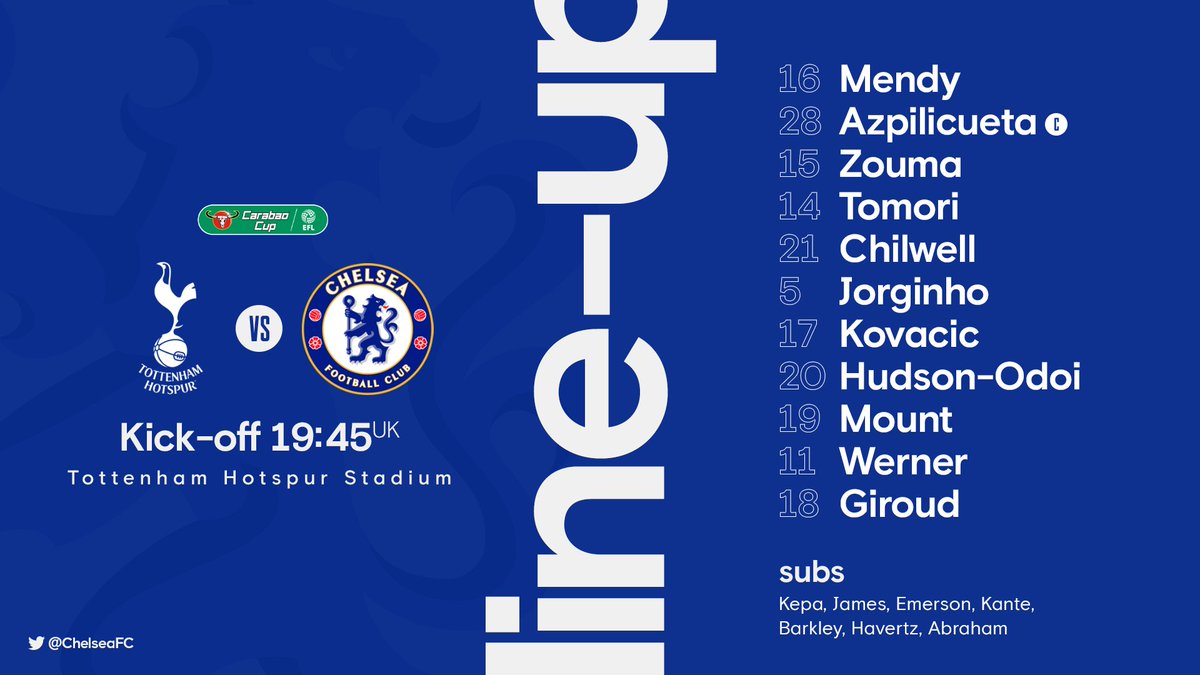 Squad news should be incoming in a couple of minutes, but word on the street is that Tottenham are actually going to field a pretty strong team. We'll find out just how strong in a short while.
Well, here's another nice mess they've gotten themselves into. To recap: Spurs reached the fourth round of the Carabao Cup after Leyton Orient were thrown out of the competition for testing their players and finding that some of them were Covid-positive, and will now proceed to throw themselves out of the competition. Really, irrespective of the fairness of their punishment (for the record, not very), Orient should be playing this game, one which they might actually relish. Instead here Spurs are, stuck in a competition they can't compete in, playing a game they don't need, just 48 hours before Maccabi Haifa turn up for a probably-more-important-on-balance Europa League play-off, with an also-more-important-on-balance league match against Manchester United to follow at the weekend.
"I would like to fight for the Carabao but I don't think I can," scowled Jose Mourinho. "The group phase of the Europa League gives us a certain amount of money that for a club like us is very important. I think the EFL made a decision for us. They didn't even create a problem – they made a decision. So that's the decision."
"I know they have a busy week this week but when I analyse Tottenham and know the squad they have, they have a fantastic squad," says Frank Lampard. "So any squad Jose puts out can be very strong. I think we all know the Carabao Cup, for teams like ourselves and Tottenham that are challenging for the top four and Champions League, the Carabao Cup does have its place but we certainly respect it and every tournament we go in we try to win."
This evening I fear will be one where neither side wins, but one fails to lose.