Markets fall ahead of Bank of England meeting despite dovish Fed – business live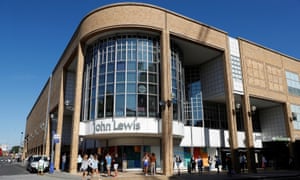 John Lewis, though, doesn't share Next's optimistic outlook.
The John Lewis Partnership has just reported a £55m pre-tax loss for the first half of this year, after being forced to shut stores during the pandemic.
But if you include £580m of 'exceptional items', including the cost of stores closures, restructurings, and redundancies,, the loss swells to £635m.
This has forced John Lewis to cancel its partner bonus for the first time in many decades.
New chairman Sharon White told fellow partners that:
The Group found itself in a similar position in 1948 when the bonus was halted following the Second World War.

We came through then to be even stronger than before and we will do so again."
White also warned that the retailer is still bracing for its worst-case scenario.
In April, we set out a worst case scenario for the full year of a sales fall of 5% in Waitrose and 35% in John Lewis. That remains our worst case view. We now believe the most likely outcome will be a small loss or a small profit for the year.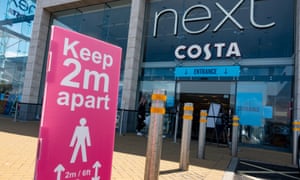 Retail group Next is bucking today's selloff, after hiking its profit guidance for the year.
Next now expects to make a pretax profit of around £300m this year, up from the central scenario of £195m given in July.
Next CEO Simon Wolfson says three factors helped Next rise out the Covid-19 crisis. First, it has a strong online business; secondly, demand for homeware items, children's clothes and leisure wear garments held up relatively well during the lockdown; thirdly, its out of down retail park stores were less affected by the pandemic than high street outlets.
Wolfson told the City that the outlook is still very uncertain:
Standing as we are, in the midst of the pandemic, with no sign yet of abatement or vaccine, it might seem odd that the essential tone of this report is optimistic. Particularly, some might say, coming from NEXT.

But our confidence in the future is not because we see a comfortable route through to the end of the pandemic. The prospects for the next six months remain as uncertain as the outlook for the virus itself; never has our guidance been more tentative or as broad in its possible outcomes.

But in all our guidance scenarios the Group generates a profit, generates cash and reduces its debts.
Shares have jumped over 2% in early trading to over £63 (still down 10% this year).
As feared, European stock markets have fallen in early trading.
In London, the FTSE 100 is down 62 points or 1% at 6019, as City traders wait for the Bank of England's decision at noon.
Naeem Aslam of Avatrade says last night's Federal Reserve press conference seems to have unnerved the markets, despite its pledge to keep interest rates on hold for several years.
The fact that the Fed chairman highlighted uncertainty for the U.S. economy.

The Fed cautioned the market last night that the pace of economic acidity is likely to remain slow. This has made investors adopt a cautionary tone today.

Yes, there is no denying that there was little to none surprise in the Fed statement. But the reason that we see strength in the dollar index is that it is catching some safe-haven bid, and two members of the Fed committee weren't in favor of the current monetary policy. This is really significant because we usually do not see this when it comes to the Fed committee. The likely scenario is that this is where the market is going to focus for any future Fed meetings; you will have a dove camp and a hawk camp.
European car sales have taken a worrying dive, new figures show.
Auto sales slumped by over 18% year-on-year in August, according to the European Automobile Manufacturers Association. That's much worse than the 3.7% dip record in July, and ends a run of improving sales.
It suggests that the early rebound in demand after lockdowns eased has petered out, with some government stimulus packages also ending (France offered a scrappage scheme).
Michael Dean, a Bloomberg Intelligence analyst, says:
Sales are on track to decline by at least 20% in 2020, and the drop may be worse if August's setback is an indication that July's demand bounce was only a short-lived recovery supported by subsidies.
Good morning, and welcome to our rolling coverage of the world economy, the financial markets, the eurozone and business.

The Bank of England has a lot on its plate right now. The economy is emerging from one of its worst slumps ever, a no-deal Brexit could be looming, and inflation has slumped to near zero.
And at noon today, the BoE will reveal its latest monetary policy decision, and update us on its assessment of the economic outlook. It's likely to be a sobering read, with unemployment expected to nearly double this year.
The Bank could well drop some loud hints that it will launch more stimulus measures soon, especially if Brexit fears grip the economy tighter.
Jim Reid of Deutsche Bank predicts the Bank of England will leave interest rates and its QE programme on hold today, but may act before Christmas:
Our base case is that there'll be a further £60bn top-up to the QE program in December, though risks are rising that this might be announced slightly earlier at the November meeting. The meeting comes against the backdrop of rising Brexit uncertainty, which will only serve to heighten uncertainty and weaken confidence.

Brexit wasn't mentioned once in the minutes of the August meeting, but it'll be interesting to see if this change ….
America's central bank has already had its say. Last night, the Uederal Reserve said it would keep interest rates at record lows until at least 2023, to ensure that inflation was on track to overshoot its target.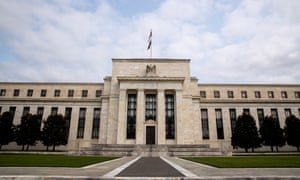 As Fed Chair Jerome Powell put it:
Effectively what we are saying is that rates will remain highly accommodative until the economy is far along in its recovery,
The Fed also raised its growth and unemployment forecasts, suggesting confidence that the economy was healing. It now only expects US GDP to shrink by 3.7% this year, up from a 6.5% contraction before. Unemployment is now seen at 7.6% by the end of the year, down from 9.3%.
You might expect this pledge of even more loose monetary policy to cheer investors and lift risky assets, but US stocks actually closed lower last night, with the Nasdaq losing 1.25%.
Investors were alarmed that Powell warned the US rebound could be at risk without more government spending — a nudge to Congress to end their disagreements over stimulus packages.
Fiona Cincotta of City Index explains:
Stocks sold off and the US Dollar rose following the Fed's announcement in and risk off move as the market portrayed its frustration at the Fed's reluctance to offer any more stimulus.
That knocked stocks in Asia, and european equities are also facing losses at the open. The FTSE 100 predicted to fall around 1% – back to the 6,000 point mark.
We'll be tracking all the action through the day, including the latest US unemployment and housing data.
The agenda
Noon BST: Bank of England interest rate decision
1.30pm BST: US weekly jobless figures
1.30pm BST: US mortgage approvals and housing starts