Trump and Biden clash over national Covid mask mandate – US politics live
As well as CDC officials appearing about the administration's coronavirus responses, top aides to secretary of state Mike Pompeo will also testify to members of Congress today. In this case the hearing will be about the firing of the former State Department inspector general, months after Democratic-led committees launched an investigation into his dismissal.
President Donald Trump abruptly fired Steve Linick from his position as the State watchdog in May, as he investigated the administration's decision to pursue billions of dollars in military sales to Saudi Arabia despite congressional opposition.
His firing was one of a series of Trump's dismissals of officials responsible for preventing fraud and abuse at government agencies, Reuters report. The firings prompted concern among members of Congress, including some of Trump's fellow Republicans, over whether Trump was interfering with legitimate oversight.
Linick was also investigating allegations that Pompeo and his wife Susan had misused government resources by having department staff handle personal matters.
Today three top Pompeo aides – Brian Bulatao, under secretary for management, acting legal adviser Marik String and Clarke Cooper, assistant secretary for political-military affairs – will appear before the House of Representatives Foreign Affairs and Oversight committees.
Underscoring tensions between Congress and the administration over Linick's firing amid the investigations, Bulatao and String agreed to testify only after the panels announced subpoenas.
"All the facts that we know suggest that there is an aversion to accountability," a committee aide said.
Congress had requested an investigation into the Trump administration's May 2019 decision to push ahead with $8 billion in military sales to Saudi Arabia and neighboring countries by declaring a "national emergency" over tensions with Iran, in order to sidestep congressional objections to the sales.
Lawmakers had been blocking many of the sales for months out of concern the equipment might contribute to the human catastrophe in Yemen, where bombings by a Saudi-led coalition have caused heavy civilian casualties.
A report issued by the State Inspector General's office in August found that State did not fully evaluate the risks to civilians in Yemen when it pushed through the huge precision-guided munitions sale, although it did not violate the law.
We have a first-person piece today from Portland's Erica Barry, on how in fire-stricken Oregon, her old way of life is already gone.
Early last week, my smoke alarms began going off a few times a day. I began to move around my basement apartment in Portland, Oregon, with a scowl, noise-canceling headphones swinging around my neck. On the one hand, because there were no fires nearby, the alarms were not doing their job. The system was too sensitive, the boy was crying on wolf. On the other hand, the alarms were working just fine: there was smoke. It was everywhere.

The color of the midday sky as it streamed across the bathroom floor was tangerine, and the air quality outside my window ranked worse than any other city in the world. Meanwhile, the wildfires that had already burned a million acres in Oregon and devoured hundreds of homes were now moving in an ugly rash toward my home town.
Read it here: Erica Barry – Here in fire-stricken Oregon, an old way of life is gone
On the other coast it is the ongoing wildfires that are the climate crisis. James Anderson and Matthew Brown have been talking to some of the firefighters involved in the battle for the Associated Press, and have found them absolutely exhausted.
Justin Silvera, a 43-year-old battalion chief with Cal Fire, California's state firefighting agency, said he's lost track of the blazes he's fought this year. He and his crew have sometimes been on duty for 64 hours at a stretch, their only rest coming in 20-minute catnaps.
"I've been at this 23 years, and by far this is the worst I've seen," Silvera said before bunking down at a motel for 24 hours. After working in Santa Cruz County, his next assignment was to head north to attack wildfires near the Oregon border.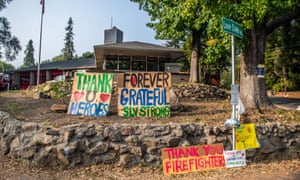 "There's never enough resources," said Silvera, one of nearly 17,000 firefighters in California. "Typically with Cal Fire we're able to attack air tankers, choppers, dozers. We're good at doing that. But these conditions in the field, the drought, the wind, this stuff is just taking off. We can't contain one before another erupts."
Washington State Forester George Geissler says there are hundreds of unfulfilled requests for help throughout the West. Agencies are constantly seeking firefighters, aircraft, engines and support personnel.
Fire crews have been summoned from at least nine states and other countries, including Canada and Israel. Hundreds of agreements for agencies to offer mutual assistance have been maxed out at the federal, state and local levels, he said.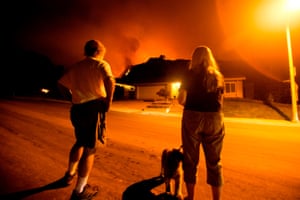 Tim Edwards, president of the union for Cal Fire, the nation's second largest firefighting agency said "We're battle-hardened, but it seems year after year, it gets tougher, and at some point in time we won't be able to cope. We'll reach a breaking point."
The immediate dangers of the fires are compounded by worries about Covid in camp and at home. Firefighters "see all this destruction and the fatigue, and then they're getting those calls from home, where their families are dealing with school and child care because of COVID. It's stressing them out, and we have to keep their heads in the game," the 25-year veteran said.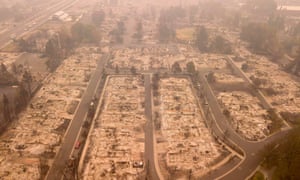 Aside from the human toll, the fires also have economic implications. California alone has spent $529 million since July 1 on wildfires, said Daniel Berlant, assistant deputy director of Cal Fire. By comparison, the state spent $691 million the entire fiscal year that ended June 30. The US government will reimburse most state costs for the biggest disasters.
Here's the latest on Hurricane Sally which is battering the Gulf coast this morning. Stacy Stewart, a senior specialist with the National Hurricane Center says the storm could strengthen further before the entire eyewall moves inland and the center of the hurricane crosses the Gulf coast between 6 and 7am EST.
He says the hurricane will bring "catastrophic and life threatening" rainfall over portions of the Gulf Coast, Florida panhandle and southeastern Alabama through Wednesday night.
The hazards associated with the hurricane are going to continue after it makes landfall, with the storm producing heavy rainfall Wednesday night and Thursday over portions of central and southern Georgia, Stewart said.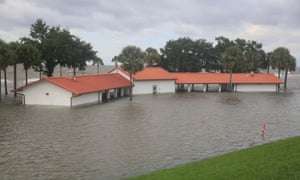 The Associated Press report that Hurricane Sally has been pummelling the Florida Panhandle and south Alabama with sideways rain, beach-covering storm surges, strong winds and power outages early Wednesday, moving toward shore at an agonizingly slow pace that promised a drawn out drenching and possible record floods.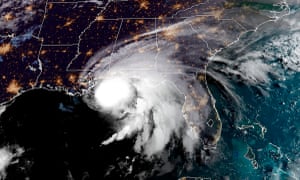 Some 150,000 homes and businesses had lost electricity by early Wednesday, according to the poweroutage.us site. A curfew was called in the coastal Alabama city of Gulf Shores due to life-threatening conditions. In the Panhandle's Escambia County, Chief Sheriff's Deputy Chip Simmons vowed to keep deputies out with residents as long as physically possible. The county includes Pensacola, one of the largest cities on the Gulf Coast.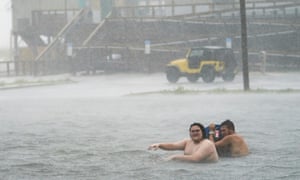 "The sheriff's office will be there until we can no longer safely be out there, and then and only then will we pull our deputies in," Simmons said at a storm briefing late last night.
This for a storm that, during the weekend, appeared to be headed for New Orleans. "Obviously this shows what we've known for a long time with storms – they are unpredictable," Pensacola Mayor Grover Robinson IV said.
In more evidence of the administration not taking the coronavirus threat seriously, The Hill are touting an exclusive this morning saying they have obtained behind-the-scenes documents showing how concerned health officials were in Oklahoma as Trump planned to stage his Tulsa rally there in June. "How strongly do I speak out?" asked one epidemiologist working for the state in an email.
"I am concerned that the mass indoor gathering in Tulsa of 19,000 people will directly lead to deaths in Oklahoma," Aaron Wendelboe stated in the email, which has not previously been reported. "As the state epidemiologist, I feel I have a responsibility to speak out and warn of the estimated risk."

In an internal risk analysis, Wendelboe, who left the department after his contract expired this summer, estimated that the event would likely lead to "at least 2 deaths and probably closer to 10."

Five days before the event, in a separate email to Tulsa Health Department Director Bruce Dart, Wendelboe wrote: "I'm not sure of any instance where we would hold a public event and say, '…and by the way, there is a chance that attending this could lead to a minimum of two deaths.'"

Wendelboe referred questions about his warnings to the Oklahoma State Department of Health.
In the event the Tulsa rally saw a much lower attendance than organisers had been boasting of in advance, leading to the president making changes at the top of his campaign team.
Read it here: The Hill – Internal documents show officials waved red flags before Trump's Tulsa rally
Donald Trump appeared at an ABC town hall event last night, a rare non-Fox News TV appearance for the president. He was asked by a member of the audience "Why don't you support a mandate from national mask wearing and why don't you wear a mask more often?"
To this, Trump replied:
Well, I do wear them when I have to, and when I'm in hospitals and other locations. But I will say this, they said at the Democratic Convention, they're going to do a national mandate. They never did it. Because they've checked out and they didn't do it. And a good question is you ask like Joe Biden, they said, we're going to do a national mandate on masks. He didn't do. I mean, he never did it.
Overnight Joe Biden has retorted to the assertion, pointing out that he, unlike Trump, is not currently the president.
Yesterday, prestigious US journal Scientific American broke with tradition to back Biden in its first ever presidiential endorsement, saying Trump has damaged the US 'because he rejects evidence and science'.
Good morning, and here is Wednesday's live coverage of US politics for you. Here's a catch-up on what happened yesterday, and a little of what we can look forward to today, as the country continues to wrestle with coronavirus, wildfires on the west coast and the impact of Hurricane Sally on the east coast.
Firefighters made progress against west coast blazes as smoke spread across the US. Smoke clouds have grown so large that they are "obscuring the sun" and cooling temperatures as far away as the east coast.
Hurricane Sally is forecast to continue battering the Gulf coast and then move inland this morning.
There were 1,287 new coronavirus deaths and 39,223 new cases of Covid-19 reported yesterday. That's around 10% fewer cases than we were seeing a fortnight ago, but some individual states including North Dakota, Missouri, Wisconsin and Oklahoma are seeing an up-tick.
The total for the nation, according to the Johns Hopkins university, now stands at 6,606,293 cases and 195,937 deaths. Trump claimed yesterday that a coronavirus vaccine would be available "within weeks", contradicting experts. He then later contradicted his own previous admission that he downplayed the Covid pandemic.
The Senate Appropriations subcommittee on coronavirus response meets this morning and will hear testimony from CDC officials.
Overnight Joe Biden and Donald Trump have exchanged tweets after Trump, who is president, said that Joe Biden, who is not, had failed to implement a national mask mandate.
Louisville, Kentucky, has reached a $12m settlement with the family of Breonna Taylor after her fatal shooting by police inside her apartment.
The US Department of Justice has launched a criminal investigation into whether John Bolton mishandled classified information when he published his book.
Israel, the United Arab Emirates and Bahrain signed historic agreements to establish formal relations at the White House.
Trump will take part today in a High Holy Days Call with Jewish leaders, have lunch with vice president Mike Pence, and later on is talking at a fund-raising dinner in DC.
Joe Biden is getting a coronavirus vaccine briefing in the morning, and will make remarks about it.
I'm Martin Belam and I'll be with you for the next couple of hours, you can give me a shout here: martin.belam@theguardian.com