Trump and Biden clash on climate as Hurricane Sally and wildfires rage – US politics live
There's a quick snap from Reuters here that the city government of Louisville, Kentucky, is expected to announce on Tuesday a financial settlement with the family of Breonna Taylor, the Black woman fatally shot by police in March.
The Courier Journal has reported locally that the "substantial" settlement will be accompanied by police reforms, including a requirement that commanders approve search warrants before they are put to a judge.
Taylor, a 26-year-old emergency medical technician, was killed in March when Louisville police burst into her apartment using a so-called "no-knock" arrest warrant that did not require them to announce themselves. Taylor has been widely remembered during the summer of Black Lives Matter protests.
The settlement could be announced as early as 2pm, the newspaper said. A spokeswoman for Louisville Mayor Greg Fischer did not immediately respond to a request from Reuters for comment.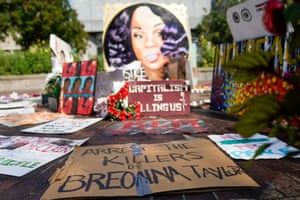 And that is it from me, Martin Belam, in London this morning. Joan Greve in Washington will be taking over now.
Forecasters say Hurricane Sally could dump flooding rains on a path from Mississippi to the Carolinas this week after the storm makes landfall on the Gulf Coast.
The National Weather Service says after the storm comes inland Wednesday, rainfall of 4 to 8 inches (10 to 20 centimeters) is likely across portions of Mississippi, Alabama, Georgia and the Carolinas.
The Associated Press reports that significant flash flooding and minor to moderate river flooding is expected through the end of the week, and rainfall could reach 12 inches (30.5cm) in isolated inland areas.
Hurricane Sally was creeping at 2 mph Tuesday toward the Gulf Coast morning, with landfall near the Mississippi-Alabama state line expected late Tuesday or early Wednesday. The storm was forecast to reach land as a Category 1 hurricane with maximum sustained winds of 85 mph (137 kph). Sally was expected to weaken rapidly after coming ashore.
Here's the latest satellite image I've had through of the storm by the way, it is from about forty minutes ago.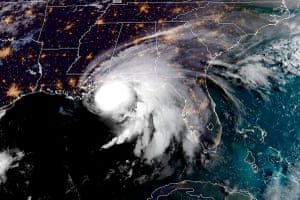 Caitlin Oprysko is trying to cheer us up a little this morning over at Politico with her report on new polling which suggests that "more than 7 in 10 Americans believe they have more in common with one another than many people think", and that there is a greater degree of "bipartisan consensus among the American public on the rights and values key to the country's national identity" than is generally given credit.
The survey was conducted for Harvard University's Carr Center for Human Rights and Institute of Politics and found:
Several of the rights and freedoms that an overwhelming bipartisan majority viewed as essential to being an American go far beyond those provided directly by the Constitution, like freedom of speech and religion.

The right to clean air and water, for example, was considered important by 93 percent of those surveyed; protection of personal data, by 93 percent; the right to a quality education, by 92 percent; racial equality, by 92 percent; affordable health care, by 89 percent; and the right to a job, by 85 percent.

Of 16 rights and values polled, a majority considered every single one either very or somewhat important to being American today.
Read more here: Politico – Americans united on a slew of issues, despite contentious election season
While he was the UK's ambassador to the US in Washington in 2019, Kim Darroch's private comments about president Donald Trump were published by a British newspaper. They weren't terribly favourable, and ultimately he ended up leaving the role. He will not have endeared himself to the administration any more with some comments he's made now about the prospect of violence during the November election.
"Postal voting is clearly going to play a big part in this election, and it feels to me like the Trump campaign are building this up, especially if it's close, to declare it rigged or invalid," the former ambassador, now Lord Darroch of Kew, said.

"If Biden wins, there is a question whether the Trump base will really support or accept that as the outcome. Equally, if it looks like postal votes have been under counted or there is serious voter suppression you worry about the other side of the argument," he added. "It feels very volatile."

Asked about the risk of violence on the streets, Darroch said: "I think it's there. All of us have watched Portland and Kenosha, and it feels like a genuine risk. That 17-year-old who shot the demonstrators and the reaction in alt-right circles is really scary.
Read it here: 'The US feels very volatile': former ambassador warns of election violence
Donald Trump has been on Fox & Friends this morning. Among the tidbits are that he said he had read Bob Woodward's book Rage last night, and that it was "boring". The book runs to some 400 pages.
He suggested there were limited choices that meant he had to hold his Covid regulation defying rally in Nevada at the weekend.
The president has promised there will be a coronavirus vaccine within "weeks". "I'm not doing it for political reasons. I want the vaccine fast" he said.
Note the poll earlier [see 6:27] that suggest the majority of Americans do not trust what Trump says about a vaccine and that fewer than 40% would agree to take a government-approved vaccine at the moment.
Trump was also pressed on the environment
He doesn't appear to have an intense preparation plan for the debates.
We can expect some more sessions like this before election day, but maybe not as many as Donald Trump was hoping for.
And while that session was happening, in a perfectly normal thing to be happening in a functioning democracy, the official Donald J. Trump Twitter account of the president of the United States retweeted something that was using the hashtag #PedoBiden.
As a reminder, the president is doing a very rare non-Fox News TV appearance tonight at 9pm ET when he is in Philadelphia to do an event with ABC News.
Read more here: Trump to take questions from uncommitted voters in ABC News town hall from Philadelphia
Retired Lt. Col. Alexander Vindman revealed last night in an interview on NBC that he has become, perhaps unsurprisingly, a "never Trumper".
The witness in Trump's impeachment trial retired from the military earlier this year after what he said was a 'campaign of bullying, intimidation and retaliation' against him, run by the president.
Last night on NBC Nightly News he said he was speaking out so that the US might "choose an alternative to what we have". Claiming that previously he had been non-partisan, Vindman said:
In taking a very sober view of where this president is taking this country, the divisions, the catering to our adversaries, the undermining of national security interests, [it is true] that I am absolutely a never-Trumper
He went on to accuse the White House of specifically leaking classified documents to Republicans in order for them to be used against him. When Vindman testified in the impeachment inquiry he was asked whether he had been offered a job by Ukraine. He had documented such an approach in a classified memo. He says:
That memorandum that I had classified, the White House leaked to the Republicans, a classified memo, to try to trip me up. That could have only come from one place, could have only come from the White House.
Read more here: NBC News – Alexander Vindman says he's become a 'never-Trumper'
White House senior adviser Jared Kushner has been on the airwaves this morning defending his father-in-law's handling of the coronavirus pandemic from the White House.
He also said that he hoped a bill could be agreed on more coronavirus economic relief, but that it may not happen before the election. Kushner also confirmed that the review of Oracle's proposed acquisition of TikTok was happening right now.
And a reminder that this is coming up shortly…
The election may only be a couple of months away, but there's still a final little bit of primary business to be conducted in Delaware today, as voters go to the polls – or at least wait for their mail-in ballots to be tallied, anyway. The state Department of Elections says that roughly 63,000 votes have already been returned by post of the more than 100,000 requested.
There's a couple of races to look out for – highlighted in this scene-setter from Katherine Tully-McManus at Roll Call. Firstly, can Sen. Chris Coons hold off a challenge from the left. Tully-McManus writes:
Hoping to join a pool of younger progressive Democrats who have toppled established incumbents, 34-year-old Jessica Scarane is challenging Coons as he makes a bid for a second full term.

Scarane is hoping to join the ranks of progressive Democrats such as New York's Alexandria Ocasio-Cortez and Jamaal Bowman who defeated House Democratic incumbents in deep-blue districts in 2018 and earlier this year, respectively.

Scarane has endorsements to match, including from Brand New Congress, The Sunrise Movement and 350 Action, groups that have supported other progressive challengers across the country. Her campaign platform includes support for universal health care, a reimagined criminal justice system and the Green New Deal.
Republican voters in their Senate primary also have a choice between the traditional and new wings of the party. In this case 62 year old fiscal conservative Jim DeMartino is facing off against Lauren Witzke
Witzke, 32, is among a new brand of Republicans, drawn to the GOP by Trump's "America first" message. She has worked to differentiate herself from DeMartino with her online presence and has found a voice in hard-line conservative circles on Twitter and as a guest on One America News Network, a far-right channel.

She has voiced support for the wide-ranging QAnon conspiracy theory that alleges a "deep-state" plot against Trump.

Witzke says her life experience, including falling into opioid addiction and working for cartels before her recovery, make her qualified to tackle issues, including immigration, health care and the opioid epidemic, because she has seen each system personally.
They both could be fascinating races. Read more here: Roll Call – What to watch in Delaware's primaries this week
If you've woken up to hazy skies again in the north-east of the US, then that too is being attributed to the climate emergency on the west coast. It is the result of smoke from the wildfires in California, Oregon and Washington state becoming caught in the jet streams and traveling across to the east coast.
ABC News meteorologist Lee Goldberg said, for New York, "Even though we have a sunny and dry forecast coming up, don't be surprised if it's more of a milky sun, or filtered sun."
If, like me, you've had trouble comprehending just how big the areas being burned in the wildfires are, this from our interactive team might help. It places the size of the fire over an area you may be familiar with, like New York or London.
Later today Joe Biden will make his first campaign visit of the year to Florida. Opinion polls show a tight race against President Donald Trump amid signs of lagging support for Biden among the battleground state's crucial Hispanic voters. Trump carried the state in 2016, and its vital 29 Electoral College votes, by just 1.2 percentage points.
Trevor Hunnicutt and John Whitesides report for Reuters that with less than 50 days until the election now, the Biden campaign is trying to overcome concerns about enthusiasm among Florida Latinos.
A recent NBC News/Marist poll showed the two White House contenders in a dead heat in Florida and Trump with a 4-point edge over Biden among the state's Latinos – a group Hillary Clinton won by 27 percentage points in 2016, according to exit polls. Other polls have shown Biden leading among state Hispanics, but still trailing Clinton's support.
"Clearly, there has been some hemorrhaging of Hispanic support going on, mainly Cuban Americans," said Democratic state Senator Annette Taddeo, a Colombian American. "The Republicans have worked really, really hard, and they have been constantly present."
The steady drumbeat of Republican attacks on Biden as a socialist has also taken a toll, Florida Democrats said. The Republican convention last month featured a Cuban-born Florida businessman, Maximo Alvarez, who compared Biden's agenda to the promises of Fidel Castro's Communist rule.
"We are seeing a massive disinformation campaign in Spanish aimed at our community calling Biden and Democrats socialists, and it is having an effect," said Evelyn Perez-Verdia, a Colombian-American Democratic strategist in south Florida.
Florida, where Hispanics make up about 20% of the state electorate, is a linchpin in Trump's re-election strategy. No Republican has won the presidency without Florida since Calvin Coolidge in 1924.
Ahead of events on Tuesday in Tampa and Kissimmee, two Florida cities with heavy Puerto Rican populations, Biden said: "I am going to work like the devil to make sure I turn every Latino and Hispanic vote."
He will get some help from former Democratic primary rival Michael Bloomberg, who will spend $100 million on Biden's behalf in Florida with a particular focus on Latino voters.
Polls show Biden running ahead of Clinton's level of 2016 support among seniors in Florida, another crucial voting bloc, and among white voters, giving him plenty of pathways to reach a majority, Democrats said.