Apple event 2020: iPhone giant to reveal new iPads, Apple Watches and more – live updates
A new feature, Family Setup, is going to let parents set up an Apple Watch for their kids, even if they don't have an iPhone. It requires a cellular watch, and lets the adult set up a limited version of the Watch that they can use to to keep in touch with their kid without needing to give them a full phone.
Now we get a run-through of the new watch faces. Some of these will likely be exclusive to the Watch Series 6, but many will come to all watches that support WatchOS 7.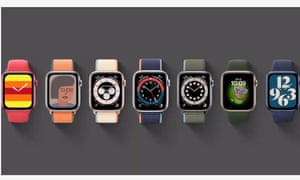 There's some specialist faces, including one for surfers and one for photographers; there's a unique "art" face; there's a nice face that lets you set a specific pattern of stripes to show your pride in your orientation, nationality or football team.
It's not all about health measurement. The watch also has a new, brighter, always-on screen, and an always-on altimeter for measuring elevation. Perfect if you, say, live in San Francisco's Bay Area and go hiking a lot! Not coincidentally, this is true of many Apple engineers.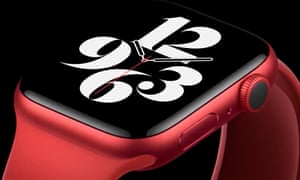 And so we see the new hardware, the Apple Watch Series 6. It comes in a range of new colours, as expected, and also includes a new pulse oximetry sensor for measuring blood oxygen saturation.
That means that users can track their health over the long term, as well as receive alerts if there's an acute problem. The company is also partnering with academics to use this rich information to investigate ailments including asthma and covid. The hope is to uncover how to use low blood oxygen saturation as an early warning signal for Covid infections.
We turn to Apple's new chief operating office, Jeff Williams, who begins by walking us through some of the previously announced features arriving with WatchOS 7, the software update which will come to most recent Apple Watches this autumn.
The key health feature, Williams says, is new VO2 Max monitoring, which will allow users to keep track of their lung capacity.
We're starting with the Apple Watch, as Cook runs down the benefits of his own: it helps him keep fit, unlock his garage, and stream his favourite music, he says.
It's the "most loved watch in the world", he says, citing messages from Watch users who say it has "changed, and sometimes saved" their lives, before introducing a mini-documentary profiling some of those users.
And we're off, with a bright and calming video of Apple Park leading to Tim Cook talking to camera about "the challenges that Covid-19 is causing in communities around the world."
For this second remote conference, Cook's not standing in the big empty Steve Jobs theatre; instead, he's walking around a scarily empty corridor in the company's head office, like a very slow Aaron Sorkin character.
I'd normally do a little "what to expect" here, except it really is very little: we're thinking there's going to be two new Apple Watches, one expensive and one less expensive; two new iPads, one at the mid-range and one at the budget end; and possibly the launch of Apple's long-awaited subscription bundle, Apple One.
What we won't see is what would normally lead this September event: new iPhones. Covid-related production delays have pushed that launch back to October, leaving this event quite thin and, hopefully, short.
Hello and welcome to the Guardian's live blog of Apple's latest press event. We'll be kicking off at 10am Pacific Time – that's 6pm UK time, and 3am in New South Wales if you're staying up for all the latest news.
The event is rumoured to have announcements for the Apple Watch 6, Apple Watch SE and iPad Air 4.
If you want to watch along live, Apple is streaming the event on YouTube, which I've also embedded above. Otherwise, stick around here, and we'll keep you up to date with the important news, translate the technobabble, and just quietly ignore the advertising over the next few hours.