US Open tennis: updates from the opening day in New York – live!
Cameron Norrie is giving Schwartzman a lot of grief in this second set, pushing him to multiple deuces in a tough seventh game. However, Schwartzman eventually secured another hold to lead 6-3 4-3. The Brit will need to be careful here…
We have our first winner of the day. 12th seed and last year's French Open finalist, 20 year old Marketa Vondrousova, beats Greet Minnen 6-1 6-4. Minnen tossed her racquet to her chair after missing an easy volley on match point, only to remember that she needed to collect it for the post-match "racquet tap".
On Ashe, women's top seed Karolina Pliskova is about to take the court against Anhelina Kalinina of Ukraine. This is clearly a big opportunity for the 2016 US Open finalist and former No 1, who is the only European top 10 player to make the trip to New York and only 1 of 4 top 10 players in total.
Pliskova continues to chase her first slam despite four years of consistently reaching the final stages of big tournaments. Still, she probably isn't a big fan of these new fast courts in Flushing Meadoes.
Cameron Norrie can never be accused of not trying hard enough. After Diego Schwartzman consolidated his lead by rolling up to 6-3 2-0, winning 6 of the prior 7 games, Norrie just ground out a long return game to push the second set back on serve. As Schwartzman's final forehand flew long, Norrie punctuated the break-back with a roar of 'c'mon'. We'll see what he can do.
Meanwhile on Armstrong, Angelique Kerber has taken the first set 6-4 on Ajla Tomljanovic.
So much of this tournament is hard to call because we just don't know what form players are in. Kerber hasn't competed since the Australian Open in January, over 7 months ago, and she didn't enter the Western & Southern Open that preceded this event.
On one hand, the former No 1 and 2016 US Open champion has fallen all the way down to 23rd and she has struggled over the past year. On the other hand, she has rehired coach Torben Beltz, with whom she reached No 1 in 2016, she loves fast courts and this break may have been precisely what she needed to escape her slump. Your guess is as good as mine in regards to how she fares this week.
Diego Schwartzman takes the first set 6-3 on Cameron Norrie. After a tough start, the Argentine rolled through the second half of the set, winning four of the last five games.
Norrie hit just 3 winners and 17 unforced errors, which clearly isn't good enough against a top 15 player. Those stats are partially explained by numerous long rallies ending in errors, but Norrie still cannot afford to give away so many free points.
Needless to say, people are not happy about the decision to keep players in the draw who came in contact with Paire. Here is a statement from Ellen Perez, a doubles entrant who was also hoping to make the singles draw: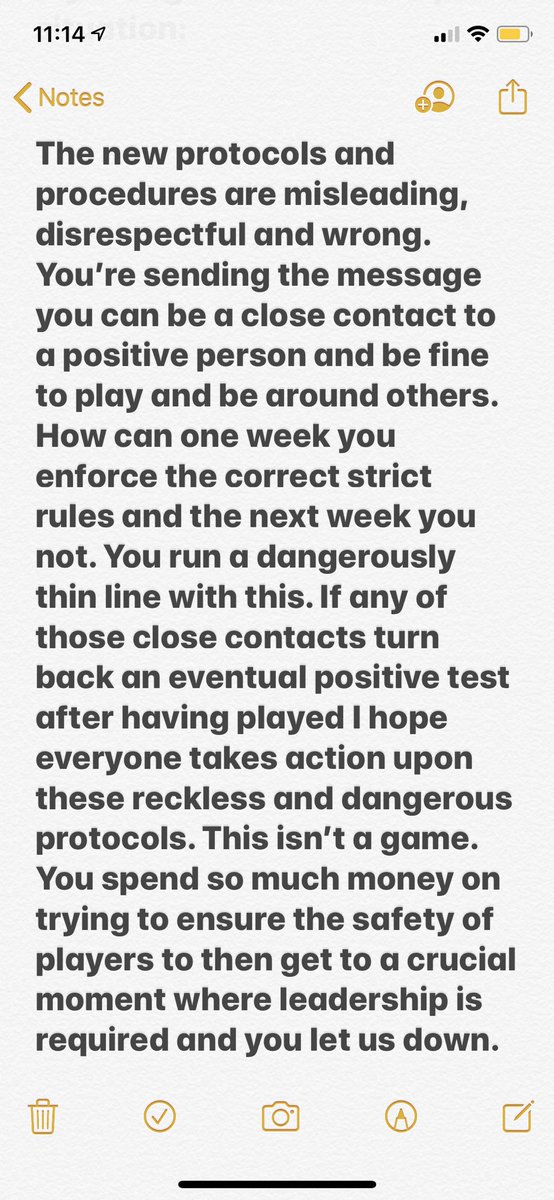 Diego Schwartzman currently leads Cameron Norrie 5-3 after breaking in a long, gruelling 2-2 game before twice holding serve. Norrie is going to need to find more forehands and the courage to take his favourite shot on as Schwartzman just looks to be finding a rhythm and he is striking the ball beautifully. After a slick crosscourt forehand winner from the Argentine, he held after forcing a Norrie backhand error.
Here is tournament director Stacey Allaster on recent events.
The news has taken a further turn this morning. Paire is one of the most sociable players and so numerous other players have been deemed his close contacts. Although they were supposed to be withdrawn from the tournament, the USTA has instead decided to isolate them from other players. They will be tested daily, they will have to remain in their hotel rooms at all times aside from practice. In an interview with l'Equipe, Edouard Roger-Vasselin said: "To sum up, we are in the bubble of the bubble."
It is a complete departure from the US Open's original protocols, which stated that close contacts would have to quarantine for 14 days. Nobody knows if any of these players will eventually fail a test themselves. 30th seed Kiki Mladenovic, one of the rumored isolated players, is currently competing now on court 17 against US wildcard Hailey Baptiste. She leads 5-3.
As play begins across the grounds, the big news on the eve of the tournament was Frenchman Benoit Paire testing positive for coronavirus and being withdrawn from the tournament. Here is the story by Kevin Mitchell last night.
Over on court 5, Diego Schwartzman and Britain's Cam Norrie have traded breaks with the score at 2-2.
This will be an incredibly tough matchup for the Brit, particularly because Schwartzman does so much of what Norrie does but better. Norrie is a fast and durable retriever with an excellent heavy topspin forehand, but Schwartzman can match him physically with more firepower and some of the best returning in the world. These rallies are already long and look exhausting, and Norrie will have to find away to control them.
Here is the order of play on the top courts of this opening day of action. Karolina Pliskova, Novak Djokovic, Naomi Osaka, Angie Kerber and Coco Gauff will be competing on those empty, echoing stadium courts. Kyle Edmund will play later against Alexander Bublik.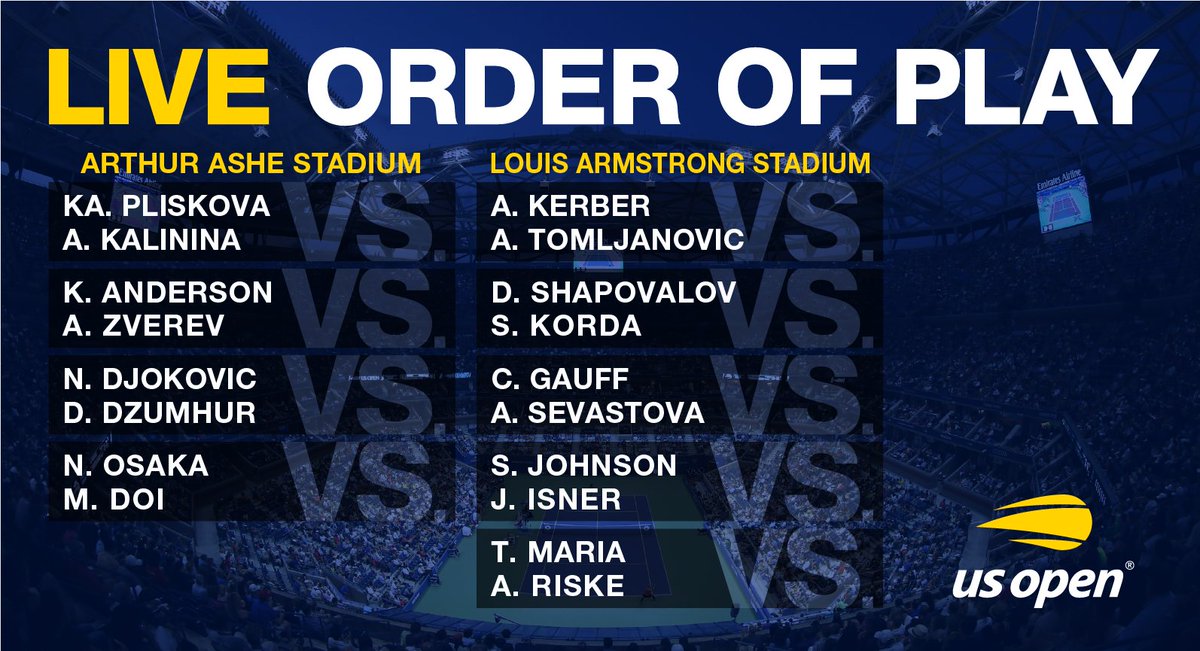 Hello! Welcome to our coverage on day one of this very surreal 2020 US Open in the controlled environment of a crowd-less Flushing Meadows. As usual, there is a heck of a lot going on across the grounds during the opening rounds but we'll kick things off today with a particular focus on Cameron Norrie's incredibly tough first round against 9th seed Diego Schwartzman.