UK coronavirus live: government monitoring France for quarantine after Norway reimposes restrictions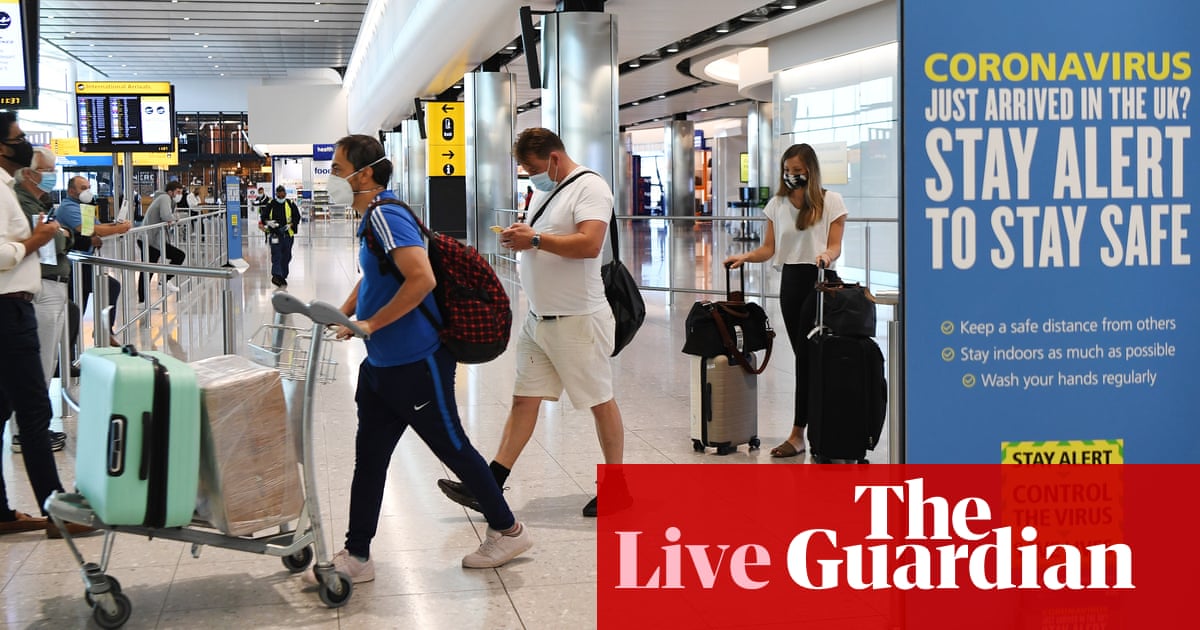 The chancellor said a forthcoming "Kickstart scheme" will offer government-subsidised jobs for young people at risk of long-term unemployment, which will provide at least the national living wage and 25-hours per week of work, along with training.
He told BBC Breakfast "That will help a generation of young people get into the labour market.
"Young people, in particular, are most at risk in a crisis like this and we want to protect their prospects for the long-term.
"If they don't have a job early in their career that will have a negative impact on them for many years to come.
"We also significantly increased the cash incentives for businesses to take on new apprenticeships, £2,000 to take on a young apprentice, £1,500 to take on an apprentice over the age of 25. That's a great way for people to get into work and earn and learn at the same time."
Sunak said the same thing when asked by BBC Breakfast whether he is "completely ruling out" extending the furlough scheme to hard-hit job sectors such as travel and theatre.
"This has been one of the most difficult decisions I've had to make," he said. "But if you look at it from start to finish of the furlough scheme, the government will have been stepping in to pay people's wages for eight months.
"I think most reasonable people will say 'gosh, that's not something that can carry on forever'. In common with almost all countries around the world … their versions of this are slowly being wound down toward the end of the year."
Asked if the furlough scheme would be extended if a second wave hit and resulted in another national lockdown, Sunak said: "I don't think it's helpful to sit here and speculate on every potential situation that might arise.
"It's not something that we want to see happen and we're doing everything we can … to stop that from happening."
Sunak has also said winding down the furlough scheme supporting jobs during the coronavirus crisis is "one of the most difficult decisions" he has made as chancellor.
He told Sky News:
It's one of the most difficult decisions I've had to make in this job. I don't think it's fair to extend this indefinitely, it's not fair to the people on it. We shouldn't pretend there is in every case a job to go back to.

This is what we need to do now, it's to look forward, provide the opportunities for tomorrow. Yes, there is hardship ahead for many people, we know that, but they shouldn't be left without hope."
Chancellor Rishi Sunak is speaking to Sky News at the moment about quarantine. When asked whether France could be the next nation to be added to the quarantine list, he told holidaymakers "there is always the risk of disruption" during the pandemic:
It's a tricky situation. What I can say to people is we're in the midst of a global pandemic and that means there is always the risk of disruption to travel plans and people need to bear that in mind.

It's the right thing for us to do to keep everything under review on a constant basis talking with our scientists, our medical advisers, and if we need to take action, as you've seen overnight, we will of course not hesitate to do that, and we're doing that to protect people's health."
And some more morning snippets for you, courtesy of PA:
In politics, the news agency is reporting that ministers have been told that businesses want better communication, extra support and improved coronavirus test and trace services to help cope with the impact of local lockdowns.
New research shows Dominic Cummings' trip to Durham at the height of lockdown while suffering from Covid-19, drastically undermined public trust in the government's handling of the pandemic.
Amid fear of what will happen to jobs when the Treasury's furlough programme comes to an end, the government has said their schemes to support businesses recovering from coronavirus have paid out £2bn in Scotland.
Almost two-thirds of staff at a London NHS trust had lost their sense of smell before anosmia was added to national guidance as a coronavirus symptom, a study indicated.
Still on the virus and health, a disturbing new study spanning four generations has found that young women are the most likely to have experienced high levels of anxiety, depression and loneliness during the coronavirus lockdown.
Another health snippet: Just 3% of medical research charities are eligible for government funding and that is causing life-saving work to be cancelled, Labour has claimed.
And finally, some good news: the British Museum is set to reopen its doors to visitors on 27 August. For anyone brave enough, their website promises an exhibition about Tantra: "Centring on the power of divine feminine energy, Tantra inspired the dramatic rise of goddess worship in medieval India and continues to influence contemporary feminist thought and artistic practice. From its inception to the present day, Tantra has challenged political and sexual norms around the world."
Good morning to you all on what promises to be an extremely hot day. I'll be ferreting out the news today so you can just kick back with a cool bowl of cereal. So let's kick off with the….
Morning summary:
We're leading on the story that doctors' and surgeons' leaders have warned that the NHS must not shut off normal care to tens of thousands of patients when a second wave of Covid-19 hits. Dr Chaand Nagpaul from the British Medical Association (BMA) said: "If someone needs care – for example for cancer, heart trouble, a breathing condition or a neurological problem – they must get it when they need it.
The Times has "Britons on their way to France risk quarantine". The paper says that British tourists planning to visit France are being warned that they may have to quarantine on their return amid fears of a second wave of coronavirus there.
Holidaymakers should only book trips that can be easily rearranged at 24 hours' notice, a senior aviation source said last night, adding that France was "bubbling" with cases.
One leading travel consultant predicted that France had only five days to bring its infection numbers down or the British government would add it to its quarantine list.
The Times is also reporting as the outcry over £150m of worthless facemasks prompts a spending inquiry.
The National Audit Office is to investigate government contracts for protective equipment awarded at the height of the pandemic amid an outcry over the decision to spend more than £150 million on unusable facemasks.
The Times revealed yesterday that about 50 million masks bought without a tender process from Ayanda Capital, a London-based investment company with no experience of government contracts, had been deemed unusable for frontline healthcare workers.
The government has admitted during legal proceedings that concerns about the safety of the masks meant that they could not be used under current NHS requirements.
The Telegraph is reporting that lockdown easing did not lead to rise in coronavirus infections in England.
The paper says that new research shows Covid-19 cases in the community went down after restrictions were relaxed.
The largest swab testing survey carried out to date has found that although there are fears that releasing measures too soon has led to localised spikes in some areas, new data suggests that there was no overall rise after primary schools returned and non-essential shops reopened.
According to Imperial College London and Ipsos Mori, community prevalence actually fell after lockdown measures were relaxed, decreasing from 12 infections per 10,000 people in May to eight in 10,000 by mid-June to early July.
The BBC is carrying a story that chemotherapy in cancer patients with Covid-19 'not a risk'.
Continuing chemotherapy and immunotherapy treatment in cancer patients with Covid-19 is not a risk to their survival, a study suggests.
It also recommends further research into the drug hydroxychloroquine, which appeared to benefit some patients.
The findings, from 890 infected cancer patients in the UK, Spain, Italy and Germany, could help identify who is most at risk from coronavirus.
Breast cancer patients had half the death rate of other patients.
The Imperial College London researchers who led the study – involving 19 different hospitals across Europe, including Hammersmith Hospital in London – say they now want to find out why.
They are also keen to investigate why UK cancer patients with Covid-19 in the study were more likely to die than in the three other countries.
The BBC is also reporting on how Leicester's pubs and restaurants are set for reopening weekend.
Pub-goers have been warned not to "throw away all the hard work" by ignoring rules as Leicester's bars prepare for their first Friday and Saturday nights in months.
Pubs, bars and restaurants were allowed to reopen in the city from Monday for the first time since March as the local lockdown was eased.
Some told the BBC they were ready and excited to welcome customers back.
But authorities have urged people to remember to be "responsible".