UK coronavirus live: more 'timely and reliable' information needed for local lockdowns, say doctors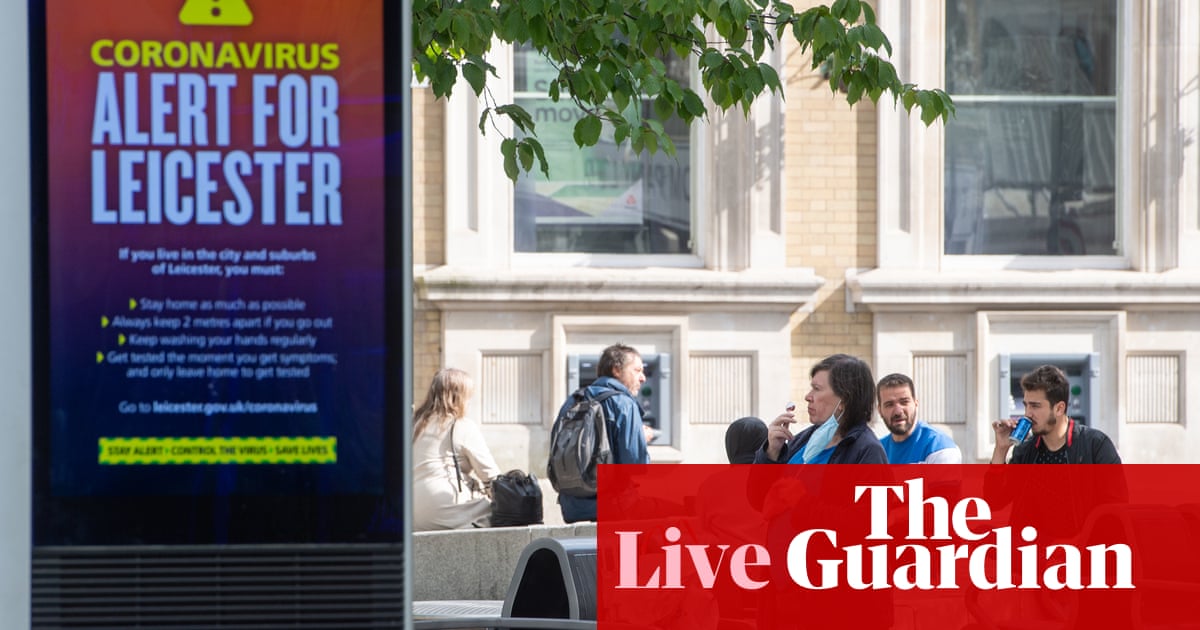 Speaking on BBC Breakfast, the business secretary Alok Sharma twice dodged the question of whether he would extend the furlough scheme beyond October to help the airline sector survive. He said:
"The furlough scheme will have been in place for a total of eight months and I think like any international standard, it has been groundbreaking. You talked about the airline sector specifically: of course, as you know, work is going on in terms air bridges and later in the week I hope we will be able to set out some of those low-risk countries so that when people return from these countries they will not be faced with quarantine."
Asked whether there would be localised extra support for businesses and workers in Leicester during the city's local lockdown, Sharma seemed to suggest not, harking back instead to earlier business grants and the national furlough scheme:
Anyone in Leicester will be incredibly disappointed and in fact worried about having to go back into lockdown and I know that businesses will be incredibly concerned as well. In terms of support to businesses in Leicester, we have provided over 5,900 businesses — small businesses — with grants to the value of £68m. We have also ensured that 40,000 jobs have been protected through the Job Retention Scheme and that is going to continue.
Presenter Louise Minchin also extracted from Sharma that rarest of things in Westminster — an apology — after he gave out incorrect testing figures on the programme last week. He had said 240,000 people had been tested for Covid-19 on Monday 22 June. In fact, he accepted, it was the number of tests:
I was wrong and I apologise for that. It was an inadvertent mistake.
Up to 5,000 jobs are under threat at Upper Crust and Caffe Ritazza owner SSP amid a shake-up following plunging passengers numbers at railway stations and airports due to the coronavirus pandemic, my colleague Kalyeena Makortoff reports.
The group warned it expects to open only around a fifth of its sites in the UK by the autumn as travel is set to remain at very low levels amid the Covid-19 crisis.
It has launched a consultation on a restructure to "simplify and reshape" the business in the face of the pandemic, which it said could lead to more than half of its 9,000-strong peak season workforce being axed.
The group said head office and UK staff would be affected by the cuts.
Chief executive Simon Smith said:
"In the UK the pace of the recovery continues to be slow. In response to this, we are now taking further action to protect the business and create the right base from which to rebuild our operations. Regrettably, we are starting a collective consultation which will affect our UK colleagues.

"These are extremely difficult decisions, and our main priority will be to conduct the process carefully and fairly."
As pubs in England get set to reopen on Saturday (apart from in Leicester), the Royal College of Emergency Medicine has warned that medics are "bracing" themselves for the reopening of pubs during the coronavirus crisis.
President Dr Katherine Henderson told BBC Radio 4's Today programme:
"We're bracing ourselves, I think would be a fair way to say it. It actually is quite serious, we have emergency departments having to work in a very different way than they did before because we have to keep vulnerable patients safe so we can't have crowded emergency departments.

What we can't do is have a department that gets overwhelmed by people who are injured because they have got themselves into a fight, they have fallen off something, they have drunk so much that they actually need the health service's help.

People have been standing at doorways clapping the NHS, well more important than clapping the NHS is using the resources responsibly and anybody who goes out and gets so drunk that they need an ambulance and they need to come to an emergency department is not supporting the NHS."
Good morning. I'm Helen Pidd and I will be keeping the live blog warm until Andrew Sparrow clocks in later this morning.
It is day two of the UK's first local lockdown in Leicester, with leading doctors urging the government to give councils accurate and up-to-date data to manage localised spikes, 101 days after the national lockdown.
The British Medical Association (BMA) said local authorities need "timely, comprehensive and reliable" information to all those involved in the management of new cases at a local level.
The mayor of Leicester has complained that he only received a full picture of local infection patterns last Thursday. Until then, the government had not shared detailed results of so-called "pillar 2" tests conducted at pop-up drive-through testing centres and completed via post.
The BMA also called for clarity about how regional spikes will be managed in the future.
Dr Chaand Nagpaul, chairman of the BMA Council, said: "The prime minister has talked about a 'whack a mole' strategy to tackle local outbreaks, but this is no use if the people leading the response on the ground – be they public health teams or local leaders – are not given the most accurate up-to-date data possible.
"This is crucial to allow swift action and to protect lives and the health service, and something that is not happening right now. This is all the more important given that the 'world-leading' test and trace app is not in place, meaning local leaders and teams armed with up-to-date information will be vital in containing spread of outbreaks."
Ahead of further lockdown restrictions being eased at the weekend, the BMA made a series of demands from the government.
These include the use of set "metric trigger points" at which action will be taken to reintroduce local and national restrictions, which would take into consideration the regional reproductive rate – known as the R rate – as well as the level of infections in communities.