Coronavirus US live: Trump urges reopening as death toll nears 100,000
Donald Trump has no public events scheduled today or tomorrow – which, briefing fans, means, at the moment, no briefing – but he is busy tweeting. Among his early targets is of course Joe Biden, his presumptive opponent in the election in November.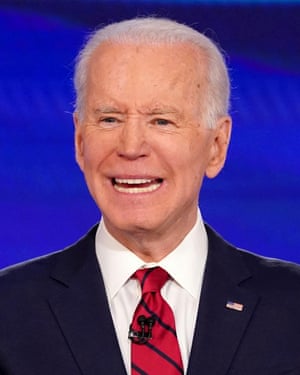 On Friday, Biden told an African American radio host if black voters "have a problem figuring out whether you're for me or Trump, then you ain't black".
Controversy spread like brush fire and Biden swiftly apologised, telling the US Black Chambers, a business group, he "shouldn't have been such a wise guy" and "shouldn't have been so cavalier".
Biden also said he would never "take the African American community for granted" but Republicans obviously hope he will, or that such voters will think he will, given comments like this.
And so, with the Trump campaign having pounced, launching a website and selling t-shirts featuring their new and gifted slogan, here comes the president.
First on Saturday, he touted "All things that I have GOTTEN DONE, including Criminal Justice Reform!".
That bipartisan legislative achievement was indeed supported by many in the African American community, a part of the US population disproportionately affected by draconian sentencing, as indeed it has been disproportionately hit by the coronavirus.
Then: "Sleepy Joe cannot bring us to greatness. He is the reason I'm here!"
For good measure, Trump also repeated his Friday night attacks on Dean Baquet, the first African American executive editor of the New York Times who the president claims has "long been considered one of the dumbest men in the world of journalism".
Trump's attacks on Baquet and the Times are familiar, however, and not generally considered part of the president's own long history of racially tinged invective.
On the flip side of all this, Biden is indeed strongly supported by African American voters, who do heavily favour the Democrats. Biden is also considering prominent African American women to be his running mate and he does have in his corner the first African American president, Barack Obama.
"You rarely have a former president that is more popular than the now-sort-of-nominee," Democratic pollster Cornell Belcher tells Daniel Strauss in the following piece. "Barack Obama is the most popular political figure in America right now."
More about Donald Trump and hydroxychloroquine, the anti-malarial drug some claim can be used to treat or guard against coronavirus, which the president says he has been taking but which studies suggest is unproven regarding Covid-19 and potentially lethal to people with pre-existing health problems.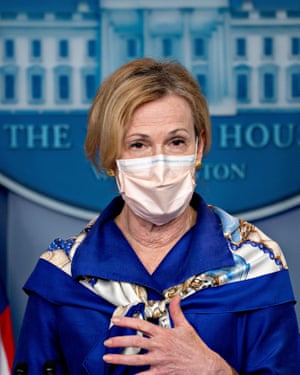 At the White House on Friday, public health expert Dr Deborarh Birx was asked about a new global study from the Lancet which says the drug has increased deaths in hospitals around the world during the coronavirus pandemic.
"I think the FDA has been very clear on their website about their concerns about hydroxychloroquine," Birx said. "What I take home from the Lancet study, and I hope everyone here does in addition to what you just commented on, it clearly shows the comorbidity that puts individuals at more risk.
"I think it's one of our clearest studies because there were so many, tens of thousands of individuals involved that the doctors clearly annotated who had heart disease and who had obesity. You can see dramatically the increase risk for that."
Reporters were not able to press the point, as press secretary Kayleigh McEnany stepped in. But here's the thing: by the results of his last published physical Trump is according to federal standards obese, as House speaker Nancy Pelosi pointed out this week.
Back in November, meanwhile, an unexplained visit to hospital led the president and the White House doctor to stress that Trump had not had a heart attack, as rumoured.
Trump, 73, said then he had started his annual physical, which would be completed in January. But since then… crickets.
In early March, he was asked when he would complete his physical exam.
"I'm going probably over the next 90 days," he said. "I'm so busy, I can't do it."
In April, Trump said he would finish the tests "at the appropriate time … but I feel very good."
No results have been released.
Some raw politics now: on Friday night Donald Trump told Alabamans not to trust Jefferson Beauregard Sessions III, Jeff Sessions for short, their former senator who became Trump's first attorney general, recused himself from the Russia investigation, lost his boss's support, clung on for more than a year in the face of presidential rage and humiliation, was finally fired and then decided to run for his old seat in Congress.
Unusually, Sessions snapped back at the president. More usually, he did so while still being supportive of Trump – because you have to be if you're a Republican seeking election in Alabama, as Sessions' infamous "hostage tape" campaign ad showed.
Here's what Sessions wrote on Friday night:
Look, I know your anger, but recusal was required by law. I did my duty and you're damn fortunate I did. It protected the rule of law and resulted in your exoneration. Your personal feelings don't dictate who Alabama picks as their senator, the people of Alabama do."
Sessions also attacked his Trump-endorsed opponent in the forthcoming Republican run-off, former college football coach Tommy Tuberville, as a coward who did not support Trump's agenda as faithfully as Sessions.
Tuberville is however leading in the polls, and looks set to be the man to take on Doug Jones, the Democrat who won an upset victory over Judge Roy Moore in December 2017, in November's election.
The full report is here:
… and welcome to another day of coverage of the coronavirus outbreak in the US, and the politics around it. Bryan Armen Graham will be here to take you through the day later, but for now, I'm your guide.
According to researchers at Johns Hopkins University in Maryland, the US has now recorded 1,601,260 cases and 96,002 deaths.
Rates are slowing in some states hard-hit in the first part of the outbreak, New York notably among them, and increasing elsewhere. Nonetheless, most states are attempting some form of economic reopening – nearly 40m Americans have filed for unemployment under lockdown, after all – and debate is raging over whether those states moving fastest are moving too fast for safety.
It's Memorial Day weekend, the traditional start of the American summer, and the title of this piece by Amanda Holpuch, Nina Lakhani and Khushbu Shah rather sums up the question: America begins to unlock for summer – but is it inviting a disastrous second wave?
Donald Trump doesn't think so, and on Friday at the White House he invoked powers he doesn't have to say governors should reopen all places of worship and if they didn't, he would. Once again, he can't, or couldn't if it came to it, do that. Tenth amendment, etc. As for the motivation behind Trump's curt announcement, there are reports that his support among evangelicals is slipping.
That would be intensely worrying for Trump in a re-election year already marked by economic meltdown. On the upside for the president, on Friday a gaffe by his notoriously gaffe-prone opponent, Joe Biden (if he were a British football manager, he would've earned the standard honorific "the Gaffer" many years ago), showed how swiftly and ferociously the Trump campaign machine still runs.
Some say Biden needs only to stay in his Delaware basement to beat Trump. But on Friday, from his basement, the former vice-president told an African American radio host if you "have a problem figuring out whether you're for me or Trump, then you ain't black". Biden apologised as the Trump campaign pounced – and liberals too.
So there's that, and any resultant fallout, to consider along with all things coronavirus-related.
In the meantime, some further reading. Khushbuh Shah reports from Georgia, a Republican state turning slightly more Democratic, on how one's view of how soon to reopen depends largely on the way one votes: