Report: Zach LaVine's List Of Preferred Trade Destinations Includes The Lakers, Heat, And Spurs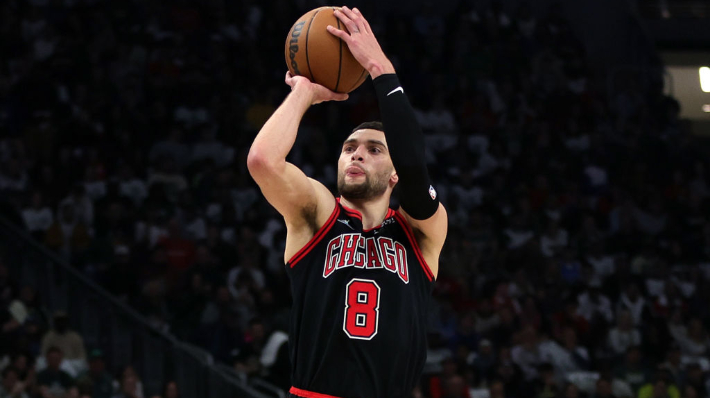 For the first time in his stint with the Chicago Bulls, there seems to be real momentum moving towards a Zach LaVine trade. A frequent target of trade rumors over the years, reporting from earlier this week indicated that both LaVine and the Bulls are open to trying to find him a new team amid the team's sluggish start to the 2023-24 campaign.
LaVine's contract makes it difficult to find a trade for him — he has four years and about $180 million left on the extension he signed last summer — but his skillset as an ultra-athletic, high-scoring wing is something that a number of teams can use. Trying to figure out exactly which team can afford to bring him on board is a bit of a question, but in a new report by Jake Fischer of Yahoo Sports, we learned a few of the teams LaVine would be opening to joining.
Via Yahoo Sports:
LaVine and his representation hold several preferred landing spots, such as the Los Angeles Lakers, Miami Heat and Philadelphia 76ers, league sources told Yahoo Sports, and each team has registered some level of interest in the Bulls guard. LaVine also has an eye on joining the San Antonio Spurs, sources said, in order to pair with rookie sensation Victor Wembanyama and reunite with head coach Gregg Popovich, who oversaw the 2020 Team USA outfit that LaVine helped win a gold medal in Tokyo. There are several other contending situations LaVine would welcome joining, sources said, one being Sacramento. The Kings signed LaVine to an offer sheet during his restricted free agency in 2018, albeit before this present front office regime took the reins in Northern California.
Those first three teams — L.A., Miami, and Philly — were on the list of teams that were expected to have interest in LaVine in the immediate aftermath of the news that he might be on the market. It's hard seeing any of them making a trade right now, whether that be for CBA reasons (the Lakers have a bunch of guys they can't trade until Dec. 15 at the earlier) or the fact that they're playing well right now (the Sixers and Heat are second and third, respectively, in the Eastern Conference), but perhaps one of them can make something work, or another team that has piqued LaVine's interest is able to figure something out.