School Strike 4 Climate: Australian students skip classes en masse to call for action
Nirvana Talukder didn't go to school on Friday – but she says she was thinking about her future.
The 16-year-old was among hundreds of school students who marched their way to federal environment minister Tanya Plibersek's office in Surry Hills, Sydney, calling for action on climate change. They joined thousands of students across Australia who took Friday off as part of the School Strike 4 Climate.
"A lot of leaders … like to talk about the fact that we are skipping a day from school and jeopardising our education," said Talukder, who was an organiser and key speaker at the Sydney strike. "But in reality, we are fighting for other people's access to education."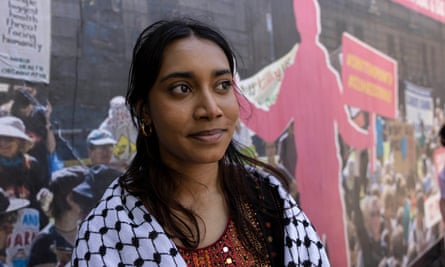 She wanted to see a stop to new coal, oil and gas projects.
"We want for people like environment minister Tanya Plibersek … to actually start listening to us, and to recognise that we might not be able to vote but we will be in a few years and, before that, we are still listening to what they have to say."
Her family in Bangladesh is "continually having to rebuild" shelter, sanitation and education facilities because of the worsening climate, she said. And thinking about "how the future is going to be" causes her anxiety.
"We have seen how scary the climate crisis is," she said. "We have seen the bushfires, we have seen the flooding, we have seen how it impacts not just Australians but those in the global south."
Scientists signed a "climate doctor's certificate" citing "elevated stress" and "feelings of despair" over the climate crisis to back students who left their classes to strike.
Several thousand people descended on Melbourne's Flagstaff Gardens before marching through the city centre. Groups of protesters blocked traffic as they staged sit-ins at several major intersections, holding up trams and vehicles.
In Adelaide, 17-year-old Anjali Beames had been striking from school all week – instead she had been studying on the steps of Parliament House alongside other students from the South Australian Youth Climate Alliance.
"I am studying for my future but I am worried that without real action on climate change my future will be bleak," she said.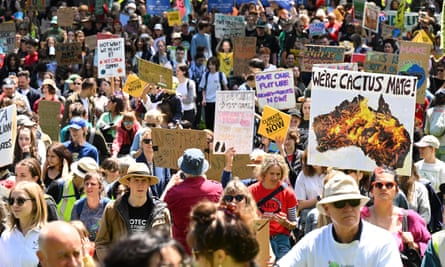 As Australia prepares for another summer of extreme heat and bushfires, students said they were extremely disappointed with the Albanese government for not doing more.
"I was expecting, at the very minimum, no new coal and gas – that's a very minimal demand, that we shouldn't make it worse," Alexander Duggan, 16, said. "I can name no one in my year group who thinks the climate isn't fucked."
One 16-year-old protester who travelled from Newcastle to the Sydney rally without the support of her parents said it was important to strike because "the world is falling apart".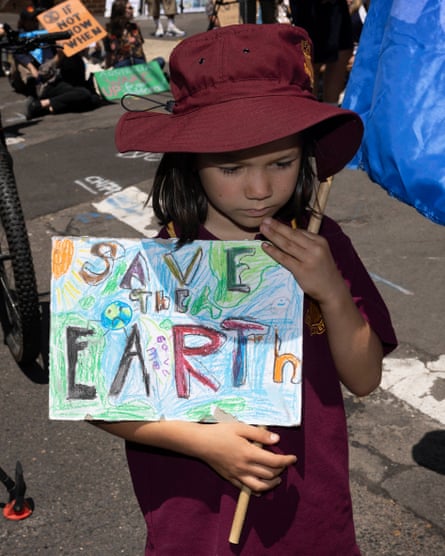 "Animals are dying, humans are dying, there are huge natural disasters all over the world, and people think that it is fine," they said. "We are not doing enough and we are not doing it fast enough."
Another young protester, Harriet Stark, attended without the approval of her school, but with her mother in tow.
"It is important for people to realise the effects of climate change on our lives," she said. "I think a lot of people live in wilful ignorance. A lot of people don't want to know, and therefore they don't listen."
And seven-year-old Sol attended the rally with his mother, holding a hand-drawn sign that said "save the Earth".
He said he was protesting for "stopping coal in Australia" but when asked if he thinks the protest will make change, Sol shook his head.
His mother said it was important to turn up for the next generations.
"My generation and the generations before benefited from all the resources the planet gave us," she said. "Our children and grandchildren are paying the price for us."