Gabby Douglas makes unlikely gymnastics comeback with joy her only goal | Tumaini Carayol
A decade ago, long before there was even a willingness to recognize the toxic culture and attitudes prevalent within women's gymnastics, it was widely believed that there were extremely limited opportunities for greatness within the sport. If they were lucky and peaked perfectly, a gymnast competing on all four apparatuses might get one shot at the Olympics; one opportunity while they were still young, petite and light enough to perform all of their skills with ease. After that, well, good luck.
When Gabby Douglas, the 2012 Olympic all-around champion, emerged after a year off and began to take steps toward returning in order to make a run at a second Olympics, her comeback was received within the gymnastics community with scepticism. Some suggested that Douglas was only motivated by fame and money. For others, the history of gymnastics said enough: the last Olympic all-around champion to make it back to another Games was the legendary Nadia Comaneci 36 years earlier.
Douglas did indeed make it on to the team for the 2016 Rio Games and although she fell short of her individual goals, winning a third Olympic gold medal alongside her teammates in Brazil should have been a moment of pride.
Instead, an avalanche of criticism followed. Douglas was deemed unpatriotic for not putting her hand on her heart during the US national anthem after the team finals. Two days later, the cameras caught a stone-faced Douglas in the crowd, understandably disappointed after missing out on the chance to defend her title, as her teammates competed in the all-around final. The criticism only intensified.
As she tried to articulate her pain and confusion to the media, Douglas left the 2016 Olympics with tears in her eyes. For a long time, it seemed obvious that those scenes would mark the sad ending of one of the most significant gymnastics careers of the 21st century.
Or not. This year, Douglas announced her intention to return to competition and shoot for the Paris 2024 Olympics. This week, if any doubt about her seriousness remained, the 27-year-old took her first significant step by joining USA Gymnastics' monthly training camp in Katy, Texas.
Despite not being the most highly touted gymnast of her generation back then, Douglas stormed into the conversation in 2012. Her perfectly timed breakout year culminated in a faultless showing in the Olympic all-around final as she outperformed Russia's Viktoria Komova, widely considered one of the most talented gymnasts ever, to win gold in a classic tussle at 16 years old.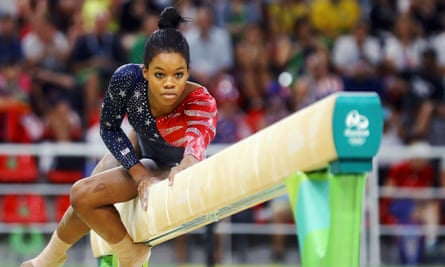 Even at her greatest moments, Douglas faced the harsh reality of being a black girl in the full face of public scrutiny. Her hair, slicked back in a bun and far from the priority as she launched herself high over the uneven bars, became a source of incessant criticism. "Did I choose my hair texture? No," she said years later. "I'm grateful for having this hair on my head. When you read that hurtful stuff you're like: 'OK, wow.'"
Then came her first comeback. It began brilliantly in 2015 with an all-around silver medal behind Simone Biles at the world championships. As 2016 began, though, something was off. Throughout the summer, Douglas often looked as if she wanted to be anywhere but on the competition floor. At the Olympic trials, she finished in seventh.
Despite her performance, Douglas's presence on the Olympic team was a no-brainer; her uneven bars prowess was needed and if anything happened to her teammates, she could have been substituted in and still delivered a gold medal for her team.
Her presence in Rio, though, inexplicably became a source of controversy and has remained a point of contention since. Even the Athlete A documentary and Tom Forster, the US women's team coordinator in the 2020 Olympics, insinuated that Douglas had been chosen for reasons other than her performance. If Douglas thought the noise might die down during the Games, by the end it was deafening.
In 2017, Douglas also confirmed that she had been abused by Larry Nassar, the former US team doctor, along with the majority of her teammates, after she apologised for a tweet that appeared to shame abuse victims.
As she distanced herself from the sport in the following years, even opting against appearing as a spectator, a return seemed unlikely. Instead, she came to realise that she should seek joy through the sport instead of staying away from it, and that merely getting back in the gym again would be a triumph.
"I never wanted to have a hatred for the sport that I love," Douglas said on the Time Magazine podcast last week. "I didn't want to end it that way. I never announced retirement, I always kept in the back of my mind, like: 'We have to finish on a better note.' My family were saying, too: 'Even if starting out, you just get back in the gym and you love it again, I think that's a step.'"
As for Douglas's prospects over the intense Olympic run-in to come, the sport has come a long way in a decade. There is a now growing understanding that gymnasts can continue to improve with age if they are not overtrained in their youth, which was perfectly illustrated by all three world all-around medallists this year – Biles, Rebeca Andrade and Shilese Jones – being over 20. The presence of three black women on the podium also reflects the trail that Douglas blazed 11 years ago.
Rather than her age, the greater challenge for Douglas is returning to competition after an eight-year layoff where she will have minimal time to retain her level and consistency of old. But Douglas has demonstrated her greatness and resilience many times over her career, and the coming year will provide a great, unexpected opportunity to witness those qualities in action again.