Fin Smith: 'Most kids watch cartoons. I used to watch Jonny Wilkinson'
For ambitious young Premiership fly-halves there is nowhere to hide. On Saturday Northampton's Fin Smith is up against Handré Pollard, who kicked South Africa to World Cup glory three weeks ago. Six days later he has a Friday night date at Franklin's Gardens with his namesake Marcus Smith. And then? A trip to north London to face that renowned softie Owen Farrell.
It would be a daunting to-do list for an old timer, never mind a 21-year-old who had the financial rug pulled from beneath him at Worcester last year and was on loan at Ampthill two seasons ago. How interesting, then, to hear Saints' head coach, Phil Dowson, insist he would back his youthful stand-off against anyone.
"Definitely," says Dowson, who shared a Newcastle dressing room with Jonny Wilkinson for eight years. "Every day of the week. Because I know what he's capable of, I know his character and I know the people around him. How we want to play is ingrained enough that he's capable of standing in front of anyone."
Dowson, on the eve of an east Midlands derby at Welford Road, has no desire to start making unfair Wilkinson comparisons but Saints clearly believe they have a good 'un. While Farrell, Ford and Smith M are established Test options at 10, Smith F could yet be England's future. As yet he is not a household name beyond his family home in Stratford-upon-Avon but, on current form, he soon will be.
Last Sunday's man of the match award against Exeter, Northampton's third straight league victory, was merely the latest gentle nudge to England's management. A quietly confident playmaker with a knack of finding space for others, a positive-minded tactician who kicks his goals, an impressively enthusiastic defender with a champion's mentality? It is not often the complete package rolls into town.
The self-assured, personable Smith is also refreshingly candid about his desire to play international rugby in the near future. In the summer, having been beasted in England's early World Cup training camps, he wrote down in a notebook his ambitions for the new season. "Top of that list was getting a cap for England this year. I've just got to try to play well and then hopefully those opportunities will come. But, yeah, I'm desperate to get picked for England. I just need to keep playing well here first."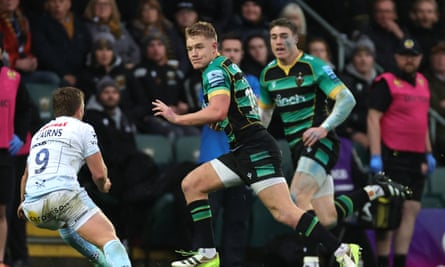 The scheduled England A game against Portugal in late February could well be a stepping stone, despite his family heritage. Both his parents, a lawyer and a nurse respectively, are Scottish and his grandfather, Tom Elliot, a Borders farmer, propped for Gala, Scotland and the British & Irish Lions. "The Scotland thing is something I could turn to in the future but, for now, I'm doing my best to hopefully get into the England squad and get picked one day for them."
As he reflects on his upbringing, it is easy to see why Gregor Townsend was so keen to put a thistle on his chest. Smith's father – "Dad's a massive Scottish rugby fan, he's up at Murrayfield in his kilt pretty much every game in the Six Nations" – met his mother at a post-match curry night in the clubhouse at London Scottish. "Not so romantic but, 28 years later, I guess it's worked for them. Dad was playing in the fifth or sixth team, Mum had gone to watch the first team and he was pesting her in the bar. The rest is history."
Ever since his first visit, aged four, to Shipston on Stour RFC, however, Smith has been a product of the English system, educated at Warwick school and further shaped by formative sessions in the back garden with his elder brother Angus. "I quite enjoy defending which maybe some fly-halves are not necessarily associated with. I think that's definitely come from having the crap kicked out of me in the garden from a young age. You either toughen up or you keep getting beaten up."
Somewhere inside also lurks the same streak of steely determination that Dowson says he remembers seeing in Wilkinson. "Definitely, yeah. But I think that's a character trait. Someone who pushes themselves, who's never satisfied. At some point you try to say to Fin: 'Keep enjoying it and don't push yourself too hard.' But that's what's got him to this point. It's him being self-aware enough to say: 'I've got to be better.'"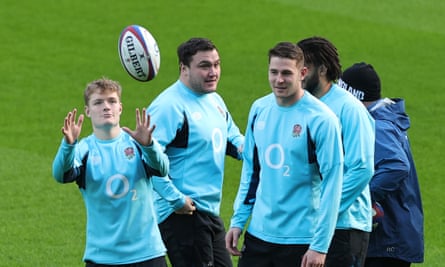 For good measure Wilkinson, once Smith's childhood hero, has been helping him with his place kicking. The pupil still finds it faintly surreal. "We have a Jonny Wilkinson highlights video … I used to stick that on whenever I was bored. Most kids watch cartoons and stuff. I used to just sit there watching him." Nowadays they meet for one-on-one kicking sessions. "He's very good at telling you to believe in yourself. And to relax. He has been great and it's been so cool. You do a session, then you go to the car park afterwards and he's getting mobbed. You think, 'Blimey, he literally is the man, isn't he?'"
Having shared in England's U20 grand slam in 2021, Smith is also lucky to have the enlightened Sam Vesty, once of Leicester, mentoring him at Northampton. Ultimately, though, every 10 has to be ready to run the show themselves. "If you look at Sexton, Jonny, Faz … they all want that," says Dowson. "When the spotlight's on you and it's your decision what to do next, they all say 'Thank God.' They want to be under that pressure. That's what attracts them to that position."
Mix in some of the other emerging talent in the Premiership and, reckons Dowson, English rugby "should be very excited" about the future. Smith is certainly keen to do more than simply leather the ball skywards. "Everyone wants to play attacking rugby. Ask any rugby player and they want to chuck the ball around. It's more fun … I think I'm good at moving the ball to space."
Time and space, however, is a rarity in a fast and furious east Midlands encounter. It will be Smith's first derby experience – "It can make your whole season if you win a game at Welford Road. We're buzzing for it" – and perhaps the biggest test of the young pretender's mettle so far. Stand up to Pollard – "I heard he had a decent World Cup … hopefully he doesn't kick too many winning penalties at the weekend" – Smith M and Farrell over the next fortnight and his notebook dreams will be swiftly realised.