James Ward-Prowse's set-piece mastery is a beautiful mystery in plain sight | Jonathan Liew
The ritual is almost religious in its precision. He bounces the ball twice on the spot. Spins it around in his hands so the Nike swoosh faces upwards. Places it lightly on the ground. Four steps back at a 45-degree angle. A little shuffle to set his feet. A little wipe of the nose on his sleeve. One last look at the target. And then the tiniest pause, the pause that all great art requires. The fractional instant when the picture is already painted, but James Ward-Prowse is the only one who can see it.
The first movement is actually backwards: a little quarter-step, the recoil that will give him the momentum for what follows. And then the explosion: four lightning-fast strides, the last of which ends with the left foot planted tight and the right leg sprung so far back that the calf is touching the hamstring.
If you freeze the tape at the moment of contact, then Ward-Prowse essentially looks like a man in the process of painfully falling over. His body is the shape of a capital J, bent violently at the hip with both legs splayed forward at different angles. The gaze is fixed downwards on the ball and will not lift until it is well into its flight. The force of the swing lifts him clean into the air. There is no earthly way a human body should be able to do this, let alone identically, for days and years on end, without serious injury.
All of which is a roundabout way of suggesting that even in a sport where every data point is logged, every movement is registered and every action is infinitely debated, there are some things in football that remain largely inscrutable. A decade into his Premier League career, Ward-Prowse is still a kind of mystery in plain sight. Everyone knows what he does. Virtually nobody seems to know how he does it. How is it possible to elevate the simple act of kicking a football – something everybody has done and to which thousands of people devote their lives – into something this distinctive and exemplary and beautiful?
Take West Ham's 3-2 win against Nottingham Forest on Sunday, the latest in a series of Ward-Prowse tutorials. After a couple of sighters, he delivered the two corners from which Jarrod Bowen and Tomas Soucek overturned a 2-1 deficit. And yet even to describe them as "deliveries", with the emphasis on the outcome rather than the process, understates the intrinsic artistry of a Ward-Prowse set piece, not just the accuracy but the vicious dip and epic swerve, an artistry that no other footballer on the planet – not Lionel Messi, not Trent Alexander-Arnold, not Dani Parejo, not Alexia Putellas – can currently match.
Why did it feel ridiculous typing that sentence? Why does it feel so parodic describing James Ward-Prowse, the guy who plays centre-midfield for West Ham, who doesn't play for England and will never be nominated for the Ballon d'Or, as one of the sport's true artists? Partly, perhaps, because of the offhand way in which set-piece talent is often regarded in this country: as a largely mundane talent, a known known, almost something adjacent to the game rather than an intrinsic part of the game itself.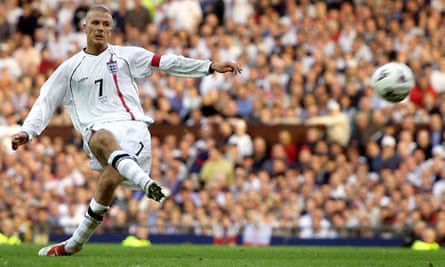 We also see this phenomenon, curiously enough, with one of England's most famous footballers. David Beckham inhabits many roles in the popular imagination – celebrity, icon, businessman, brand – but very few of them have very much to do with how he struck a football. And Beckham really was a genius as a ball-striker, in many ways the antithesis of the classic English midfielder. He didn't tackle or like being tackled. He didn't aspire to get bloodied or cover every blade of grass. He rarely tried to beat his man. And so English football has always felt more comfortable discussing him in the abstract than trying to understand what made him so devastatingly effective with a ball at his feet.
Related to this is the long-standing reluctance in most coverage of the game to analyse basic technique. Tactics and systems, space and shape, little arrows on a touchscreen: this stuff we can do. Meanwhile Sunday's Match of the Day 2 spent three minutes discussing Ward-Prowse without ever threatening to demystify his craft. "The delivery is just too good," Mark Chapman posited. "He's just world-class," Alan Shearer agreed over endless replays of Ward-Prowse hitting set pieces into a shaded electronic box. "Put it into an area, you'll get on the end of it, and you've got a right good chance of scoring goals."
Certainly the technology exists to produce a finer analysis, and we know this because we see it being used every week to replay fouls and handball decisions in eyeball-straining detail. We see it being used to analyse golf swings and spin bowling and tennis serves. But what makes Ward-Prowse so consistently accurate? How does he generate so many more revs on the ball? Why can nobody else do this? And why does it look so good?
Perhaps nobody knows. Far easier, perhaps, to gush and coo, to pore over stats and serve up an opinion about whether he could do a job in midfield for Gareth Southgate next summer. We don't talk about beauty enough in football. We don't talk enough about form. And perhaps this makes no odds to Ward-Prowse, a man who already knows those four perfect strides so intimately that he could take them in his sleep. It is the rest of us, you feel, who are being kept out of the secret.