'People's idea of Irishness is so warped': John Francis Flynn, the folk singer fighting for Dublin's spirit
In August 2016, John Francis Flynn was booked for a lucrative residency on a Disney cruise ship, performing with a band at an imitation Irish pub themed on the leprechaun-heavy 1959 film Darby O'Gill and the Little People. "You'd be down getting breakfast next to some fella dressed as Goofy. It was really quite torturous," he laughs.
Later, when the promoters suggested the band dress as the film's characters and play songs like Ed Sheeran's much-mocked version of Galway Girl, the band turned down the offer to return. "People's idea of Irishness is so warped," Flynn says. "We're proud of our culture and we like to share that with people, but you're fighting a losing battle when people don't care unless you're wearing green or drinking a pint." It's something he sees in his native Dublin too. "Temple Bar is like Disneyland," he says, referring to the riverside neighbourhood in the city centre beloved by tourists.
Flynn's second solo LP, Look Over the Wall, See the Sky, which is released this month, "is combating that in a big way", he says. "It presents Dublin, I hope, as a real place. A friend told me that it's like taking a walk through Dublin, feeling the energy in the city." The album's songs are folk and trad standards augmented by experimental instrumentation, beginning with the track The Zoological Gardens. Usually performed with a bawdiness befitting its euphemistic narrative – "it's about jumping in and shagging the elephants", Flynn explains – psychedelic synths move it into dreamier territory, colouring the onward journey with a sense of unpredictability.
Flynn grew up playing traditional flute and tin whistle, but also with a love of jazz and experimental music instilled by his father. "I wanted to bring those elements in, but in a way that is respectful to traditional music," he says, "so I'm not just messing around. Say I'm playing the tin whistle but then it becomes a wall of noise – the way I play the tune is still the way I'd always have played the tune. I'm not trying to jazz it up."
The traditional reel Within a Mile of Dublin, for instance, distorts until it reaches something quasi-industrial. "I see it as Dublin city being torn apart," says Flynn. Mole in the Ground, an American anticapitalist song first recorded in 1928, has a relentless motorik pace, its lyrics a deadpan chant: "It's about taking down the system, so I wanted to make it punchy and aggressive."
For Flynn, the song's message of resistance in the face of capitalist machinations can easily be applied to Dublin "and how it's been bought and sold by property developers". Earlier this year, Euronews reported that rent and property prices in the capital have almost doubled since 2013, and the percentage of homeowners aged 25 to 34 has halved. Dublin also has the third-lowest level of low-cost housing in the world, according to the Irish Times.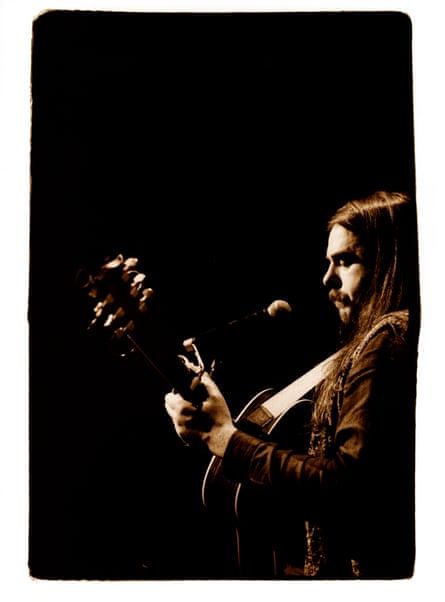 Experimental as it is, however, the record's most striking moment of all is its most straightforward: a rendition of Dirty Old Town that closes the album, with swells of brass reminiscent of traditional colliery bands. Though originally written by Ewan MacColl about Salford, Greater Manchester, it's often associated with Dublin thanks to covers by the Pogues and the Dubliners. "You'll walk through Temple Bar and hear it through the door of three pubs at the same time," Flynn says. "I'm not saying the Dubliners and the Pogues didn't do great arrangements, but the essence of the song is a tender, sombre, melancholy love song. I thought it was a really nice way to close off this love story for Dublin."
He's spent his entire life in the city, growing up in suburb of Marino on the north side, and now living in Stoneybatter, once a working-class, inner-city area near the River Liffey that has in recent years become a hipster stronghold. In both "there's an amazing sense of community," he says. He singles out the Cobblestone – a pub in Smithfield, near Stoneybatter, that hosts gigs and lessons in Irish language and music – which incubated his early career as well as that of contemporaries such as the folk group Lankum. "Then there's other pubs around the area taking on that energy – 500 metres in any direction, every night of the week, people are playing gigs. It's fantastic."
In 2021, plans were submitted for the Cobblestone to be turned into a boutique hotel. "It was the straw that broke the camel's back," Flynn says. Organising a protest march, "we thought a couple of hundred people would turn up, but there were 5,000. It made me so hopeful, that even while the city's being torn to shreds, that power's still there."
Remarkably, the campaign was successful, with the council refusing planning permission. "The Cobblestone's still going and that's fantastic. I do a gig there on Mondays with my dad and all his mates. I've played with Tom [Mulligan, the pub's owner] and his family, and there'll be generations of kids after us. It's more than a community, it's a family, and when there's an attack on that, you have to do something about it." It's a battle won, rather than a war, he admits, yet it's a source of immense hope. "Just when I think Dublin's really dying, it's still kicking."