The week in classical: Jephtha; 7 Deaths of Maria Callas; Perfection, of a Kind: Britten vs Auden – review
War is the only communion between ancient rivals. In Handel's final oratorio, Jephtha (1752), in the Royal Opera House's new staging, Israelites are devout and obedient in black, their opponents, the Ammonites, wanton, profane and gaudy. The former are any sect, any time, their enemies a colourful fury of delinquency, skirts hitched up, legs entangled, as if modelled on the paintings of Hogarth. So far so clear. Oliver Mears's production, buoyantly directed from the harpsichord by the Handel supremo Laurence Cummings, is careful to draw no literal modern parallels. None is needed. Ego and zealotry have divided nations for all time.
Struggling to finish the work in the face of sight loss and physical collapse, Handel took his subject from the Old Testament. A leader bargains with the Almighty, promising sacrifice in exchange for victory. The price is high: he must kill his only daughter, Iphis. Designed by Simon Lima Holdsworth, the minimal set is dominated by Richard Serra-style walls, inscribed with lines from the Book of Judges, in the King James version. These massive walls move around with spry facility, unexpected for concrete blocks, opening and closing to reveal the Ammonites in their gorgeous, stupefying tableaux, before their wholesale slaughter. Some less than convincing choreography at this point prompted untimely audience laughter.
Jephtha contains majestic choruses and at least one of the greatest passages of music Handel wrote: "Waft her, angels, through the skies", sung by Jephtha as he contemplates his murderous task. In its economy and intensity, this tenor aria, expressing the essence of a grief anticipated, could occupy the rest of this space. So simply achieved, the soft tread of theorbos like tears, Handel's achievement seems miraculous. Try Allan Clayton's recording. Singing the title role at ROH, following his success as Peter Grimes last year, he has immense vocal flexibility. He endows every word with meaning, and can drop his voice to the quietest pianissimo without losing tone or line.
All the sorrows, the confusion, the hubris of a once great leader flood out: Jephtha has won but his life is destroyed. Handel's score suggests a more optimistic ending, all but subverted here: the glory of God leaves a bitter taste. Iphis, superbly and imaginatively sung by Jennifer France, must abandon happiness and love. Her lover Hamor – countertenor Cameron Shahbazi, happier in his recent role in George Benjamin's Picture a day like this – has lost his bride. Her mother, Storgè – Alice Coote, enthralling, potent, almost expressionist in her suffering – can only mourn her child's enforced marriage to God.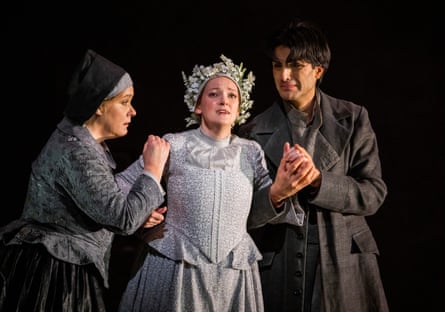 The production cannot entirely disguise the slow action of a work not written for the stage. The end misfires and as yet some of the musical corners need smoothing, but soloists (including the sterling bass Brindley Sherratt), chorus, orchestral and continuo playing (two harpsichords, two theorbos) give us three hours in the matchless company of Handel's genius.
Coinciding with her landmark retrospective at the Royal Academy of Arts, the Serbian artist Marina Abramović's7 Deaths of Maria Callas has arrived in the UK, having played at six European cities since its 2020 premiere. As ever, Abramović's own body is central to the work. As ever, public reaction has pitched from fascination to ridicule to adulation. Verging on the pretentious, glamorous but sordid, mesmerising and at times tedious, this sonic installation has little to do with opera, and less to do with Maria Callas (1923-77), the revered American-Greek soprano, a recording of whose voice we hear at the end.
These observations are intended as a naming of parts, not a write-off. After half a century of creating durational art – as in, how long can maker, or witness, stand the pain – Abramović deserves respect. 7 Deaths asks us to think about female suffering in general and our own mortality in particular. The problem is in trying to shoehorn the piece into that Pandora's box labelled "popularising opera". Abramovic's is an outdated notion of opera in which the fur-clad, attention-seeking diva rules. All the trappings of opera are present, but the art form's living, addictive, complex power remains elusive.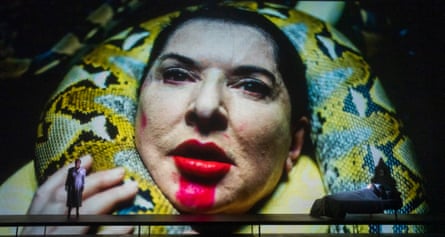 Six sopranos (Eri Nakamura, Elbenita Kajtazi, Nadine Benjamin, Karah Son, Sarah Tynan, Sophie Bevan) and one mezzo-soprano (Aigul Akhmetshina) sing top hits from operas associated with Callas – by Verdi, Puccini, Donizetti, Bellini and Bizet – linked by ambient music by Marko Nikodijević, with a short, well-sung women's chorus to add variety. The relationship between orchestra and soloist, under the baton of Yoel Gamzou, is not always secure. Each singer is dressed identically. Dwarfed by the outsize videos playing out behind them, each performs well but no one achieves their potential, obliged to launch into intense music lopped from its context. They become a soundtrack. Our eyes are locked on Abramović, and the actor Willem Dafoe, in various death poses: enveloped in a snake, floating in slo-mo from a skyscraper or caked in blood.
Finally, Abramović rises from the bed in which she has been throughout, and walks out into a celestial, eternal light (an open door, stage left). In the most direct reference to Callas, the room is a recreation of the Paris apartment where she died, alone and prematurely. Abramović's gold gown, designed by Riccardo Tisci (formerly of Burberry, and who once dressed Madonna), looks magnificent, with a nod to the druid priestess Norma, a role that Callas sang on stage 89 times. 7 Deaths immerses you in the singular world of Abramović, and all that goes with it. If you want to see the real thing, try the film Callas: Paris 1958, out this weekend, a remastering of the soprano's debut concert there, in honour of her centenary, directed by Tom Volf.
At the Queen Elizabeth Hall, in a collaboration between City of London Sinfonia and the London Review of Books, musicians and actors explored the vital but coercive relationship between Benjamin Britten and his senior by six years, WH Auden. As young men, poet and composer worked together on incidental music for the Auden-Isherwood play The Ascent of F6, which included Funeral Blues (Stop all the clocks).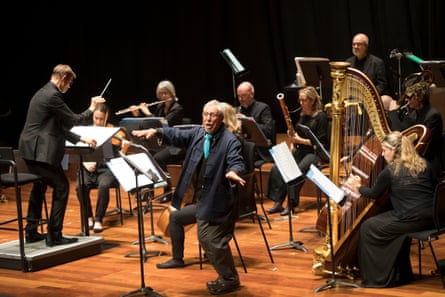 At first the event seemed to be an unconvincing though interesting collage of music and words with not enough song. By the end, thanks to the actors – Johnnie Fiori, Alex Jennings, Barrie Rutter – and musicians from the CLS conducted by Matthew Kofi Waldren, a moving story emerged, not new but well told, of two artists struggling to find their own voices. The evening ended with Night Mail, from the 1936 GPO film. Auden's words, set to Britten's music and crisply recited by Rutter, reminded us of a time when trains worked and post was delivered on time. Imagine.
Star ratings (out of five)
Jephtha ★★★
7 Deaths of Maria Callas ★★★
Perfection, of a Kind: Britten vs Auden ★★★