Aura of Novak Djokovic overshadows rivals in bid to win seventh ATP Finals
As the celebrations began for Novak Djokovic's record-extending 40th Masters 1000 title in Paris last weekend, at the side of the Bercy Arena's vast indoor courts, Grigor Dimitrov buried his face in his towel and tried hard to hold off his tears.
His emotion was understandable. Dimitrov had been playing some of the best tennis of his career, picking off Daniil Medvedev and Stefanos Tsitsipas en route to his second career Masters 1000 final. He gave everything and yet suffered the same fate he has so many times: a demoralising defeat to Novak Djokovic.
There was a time when it might have been reasonable to suggest that players of Dimitrov's generation, in the absence of being able to topple the big three, might just wait them out and succeed once they had retired. That has not happened. It is incredible how Djokovic continues to hold off far younger rivals.
As another season comes to an end at the ATP Finals in Turin, the defining question is whether anyone can stop Djokovic from securing a seventh title. Earlier this year, the answer was obvious. Carlos Alcaraz's incredible triumph over Djokovic in the Wimbledon final could have signified a shift as the 20-year-old Spaniard took the baton to begin his own dominant period.
Instead Djokovic has done what he always does, using setbacks to rebound stronger. He won in Cincinnati, then his 24th grand slam title at the US Open and then Paris. He is on an 18-match winning streak having casually pieced together another sensational season with a 51-5 (91%) win-loss record, six titles in total and stands a win away from clinching the year-end No 1 ranking.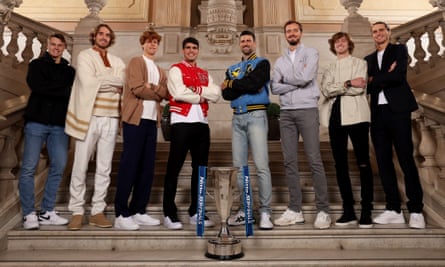 From the moment Djokovic emerged on the ATP Tour, he was charged with chasing down Roger Federer and Rafael Nadal. Yet having overtaken them statistically and clinched virtually every record, he can now play with more freedom as he looks to test what his own limits are. "I'm going for whatever I can go for," he said.
When Alcaraz has reached the final rounds and faced Djokovic, he has been a worthy rival and the pair have already produced numerous classics. But while Djokovic has been here many times and knows exactly how to maintain his level, Alcaraz has struggled with consistency and durability after a long season so early in his career.
Still, this is an elite field, all gunning for a big win. Jannik Sinner, the fourth seed, has come of age in the second half of the season, winning his first Masters 1000 and four titles in total as he lived up to the hype that has followed him around for some time.
Holger Rune, the eighth seed, has shown that he relishes the challenge of facing Djokovic even though he has struggled since Wimbledon. Tsitsipas, the 2019 ATP Finals champion, has beaten Djokovic more times (three) than his other two rivals in the group combined, but his progress also stagnated in the second half of the season.
In the second group, Alcaraz will look to re-establish his form on his ATP Finals debut and will face an immense test after drawing Medvedev, the third seed and his conqueror at Wimbledon. Andrey Rublev will try to engineer an appropriate finish to a season that saw him win his first Masters 1000 event, while Alexander Zverev's status as the only multiple champion cannot be ignored. For those who escape the group, Djokovic will likely be waiting.