The mothers whose children are held hostage by Hamas: 'All we want is them home'
'We're here as mothers, not as politicians," the three women say. They are not just any mothers – all three had children kidnapped from their kibbutz a month ago and taken hostage in Gaza. They look drained. Renana Jacob, Hadas Kalderon and B'atSheva Yahalomi are briefly in Britain, fighting for their children's lives – and the lives of all children caught up in the Israel-Hamas war. They are meeting diplomats (they have just met Qatar's ambassador to the UK, who is trying to negotiate their release) and telling their story to whomever will listen. It doesn't get any easier with each retelling. If anything, it seems to get tougher.
The three women live on the Nir Oz kibbutz in the south of Israel. Jacob and Kalderon grew up there together. Like many kibbutzniks from earlier generations, they were idealists. They believed in collective living and shared values. Perhaps most importantly, they believed in the possibility of peace with their Palestinian neighbours in Gaza.
All three left the kibbutz as young adults and later returned to settle down. "We came back to raise our children there because we thought it was heaven on Earth," Jacob says. "We were raised together and we wanted to raise our children together." Sure enough, their children grew up to be friends and enjoy the communal life. They show me photographs and videos of the kids – at birthday parties, on holiday, dancing, joking and grinning. The most poignant photograph shows Jacob's son Yagel smiling and making the peace sign with his fingers.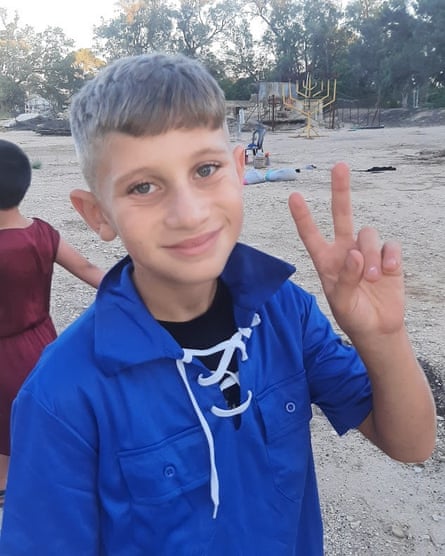 Their lives were ruptured on 7 October, the day of the Hamas massacre. "We're three mothers from the same little village – a communal community that lived a peaceful life and believed in good neighbouring. Out of nowhere, we got this horror terror attack and our little village has gone. There is nothing left. And all we want is our children to be home. And this is why we're here."
The mothers' mission is simple – they want their children brought home and Palestinian children to be provided with a safe place away from the carnage of Gaza. They say that no child should be a bargaining chip in a war.
The first thing that strikes me about them is their dignity and strength – their ability to hold themselves together. But it doesn't take long to see how broken all three of them are, how close to complete collapse, whether from exhaustion, trauma or despair. There is rarely a moment when one is not in tears.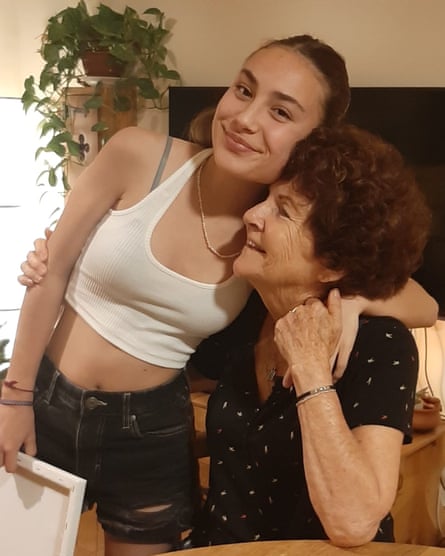 Everything is a reminder of their children, Jacob says. "When I wake up and the sun still rises, I think: 'Here's another morning that they are there and I am here. When I eat, I think: 'Are they eating?' When I sleep, I think: 'Are they sleeping?' When I shower, I wonder whether they are given showers."
Jacob says that 7 October was a regular Saturday morning – a day for the kids to sleep in, relax and play. (She works at nearby Holit kibbutz, which was also destroyed on 7 October.) She was out and about, visiting a friend on a nearby kibbutz, when she heard gunshots. She phoned home to make sure everything was OK. It wasn't.
Her two boys, 16-year-old Or and 12-year-old Yagel, had locked themselves in the safe room in their house to protect themselves from attack. "The last call I got was from my youngest," she says. "I could hear the terrorists walking in. He was whispering: 'They're coming in, they're coming in,' and I told him to be quiet. The last thing I heard was him crying, begging them: 'Please don't take me. I'm too young. You can't take me, I'm too young.'
He and his brother were kidnapped. "I don't know where they are; I've heard nothing. I don't know whether they are alive. I hope they're in a tunnel, because if they're not in a tunnel, it's even worse." Her eyes are streaming.
Kalderon, an alternative and complementary medicine practitioner, is sitting by her side. She was at home alone when she heard gunshots outside. Her 16-year-old daughter, Sahar, and 12-year-old son, Erez, were staying with her ex-husband, Ofer, 53, along with her mother, Carmela, and her autistic 12-year-old niece, Noya. They were also under attack, locked inside their safe room.
The Hamas fighters broke into Kalderon's home and destroyed everything, but they didn't manage to find where she was hiding. "I was in the dark, no electricity, no phone, no water, no nothing. I just heard them coming and shooting and shouting. I was behind my door and for eight hours I was preparing for my death and surviving. I told myself: I'm now in the jungle and I have to survive."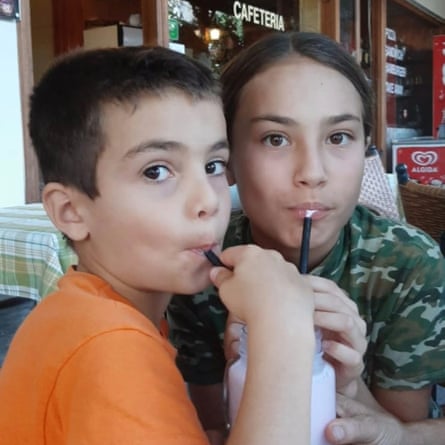 When the Hamas fighters finally left, she discovered that all five family members at Ofer's home had been kidnapped and were being held hostage. Two weeks later, the day after Carmela's 80th birthday, Kalderon learned that Carmela and Noya had been killed en route to Gaza. She says she has had no time to absorb their loss: "I can do nothing about them, but I want to save the lives of those who are still alive. We don't have time to grieve. Nothing. I'm on automatic pilot. We. Have. To. Save. Lives. Now. Nothing else is important."
She shows me photographs and videos of the family together. There seems never to have been a moment when all of you weren't laughing, I say. "That is true," Kalderon says. Then she covers her eyes with her hand, unable to talk. Her tears are silent. Jacob takes her hand.
Kalderon says Erez had always struggled with the sound of the rockets that would fly over the kibbutz. "For four years, he had panic attacks because we were being bombed," she says. "I used to sit down for an hour every night to make him sleep. He has nightmares. He can't stay alone in the house. He needs me. I can't imagine what it's like for him. He was always surrounded by dolls to protect him and this day they didn't protect him." I ask how she is coping. She asks if I have children. Yes, I say. "Well, then you don't need to ask," she says.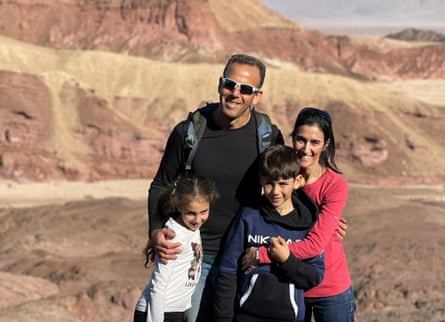 Yahalomi, a teacher, is the quietest of the three women. Her face is expressionless and her cheeks look hollowed with grief. On 7 October, she and her three children – her 12-year-old son, Eitan, her 10-year-old daughter, Yael, and her 20-month-old baby – were kidnapped by Hamas. Yahalomi's husband, Ohad, was shot in the leg as he tried to prevent Hamas fighters from invading their home. Yahalomi attempted to leave the baby with him. "We saw Ohad sitting injured, bleeding, shot in leg. He told us he loves us and to go with them. I tried to put the baby on him. I thought maybe they would let me leave her. But they didn't let me save my baby."
The Hamas fighters put Eitan and the baby on the back of one motorbike and Yahalomi and Yael on a second bike. It was only when the baby started crying that they allowed Yahalomi to take her. She describes the scene as they drove through fields of fire, smoke and corpses, past hundreds of Hamas fighters, towards Gaza. The noise was as overwhelming as the stench, she says.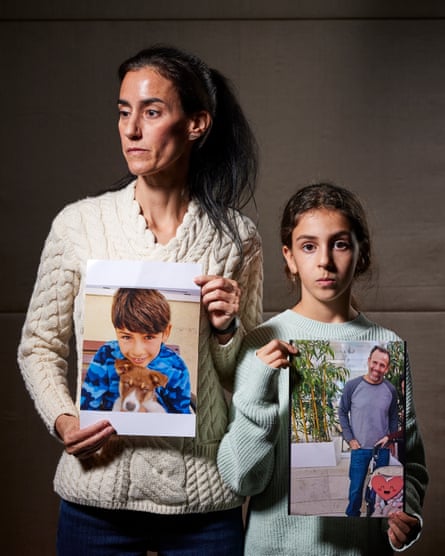 On their way to Gaza, their captors were surprised by two Israeli Defence Force (IDF) tanks. The bike carrying Yahalomi and the girls fell. She fled with her baby in one arm, holding Yael's hand. "From this moment, I didn't see Eitan any more," she says. "We were in pyjamas without shoes. They had taken our phones."
She waved desperately to the IDF tank, but it didn't stop. "I told Yael: 'Let's lie down and we will make ourselves like we are dead.' We had the blanket that the terrorist covered me with because my pyjamas were not covering my body." As the fields began to empty, they ran and hid, ran and hid. Eventually, the scene cleared, except for a solitary Hamas fighter. He told them that the kibbutz was on fire and they should go to Gaza with him because it was safer. Yahalomi saw that he was unarmed and walked away.
They returned to what was left of the kibbutz and were greeted by the army. She asked to use a soldier's phone and called Ohad's sister. "I said: 'I think Ohad is dead in the house,' and asked her to send someone to check. After many hours, somebody entered the house and Ohad was not there. He had disappeared. The army told us he had been kidnapped. I hope he is alive. I don't know …" She trails off, her voice almost a whisper.
How did she feel when they escaped without Eitan? "I can't explain it. It's a moment when you don't know what to do. I understood that Eitan wasn't there. I asked the terrorist: 'Where is my lad? Where is my lad?' But he had disappeared already. I decided I would save the two others."
---
Over the years, all three of the women had befriended Palestinians. They dreamed of a two-state solution. Living a mile and a half from Gaza was a statement of hope in itself. "We used to take sick people from the Gaza border to hospitals in Israel," Jacob says. "As children, we used to go to the beach in Gaza." After her father's Palestinian friend lost his job at the factory where they worked, he sent him money every month. "They worked together in the same department in the factory. He was sending him money till just a month ago. He probably sent him money this month. When Israel evacuated Gaza in 2005 to give them their own independence, we thought that was it – that we were going to have the good, peaceful neighbourhood we always wanted to live in."
Has her sense of the possibility of peace changed? "Of course it has. Of course it has." She pauses. "Not that I see any other solution." Yahalomi shakes her head gently as Jacob talks. "I still believe in peace," she says. "I hope from this horror good will grow. I don't know how, but I hope."
"Right now my only hope is to see my children again and to have them home again. Now," Jacob says. Her voice is raised and she is weeping, partly in sorrow, partly in anger. "That is my only hope. Most mothers, whether in Israel or Gaza, want to raise their children in peace … This has to be the last terror attack. It has to be the last time a mother hears her son begging for his life on the phone. It has to stop."
I ask the women, who are all Jewish, if they have faith. Jacob says she has a complex relationship with religion and leaves it at that. "I can tell you I am not religious," Kalderon says. "But for eight hours in that safe room I was praying. And I'm still praying because I feel sometimes: who can help us? We're all alone. She pauses. "He wasn't there on this day."
"Or she wasn't there," Jacob says. "Well, it's a he, because if it was a she, she would be there." They laugh through their tears. How important is it to have each other for support? "Now, it's very important," Kalderon says. "Nobody else can understand."
According to the Israeli government, more than 1,400 people were killed in the Hamas attack on Israel. Of the 242 hostages believed to be being held, 32 are children, between nine months and 18 years old. Sixteen came from Nir Oz. "One in four of our community is either dead, missing or kidnapped," Jacob says. According to Gaza's health ministry, more than 10,000 Palestinians have been killed in Israeli attacks on Gaza, including 4,104 children.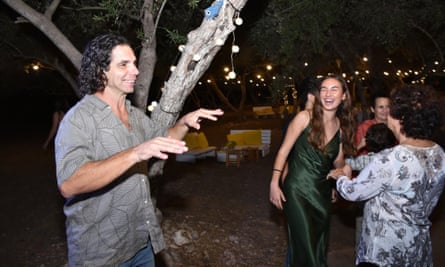 Do they think Israel's response to the Hamas massacre makes it more or less likely that their children will be released? "We are not generals or politicians, we're just mums who want our children back home," Jacob says.
Kalderon says: "What Hamas did is a crime against humanity." Jacob and Yahalomi agree. Do they think Israel's actions in Gaza, and the killing of so many children, is also a crime against humanity? "I can't say whether it's a crime against humanity," says Jacob. "But what's happening in Gaza now is heartbreaking. On both sides, all we want is children to be safe. Children should not be part of any conflict anywhere in the world. But I do think the children of Gaza and the mothers of Gaza are also held hostage by Hamas, and the only way to free them is to send Hamas away. It's not just the organisation; it's the belief they hold. The jihad, which is a lot harder to get rid of than the people."
They show me pictures of their children and tell me what they are like. Jacob's son Or is a gym bunny. "He practically lived in the gym. He thought he was strong, but he obviously wasn't strong enough," she says. Yahalomi's son, Eitan, is a promising footballer, a Manchester United obsessive and wants to be an astronaut. "He is sensitive and empathic. He believed in the good in people. I hope when he comes back he'll still be able to believe in people."
Kalderon talks of all the things she and her kids should be doing back on the kibbutz: "I want to see my son riding his bike and my daughter play her bass guitar. I want to hug them, to give them omelette and bread and butter."
I ask how hopeful they are that their children will be returned. Kalderon blinks at the question. "Sorry?" she says, as if she has misunderstood. But she has understood. "Yes, they are coming home," she says fiercely. "There are no other options. Not maybe. Not hope. They are coming home."