AstraZeneca makes bigger push into weight-loss market with new drug deal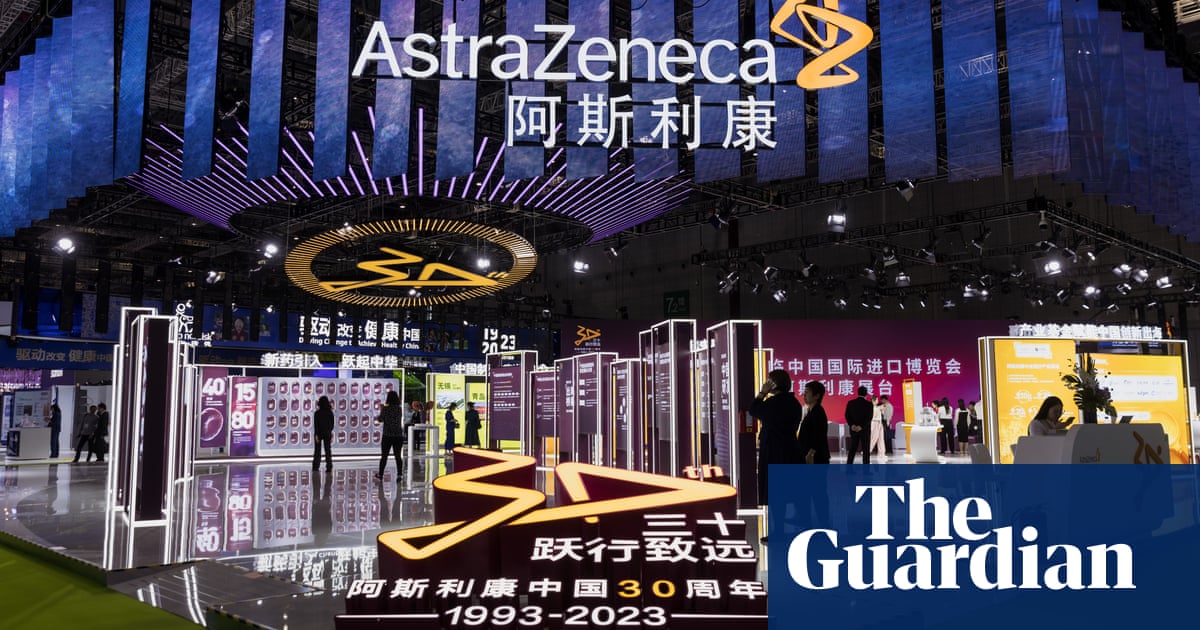 AstraZeneca is making a bigger push into the weight-loss drug market, striking an exclusive licence agreement with a Chinese company for an obesity and type 2 diabetes pill that is in early stage development.
Britain's biggest drugmaker said it had agreed a deal with Eccogene, based in Shanghai, for an experimental drug named ECC5004 that would also treat other cardiometabolic conditions such as heart disease and stroke.
It is in phase 1 development but AstraZeneca hopes it will enter phase 2 clinical studies by the end of next year.
If successful, it would be taken once a day as a pill, either on its own or in combination with other medicines for a range of cardiometabolic diseases.
The drug is a GLP-1 agonist, which mimics the action of a hormone, or chemical substance, called GLP-1 that is naturally released by the stomach when people eat food.
Eccogene will receive an initial upfront payment of $185m (£150m) and up to $1.8bn in future.
AstraZeneca also has two other early stage obesity drugs in development that would be injected.
Competition is heating up in the global obesity drug market. Demand has soared for Novo Nordisk's injected drug semaglutide, marketed as Wegovy for weight loss and Ozempic for diabetes, and the Danish company is struggling to keep pace.
Celebrities ranging from Elon Musk to the former UK prime minister Boris Johnson are among those who have said they have taken the drug. This has resulted in a steep rise in its sales and profits and sent its maker's shares soaring, making Novo Nordisk Europe's most valuable company by stock market value.
US rival Eli Lilly's diabetes injection Mounjaro has shown even better results in weight loss than Wegovy, and was approved for weight management and weight loss in the UK on Wednesday, hours after a similar approval in the US. Analysts at UBS said last year it could become one of the "biggest drug[s] ever", with the potential to achieve £20bn in peak sales.
Novo Nordisk, Eli Lilly and the US firm Pfizer are also racing to develop weight-loss pills, which are cheaper to manufacture and easier to take than jabs.
Sharon Barr, the executive vice-president of biopharmaceuticals research and development at AstraZeneca, said: "With the number of people living with cardiometabolic conditions and obesity today already over 1 billion, there is a need for continued innovation and next-generation therapeutic options."
On the back of the success of its cancer drugs and its diabetes treatment Forxiga, AstraZeneca reported a 5% rise in revenues to $33.8bn in the first nine months of the year, despite a $2.9bn decline from Covid medicines. The company raised its full-year guidance for revenue and earnings, and announced new approvals for several of its cancer medicines for other types of cancer.
AstraZeneca's Covid-19 vaccine, developed with the University of Oxford, was the first to be rolled out in the UK during the pandemic, and according to independent estimates saved more than 6 million lives globally in the first year of the rollout.
The company faces two cases in the high court in London, one from Jamie Scott, who was diagnosed with vaccine-induced thrombosis with thrombocytopenia (TTS), which can cause fatal blood clotting, after receiving the AstraZeneca jab. The other is being brought by Anish Tailor, whose wife, Alpa, died in March 2021 after receiving her first dose of the vaccine. Both product liability lawsuits were filed in August.
It is understood AstraZeneca will defend these claims.
Last year, the World Health Organization said the vaccine was "safe and effective for all individuals aged 18 and above". It added TTS was "very rare", involving unusual and severe blood clotting.