Dozens injured in protests at Spanish socialist party's Madrid headquarters
Thirty-nine people, including 30 police officers, have been injured outside the Madrid headquarters of Spain's ruling socialist party amid angry demonstrations against the party's plans to offer an agreement deal to Catalan separatists to help it secure another term in government.
About 7,000 people gathered outside the offices of the Spanish Socialist Workers' party (PSOE) on Calle de Ferraz on Tuesday night to protest against the proposed agreement. The demonstration, which was attended by members of the far-right Vox party and by fascist and neo-fascist groups, led to skirmishes between protesters and riot police, who responded with teargas and baton charges.
Video footage of the event showed some participants calling Spain's acting prime minister, the PSOE leader Pedro Sánchez, a "son of bitch", a "criminal" and a "dictator", and referring to Spain's acting interior minister, Fernando Grande-Marlaska – who is gay – as a "faggot".
According to Madrid's emergency services, 39 people – most of them police officers – were injured, while the authorities said seven people had been arrested. The confrontations followed similarly violent scenes outside the PSOE headquarters on Monday night.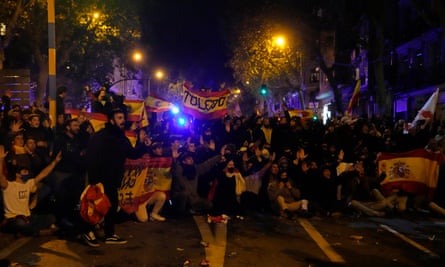 The controversial issue of the agreement has emerged in the aftermath of July's inconclusive general election, in which the conservative People's party (PP) narrowly beat the PSOE. The PP, however, has been unable to muster the necessary support to form a government, meaning that Sánchez and his allies in the leftwing Sumar alliance have the best chance of forming a government. But they can do so only with the backing of the two main Catalan pro-independence parties, the Catalan Republican Left (ERC) and Junts (Together).
Both Catalan parties have said their support for getting the PSOE back into office would be contingent on an amnesty for hundreds of people who participated in the failed push to secede from Spain in October 2017. While the ERC has already reached a deal to back Sánchez, negotiations with Junts are dragging on.
Sánchez, who has claimed an agreement will help promote coexistence, suggested the violence outside his party's offices had been whipped up by the PP and Vox, both of which have fiercely criticised the proposal and accused Sánchez of using it as a cynical means to remain in power.
"We expect nothing from those who, by action or by omission, support the besieging of socialist premises," he wrote on X, formerly known as Twitter, on Tuesday night. "Their silence speaks volumes. Social progress and coexistence are worth it. They won't break the PSOE."
Although the PP condemned the violence – and stressed that it had neither organised nor taken part in the protests – it said Spaniards were angry because Sánchez had "crossed a lot of red lines in order to carry on being prime minister".
Vox's leader, who had urged people to descend on Calle de Ferraz on Monday night, attempted to blame Sánchez and Grande-Marlaska for the violence, saying they had ordered the police to "charge at and gas peaceful protesters on Monday night". Santiago Abascal also said his party would continue to support peaceful protests against "the coup-mongers … who are negotiating the conditions to eliminate coexistence in Spain".
A poll in mid-September showed 70% of Spaniards opposed an amnesty, and about 200,000 people have taken part in three large, recent rallies against the measure organised by the PP and Vox.