Patisserie Valerie fraud trial will not start until 2026, court told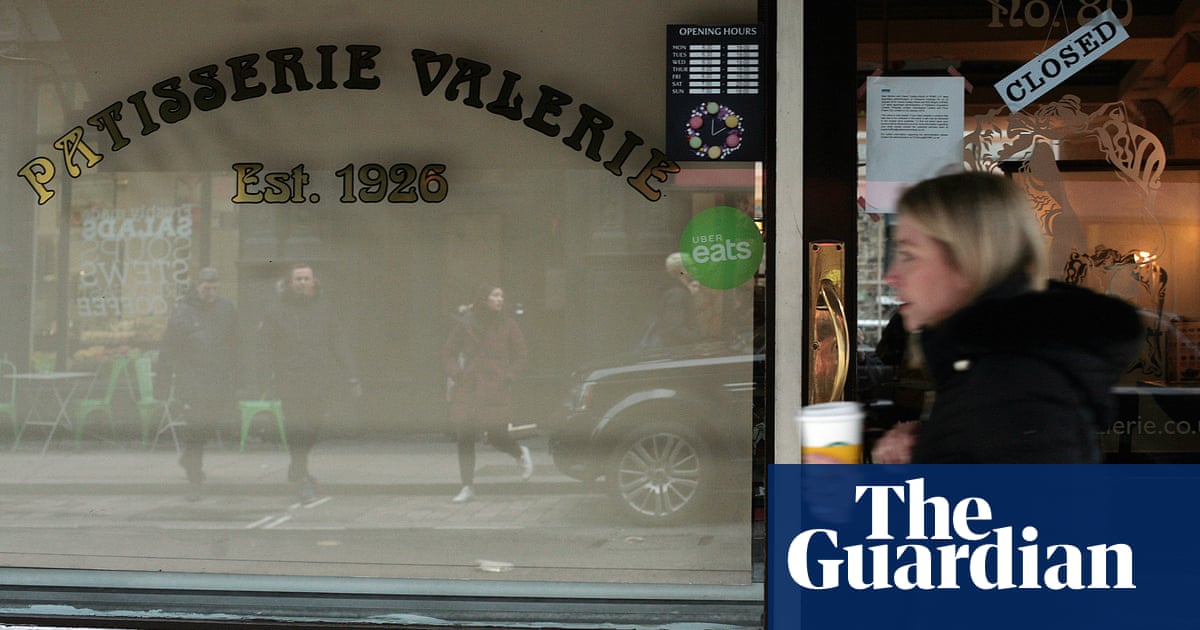 The fraud trial of former employees of the collapsed bakery chain Patisserie Valerie will not take place for another two and a half years, a court has heard.
At a trial preparation hearing at Southwark crown court on Tuesday, a date was set for spring 2026, about eight years on from the accounting crisis that led to the collapse of the business.
At the hearing, it emerged that the Serious Fraud Office (SFO) expects to wade through almost 3m documents in relation to the case, in which four people including a former director have been charged with fraud.
The company, which ran almost 200 high street cafes in the UK, collapsed in early 2019, months after reports emerged of a multimillion-pound black hole in its finances, which was blamed on "potentially fraudulent" accounting irregularities.
Christopher Marsh, 49, the chief financial officer of Patisserie Holdings, the company behind Patisserie Valerie, and his wife, Louise Marsh, 55, an accountant, were charged by the SFO, along with Christopher Marsh's former number two Pritesh Mistry, 41, and the financial consultant Nileshkumar Lad, 50.
Christopher Marsh, Mistry and Lad have each been charged with five counts of fraud by false representation, one count of conspiracy to defraud and one count of making or supplying documents used for fraud. Louise Marsh faces one count of conspiracy to defraud.
Louise Marsh sat behind her husband, who was dressed in a dark suit with a purple tie, in the central London court. None of the defendants spoke during the hearing.
In court, a timetable was set for the case with a lengthy process of evidence disclosure planned for next year, and a pre-trial review scheduled for July 2025. The trial is scheduled to begin on 2 March 2026 and last for 13 weeks.
Christopher Marsh worked for the company for 12 years from 2006. He has been charged with dishonestly agreeing to inflate and misstate the cash on the company's balance sheets between 2015 and 2018, as well as misleading its banks, Barclays and HSBC.
Christopher Marsh, Mistry and Lad are accused of making false statements to the banks about the company's cash reserves before it collapsed and the reason that cheques were being stopped. The trio also allegedly made false statements to the company's auditor, Grant Thornton, over invoices produced between 2015 and 2018.
Christopher Marsh also faces a count of publishing a statement "with intent to deceive members or creditors", over his role in producing the bakery chain's interim results and annual accounts.
At a hearing last month, Marsh indicated he intended to plead not guilty, while the other defendants entered no plea, which has been taken as an intention to plead not guilty. Prosecution lawyers said Mistry had given a short statement denying criminality while the other defendants had offered no comment.
All four were granted conditional bail and ordered not to contact each other, except for Christopher and Louise Marsh, who live together. They will appear at the same court on 26 April next year to enter pleas and are scheduled for trial on 2 March 2026.
In October 2018, the company suspended trading, closing 70 outlets, leading to the loss of 900 jobs. Two days later, the SFO began an investigation, codenamed Operation Venom, and the entire chain collapsed in January 2019 with a £94m hole in its accounts.
The former stock exchange-listed business was valued at £450m before its collapse. Grant Thornton was fined £2.3m in 2021 and accused of a "serious lack of competence" by the Financial Reporting Council after an investigation.