Katie Hopkins and Tommy Robinson thank Elon Musk for reinstating them on X
Former Daily Mail columnist Katie Hopkins and far-right agitator Tommy Robinson have thanked Elon Musk for reinstating their accounts on X after being banned for "hateful conduct".
Hopkins, who found fame as a candidate on BBC's The Apprentice, was suspended permanently in 2020 on the platform, then known as Twitter.
Robinson, whose real name is Stephen Yaxley-Lennon, was banned in 2018.
Both personally thanked Musk, the billionaire owner of X, in their first posts since rejoining the social media site. Musk has faced criticism for allowing disinformation to flood the platform under his tenure. A report published by the EU in the September found X to have the highest ratio of disinformation posts of all large social media platforms.
Hopkins, who used to have more than 1.1 million followers, was removed to "keep Twitter safe", according to the company at the time.
She has faced public opprobrium in the past for comparing migrants to cockroaches and claiming that a photograph of a dead Syrian boy lying on a beach, which had prompted a wave of compassion across Europe, was staged.
Robinson, who has a string of criminal convictions, has in the past been accused of posting Islamophobic content on Twitter.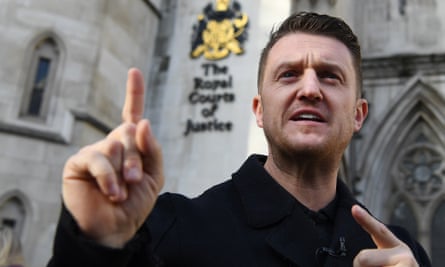 In 2018, the now Metropolitan police commissioner, Mark Rowley, said there was "no doubt" material posted online by Robinson, the former leader of far-right group the English Defence League (EDL) had contributed to the radicalisation of the Finsbury Park mosque attacker Darren Osborne.
"He had grown to hate Muslims largely due his consumption of large amounts of online far-right material including, as evidenced at court, statements from former EDL leader Tommy Robinson, Britain First and others," Rowley said.
Hopkins' first post on the platform since 2020 read: "Thank you @elonmusk. And thank you to all the Twitter family who have brought Tommy & I back to @X.
"Know this. You are not alone. We are many. And we are stronger together. The fight back for your freedom is on."
Robinson also thanked Musk, adding: "I've been censored, attacked, slandered and imprisoned for shining a light on uncomfortable truths that our government wish to hide, the public are now aware I was telling the truth. We have lots to do."