Damar Hamlin Returns to Cincinnati, Celebrates 'Heroes' Who Saved His Life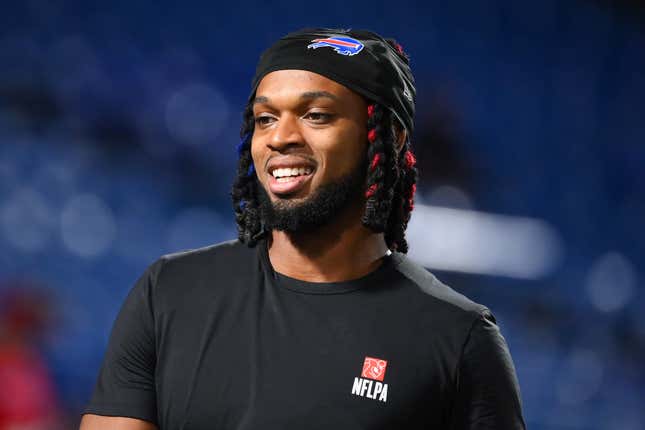 Buffalo Bills' safety Damar Hamlin has only played in one game during the 2023-24 NFL season. However, there was no way he wouldn't travel with the team for its Sunday night game against the Cincinnati Bengals. Following the Bengals' 24-18 victory over the Bills, Hamlin took a private moment on the field to reflect on last season's life-changing nine minutes. In response to a video of him kneeling on the field, he wrote on X, "Tonight was everything for me.. y'all don't know the half of it. Trust me."
Michael Oher On New Book, NFL, The Jets, Aaron Rodgers, Running Backs Contracts & He Sings!
As previously reported by The Root, on Jan. 2, during a Monday Night Football game between Cincinnati and Buffalo, Hamlin took a hit to his chest that sent him into cardiac arrest. After nine minutes, first responders were able to use CPR and a defibrillator to restart his heart. In the aftermath of his recovery, the football star has become an inspiration to millions of fans and has used his notoriety to advocate for more automated external defibrillators (AEDs) in youth leagues, schools and colleges.
While he was in Cincinnati, Damar had dinner with "his heroes," 10 members of the UC Medical team—nurses, doctors and first responders—who helped him through his ordeal. He announced that over the next three years, his Chasing M's foundation will "support youth in Cincy to chase their dreams" with $1,000 scholarships in their names.
"I'm humbled by the opportunity to set up a scholarship program to honor this team of professionals—my Cincinnati heroes—who helped save my life," Hamlin said in a statement. "Today, as I look at honoring these Cincinnati heroes and lifting up young people who are trying to find their way, I'm reminded of the enormous blessing I've been given through my charity and the generosity of people around the world."
The only way to describe Hamlin's survival on Jan. 2 is miraculous. His drive to return to the football field is admirable. But the way he's used his second chance and the $9 million in donations to his charity to pay it forward is truly heroic.