'I have no time to cry': a teacher in Gaza tells of toll of war on her family
When she wakes each morning on the floor of a UN school in southern Gaza, Eman Basher checks that her children are unharmed. Whenever she is woken by a nearby airstrike, she takes it as a good sign that she heard it – the survivors of other strikes tell her they did not hear the explosion.
Basher's husband is studying abroad, so over the past month of bombardment in Gaza she has been singlehandedly keeping their three children safe, sheltered, fed and distracted from the bombing.
She first joins an hour-long queue for bread then heads to her uncle's home in Khan Yunis to eat breakfast and use the bathroom: she would have to wait hours for a bathroom at the school. She continues to sleep at the school, however, as her uncle's house is now sheltering 50 people and she feels it would be "selfish" to add to the overcrowding.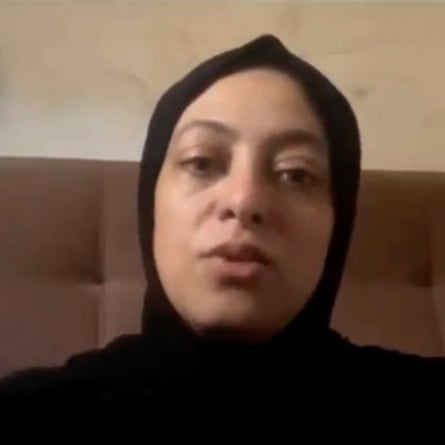 "I try my best to stay strong but being to some extent a single mother in this situation is really bad," says Basher. "These children, you have to keep them distracted. No matter what happens, they have to eat. There's no time to mourn the loss of loved ones because I have three children to take care of. I literally have no time to cry."
Basher is among 1.4 million people now displaced in Gaza. She had been living in Jabalia refugee camp, where up to 195 people were killed last week by an Israeli airstrike. The family moved south, with thousands of other civilians, because Israel had said the population would be safe there. But southern Gaza has also seen regular airstrikes and now faces a lack of fuel, water and food.
Basher's daily routine is beset with challenges. What water she can find has upset her children's stomachs, but the nearest pharmacy is an hour's walk away and might well not have the medication she needs.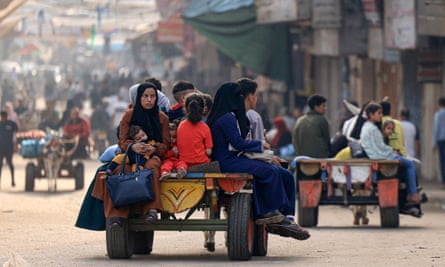 Gaza's electricity shortage means food has to be bought fresh each day but it's a two-hour walk to the market. There are occasional cars heading there but lack of fuel means a donkey cart is more reliable. Once there, she buys whatever she can to make a meal, hoping the stallholders are not taking advantage of desperate people. She worries that soon she will have no more gas to cook with.
According to the Hamas-run health ministry, more than 9,000 people have been killed in Gaza, and the United Nations is now saying the humanitarian situation is "catastrophic", with the fuel blockade closing hospitals and hitting transport and water supplies. Even shelters are not safe – the UN said four were hit by shelling last Thursday, killing 23.
"I feels like it's not real: no water, no power," Basher says. "As we talk, seriously wounded people are dying because of the lack of medical service and the continuing aggression."
Basher's husband, Abdalrahim Abuwarda, is studying for a master's in the US. His scholarship did not allow him to take his family with him, and he says he feels helpless, especially since total communication outages left him unable to speak to his family twice in the past week.
"It feels like I'm screaming into a void," he says. "Even when I call my wife and kids, I can't comfort them. I can't even lie and tell them everything will be fine. I don't know if I'm going to lose them in the next day or next hour. It aches my heart – literally. Since the war started, I have this physical pain in my heart."
Living in a school has become surreal for Basher. She teaches English in another UN school in northern Gaza and had toyed with the idea of using the premises for a camping trip with her students, as they lack open spaces. Now, she and they – and hundreds of thousands across Gaza – are living in schools.
Her 200 students are often on her mind, and while some are in contact on social media or bump into her in Khan Yunis, others have not responded to her messages. She knows one has been killed.
"I have been always criticised as an emotional teacher who gets attached to her students," she says. "I just hope they are OK because I have always had this idea that they have the power to change things. But if they're gone, I don't think things will change any time soon."