Eidevall wants to make 'life in WSL as difficult as possible' for departing Hayes
A playful Jonas Eidevall said he wants to make "life in the WSL as difficult and unpleasant" as possible for Emma Hayes, but will then be picking up the phone to the Chelsea manager for advice after she leaves the club at the end of the season.
Chelsea's shock announcement that Hayes would be leaving the club after 11 years came before reports that she is frontrunner for the vacant USA women's national team job.
"I don't know the reason why she's leaving but there's no doubt that she will leave a legacy at Chelsea," said Eidevall, following his team's 2-1 win against Manchester City. "It's a legacy that all football managers would be very proud of leaving. She should be very proud of that.
"I think me and all other managers are going to try and make life in the WSL as difficult and unpleasant for her as possible before she leaves," he said with a grin.
"After that, she's going to be one of the first ones that I might pick up the phone and give a call to, because I do think she has some really interesting ideas about football and how to build a football team.
"When you're not direct rivals, I would love to spend a little bit of time with her, listening to her experiences at Chelsea and so on, but that phone call has to wait and we have to remain competitors. Hopefully she ends in a really bad way at Chelsea, but that's not going to ruin her legacy. But then best of luck for everything."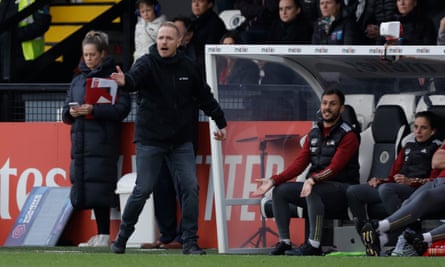 The City manager, Gareth Taylor, expressed his surprise at the Hayes announcement. "She's had a long period at Chelsea and I can imagine she's thinking: 'What's next?'," Taylor said. "It's quite early [in the season], that's probably what took everyone by surprise. I was probably a little bit surprised, like everyone else was."
Taylor also said the 19-year-old goalkeeper Khiara Keating would be well looked after she saved a penalty but was at fault for both Arsenal goals in their 2-1 defeat.
"She'll be OK," he said. "It's part and parcel. I've been speaking to you guys quite a bit about [the idea that] there'll be a moment where she'll make a mistake, and this won't be the last one, for sure, and it's the same for all players, all keepers, but she's done so many good things and she will continue to be great.
"It's unfortunate, but it's all good learning for her. It's something that makes you, as a player. She'll come through it and we'll support her in the right way. She'll be back out there before you know it, doing great things like she always has."