'Deal breaker': Muslims in Leicester mull vote over Labour stance on Gaza
There was a mood of sombre reflection outside Leicester's central mosque after Friday prayers. The war in Gaza was at the forefront of many worshippers' minds and many made it clear that it would have an impact on what political party they supported in the UK.
"I've always been a Labour voter," said Shebaz Hassan, "but I've been emailing my local MP to see if he's going to support the ceasefire and a peace solution afterwards. And if he doesn't, then I'm going to have to see what I'm going to vote – and that goes for a lot of people."
His brother, Imtiaz Hassan, said that Keir Starmer's support of Israel's right to invade Gaza, following Hamas's brutal slaughter of some 1,400 Israelis and kidnapping of more than 200 on 7 October, was a "deal breaker".
Roughly a third of Leicester's 369,000 population is Muslim, and it's a community that has traditionally voted for Labour. All three of its constituencies returned Labour MPs in the last election, although Claudia Webbe of Leicester East could stand as an independent after losing the Labour whip.
It's a city that Labour would expect to romp home in come the next election. But according to Raffiq Mohammed, a Labour councillor for the Stoneygate ward, the party is now "haemorrhaging votes that we're not going to get back" as a result of Starmer's stance.
Mohammed was one of seven local Muslim councillors who wrote an open letter demanding that the Labour leader withdraw and apologise for the comments he made in an interview on LBC in which he said that Israel has the "right to do everything it can to get those hostages back", including withholding power and water from Palestinian civilians.
Starmer later clarified his remarks and has since called for a humanitarian pause in hostilities to enable the distribution of civilian aid, but neither Mohammed nor his fellow signatories believe that he's gone far enough to satisfy them or their constituents.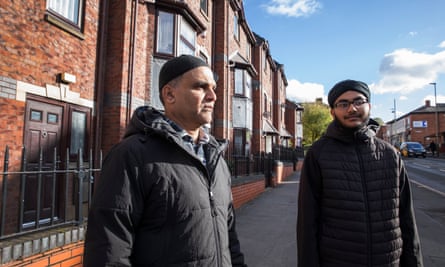 "I remember campaigning during the Iraq war, and the community has doubled in size since then," he said. "It's also more political and it doesn't rely on the BBC or newspapers for its information."
Even if Labour believes it is protected by the handsome majorities that it enjoys in the two Leicester constituencies with the highest numbers of Muslim voters, Mohammed says there are many other towns, such as Loughborough, where the Muslim vote could be decisive. But where would these voters go?
Last week the leaders of two Labour councils, Burnley and Pendle, called for Starmer to resign. A couple of weeks ago nine councillors in Oxford quit the party over Starmer's refusal to call for a ceasefire and are now independents. Are there similar plans afoot in Leicester?
"It depends how the situation develops," says Mustafa Malik, another Labour councillor in Leicester.
Now that Sadiq Khan and Andy Burnham, the Labour mayors of London and Manchester, have both called for a ceasefire, and with growing unrest among a number of MPs, Starmer is facing a delicate political calculation.
In reality his influence on the situation on the ground in Israel and Palestine is severely limited. "He might not have that power," says Shebaz Hassan, "but if he says something, then at least we know he's saying what we think he should be saying."
On the streets of Leicester it's hard to get an accurate picture of exactly how critical the issue is to Muslim Labour voters. The majority of those asked say they're not interested or don't want to speak.
In the Highfields area, where a number of Palestinian flags hang from windows, one man, who didn't want to give his name, said people in the community are worried about expressing their opinions publicly.
"Because it's such a polarised debate, not many people want to speak up about it, given the fact that they have jobs," he said. "It could affect their livelihood."
Mohammed Sebaj says that while he's always previously voted Labour, the leadership's response to Gaza means he's unsure what he'll do in the next election. "Honestly I don't have any idea who to vote for."
Most observers believe an election won't take place for six months at the earliest. By then all the doubt and frustration that is circulating in towns such as Leicester may have run their course – alternatively they may harden into something more concrete. Starmer will be hoping for a speedy resolution in the tiny strip of land on the Mediterranean 2,000 miles away, or else the disciplined party unity he's carefully built might begin to crumble.