Don't think you would try a kabocha squash latte? You already have
When Jonathan Yang opened a coffee shop in LA's Chinatown in 2020, he wanted a riff on the seasonal fall latte that spoke to the flavors of his childhood.
His thoughts immediately turned to kabocha, a small green squash with orange flesh also known as the "Japanese pumpkin".
"For Asian American families, and Chinese American families, we use kabocha a whole lot more than pumpkin," Yang said. "It's a little bit sweeter and not as grainy."
The kabocha spice latte is a popular fall drink at Yang's shop, Thank You Coffee, served alongside other Chinese American-inspired beverages such as a lapsang souchong-infused latte and a five-spice latte topped with a delicate sprinkle of MSG.
While some of his customers in suburban California still ask "kabocha – what is it?", many coffee drinkers in Los Angeles are largely receptive, even excited, by the substitution of the lesser-known squash, Yang said.
Thank You Coffee isn't alone in using kabocha as an elegant solution to the tacky problem of "pumpkin spice" – a flavor that's become so synonymous with fall it's spawned a $200m industry of products, from hummus to scented candles.
In Los Angeles, at least three businesses – Blackwood Coffee Bar, Cafe Dulce in Little Tokyo, and Crème Caramel LA, a Filipino American custard dessert bakery – have all offered kabocha lattes in past years. Farm Cup Coffee in West Hollywood currently offers a "harvester" latte that features kabocha; co-founder Tony Yuan said it's become a customer favorite, even though some people still confuse the squash with kombucha, the fermented health drink.
Holey Grail, a Hawaiian donut shop with two Los Angeles outlets, offers seasonal "kabocha spice donuts", topped with a glaze that includes coffee, spices and kabocha itself, and garnished with pumpkin seeds.
This fall marks the 20th anniversary of Starbucks' pumpkin spice latte, the drink that spawned a syrupy, cinnamon-y cultural movement. But, while kabocha might seem like this year's trendy spin on the original PSL, a deeper dive reveals it has played a far more central role in the pumpkin-industrial complex than many people realize.
Starbucks' original pumpkin spice latte recipe, from 2003, contained no actual pumpkin, only spices that were reminiscent of pumpkin pie. In 2015 they changed the recipe to include "real pumpkin puree". Only it wasn't the classic orange pumpkin you might picture.
According to a press release, Starbucks worked with a Dutch food products company and "turned over every leaf to find just the right variety of pumpkin to use". The winner, Starbucks said, was "little kabocha pumpkins".
If you're surprised, you're not alone. Americans spent more than $819m on products with "pumpkin" in the name in the past year, from pumpkin cinnamon bagels to actual pumpkins, according to NIQ, a consumer intelligence company.
A huge number of so-called "pumpkin" products, including pumpkin pie filling, are actually made with other, less-famous kinds of squash, which come in a range of shapes and colors.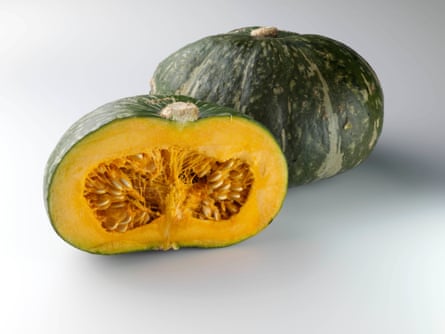 What big pumpkin doesn't want you to know is that those all-American orange pumpkins don't actually taste that good. They may be the pin-ups of the gourd world, but they can't take the heat in a kitchen.
For example, the most ubiquitous "pumpkin" product in America, Libby's canned pumpkin, is not made from round orange pumpkins. It's produced with "Dickinson pumpkin", an elongated, pale gourd resembling a butternut squash that Libby admits on its website "doesn't look like traditional carving pumpkins" but is "much tastier than your average Jack O'Lantern".
"All pumpkins … are a variety of squash," Libby's says on a FAQ on its website.
This kind of squash switch happens at all levels of the pumpkin market: Yuan, the Farm Cup coffee co-founder, said one of his bakery suppliers used to offer "pumpkin" muffins that were actually made with kabocha.
Starbucks' corporate press office did not use the word "squash" at all: "Starbucks Pumpkin Spice Latte is made with kabocha pumpkin, a variety of pumpkin that is small and sweet," it said in a statement.
Michael Mazourek, a professor of vegetable breeding at Cornell University and a co-developer of the honeynut squash, said that what's confusing is that "pumpkin" is not, in fact, a particular species of squash: "Pumpkin is a shape."
"A pumpkin is technically a squash that is round with sutures, those longitudinal indentations," he said.
The tiny, reddish-orange ambermax kabocha squash that Starbucks uses in its PSL sauce are technically pumpkins, Mazourek said, because they have that rounded pumpkin shape, even though they are a completely different species from a Halloween carving pumpkin.
When most people find out that their pie filling is not made from classic holiday pumpkins, Mazourek said, "They feel tricked and ripped off, like, 'It's a squash. I wanted a pumpkin.'"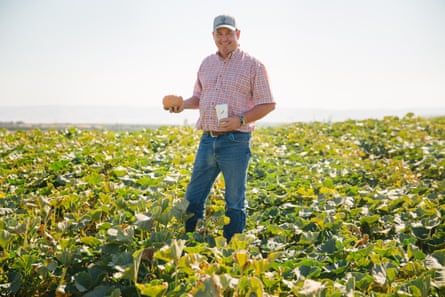 Kabocha, "one of those really refined Japanese vegetables", is growing in popularity in the US, but it deserves more time in the cultural spotlight, Mazourek said. At the moment, the fact that kabocha is propping up the US pumpkin spice industry remains a closely gourded secret, even for big-time fans like Yang.
When I told Yang that the Japanese pumpkin some of his customers greet with confusion had actually been in Starbucks' PSL since 2015, he was floored.
"WHAAAAATT?" he said, sounding precisely like the southern California dude he is. "That blows my mind."
To be fair, Yang's proudly branded kabocha spice latte, or KSL, doesn't taste much like Starbucks' secretly-a-kabocha latte.
For his drink, Yang distills kabocha squash into a syrup with brown sugar, pie spices, ginger bitters and coconut condensed milk. The drink is topped with kinako, a Japanese roasted soy powder, "to give it that pie crust feel", Yang said.
The result is a rich, nuanced flavor that's reminiscent of pie filling that has bubbled over the edge of the pan, caramelizing into a spicy goo. The KSL is much less sweet than a Starbucks pumpkin latte, and it doesn't coat your tongue with that saccharin aftertaste.
Yang said his tiny team deserved credit for matching the results of Starbucks food scientists' research on a much smaller budget.
"I'm happy we came to similar conclusions," he said. "I'm still shook."