Brian Eno and the Baltic Sea Philharmonic review – orchestral manoeuvres with the king of ambience
It's quite rare – and conceptually curious – to find an artist as innovative and tech-forward as Brian Eno in the company of a large orchestra. The stage tonight is full of what more philistine tech bros might call "legacy" instruments – fussy cornets and sentimental cellos, blustery tubas and self-important timpani. This tour marks the first time this polymath, app designer and generative music specialist has performed with an orchestra; it is also, seemingly, his first ever solo tour of any kind – despite a career taking up a half century.
In the company of the Baltic Sea Philharmonic, thanks to a commission by the Venice Biennale, Eno is staging a live recreation of his 2016 album The Ship twice in one night in London. Helpfully, this ensemble is not one overly in thrall to the strictures of the past: the BSP is a multinational ensemble that often memorises pieces so that the musicians can walk around. The stage tonight is replete with players, some fixed to the spot – the harp, the keyboards, the cellists and percussionist – but the rest in motion, often facing the audience head-on, beseeching or in challenge, or crouched down in the lulls.
At the centre of the dark stage is Eno himself in a pink jacket, like a beating heart; his mission control is a bank of electronics and a microphone. To his side is actor Peter Serafinowicz, who solemnly intones the words of Fickle Sun (ii): The Hour Is Thin – plausible-sounding thoughts on war generated by algorithm. To Eno's other side is vocalist Melanie Pappenheim, who provides more vocals, mutters and harmonies.
Even though he first came to renown playing keyboards for Roxy Music, an impish dandy in full makeup, Eno has often described himself as a non-musician. There is some truth here. His grandfather may have repaired church organs, but Eno didn't have a classical upbringing. He made sounds with machines in the heady art school days of the late 1960s, an artistic practice akin to visual or conceptual forms. Probably best known now as the father of ambient music, as well as a producer to David Bowie, U2 and Coldplay, Eno coined the term "ambient" in the 70s as a way of describing compositions not in thrall to pop, classical or even jazz structures, but that could fill three dimensions spatially, with texture and emotion as real as weather.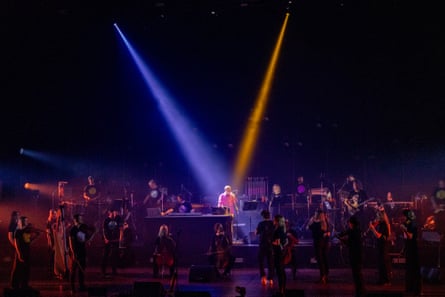 So while tonight's gig makes full use of the conservatoire's most traditional kit, this Ship is more like an almighty sound installation, in which the full pelt of the orchestra has an undeniably physical presence. The sounds are often tarry and malevolent, and come illuminated mostly by sulphurous low lights in the sepulchral first half.
Later, the mood turns more elegiac, with comfort and uplift in the players' numbers: there are 32 musicians on stage. A swelling cover of the Velvet Underground's I'm Set Free – the climax of the album and, perhaps, the gig as a whole – sounds hymnal, and less like the Velvets than a completely different 60s band: the Beach Boys. It's the evening's most conventional moment, but it works beautifully.
At their most impressive, however, these acoustic instruments often sound downright electronic: they drone, whine and thrum. They vividly mimic the organic, 3D groans of a ship's hull, or the all-encompassing din of a battle during a storm at sea (two whirly tubes hard at work here). Eno has said the inspiration for The Ship came from the Titanic and the first world war – both colossal examples of human hubris, whose horrors are laid bare on the title track and Fickle Sun (i), the most substantial of the night's offerings.
His voice – he apologises for having a cold – is high in the mix, often laden with gentle effects. But despite the nautical theme, these are at heart anti-shanties about "the illusion of control" and "wave, after wave, after wave" of pitiless ocean, destruction and human folly. Even the glorious, gospel-adjacent Velvets song is about being set free from one "illusion" – only to embrace another.
The encores, drawn from distant points of Eno's vast discography, tend mostly towards work where his voice is present rather than an ambient greatest hits set. Who Gives a Thought and There Were Bells date from last year's very song-based ForeverAndEverNoMore, and By This River from 1977's Before And After Science. The natural world is often uppermost in some of these selections, and their fluttery bittersweetness tends, perhaps, a little too much towards the merely pleasant rather than the truly beatific.
It's really the whirr and boom of destruction – the cello groan of being overwhelmed by dark forces – that resonates most enduringly in this timely gig about war. Most movingly, Eno revives his 2005 track Bone Bomb. He explains the song's origins in two newspaper stories, one about a woman who wanted to be a Palestinian suicide bomber, and another about an Israeli doctor who picked shards of bone out of casualties. Eno's voice wobbles audibly as he describes "repurposing" the next track – a haunting, barely there Making Gardens Out of Silence – as "a requiem for people in Israel and Palestine".