'We heard the missile come': tensions rise on Israel's northern border
Amir Ottolenghi, 65, was at home with his wife in the northern Israeli town of Kiryat Shmona when a rocket struck his neighbour's residence next door, smashing through the red-tiled roof and setting it on fire.
"We heard the missile come from the Lebanese side of the frontier, and then the boom-boom of Iron Dome [Israel's anti-missile system]. Then another bang as the rocket hit the house. The instruction is to wait for 10 minutes. But we could hear the house opposite on fire. The sound of glass being blown out."
In the north of Israel, the sound of exchanges between the Israel Defence Forces (IDF) and Hezbollah and other armed factions in Lebanon have become a daily fact of life for the few, such as Ottolenghi, who have opted to stay in its deserted towns and communities.
The roads close to the frontier, planted years ago with eucalyptus trees to screen cars from overlooking heights across the border, have signs warning drivers they are entering a danger zone.
The gates to border communities in the Upper Galilee such as Metula and Menara are closed and guarded by soldiers. The tourist cabins and attractions are empty. The sound of drones is now a constant, irritating buzz. Occasionally, a boom can be heard in the distance.
In recent days, anti-tank guided missiles, mortars and an anti-aircraft missile have been fired from the Lebanese side of the frontier, while Israel has used artillery and drone strikes to kill at least 50 members of Hezbollah.
The meaning of the exchanges, however, remains ambiguous, with some analysts suggesting that while Hezbollah is keen to signal that it is engaged at a low level, it does not want to escalate to a full-blown conflict, amid opposition to war from a large section of Lebanese society already battered by economic and political crisis.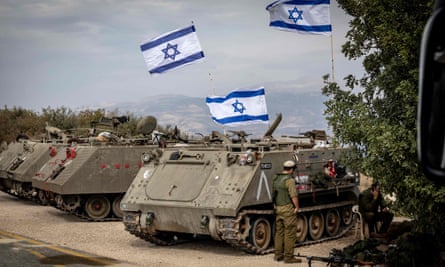 Outside his house, in a quiet street where officials from Israel's social services were checking up on those who remained, Ottolenghi says he prefers to stay where he has his own bed. His neighbour, he says, was not in the flat that was hit. The woman who lived downstairs fled as the rocket struck; the door to her home is still gaping open.
Asked what the future holds, he replies with a formulation that others in Kiryat Shmona use. It is in the hands of the "enemy", not Israel.
"We don't know. It depends on what Nasrallah and Khameni decide," he says referring to Hassan Nasrallah, the general secretary of Hezbollah and Iran's supreme leader, Ali Khamenei.
"I think the Lebanese still remember 2006," he says, recalling the second war between Israel and Hezbollah that led to heavy damage in Lebanon, "and I don't think they want war".
The real question, pored over endlessly in Israel, is what Hezbollah intends with the border skirmishes being fought across the bare rocky slopes. Is the group seeking war, or something less than war?
In a sign that Hezbollah is trying to limit the scope of the conflict, it has refrained from firing rockets such as unguided Katyushas or others that can fly deep into Israeli territory – a step that could prompt an escalation.
Instead, its fighters have fired at visible targets across the frontier, using weapons such as guided anti-tank Kornet missiles, a weapon the group used extensively in 2006.
At the same time, however, the scope of the clashes has spread since 7 October, when Hamas launched its massacre of 1,400 people in southern Israel – an attack that rapidly drew other Iranian-backed actors into the widening fray, including Yemen's Houthis, who targeted the Red Sea port of Eilat with a drone this week, and factions in Syria.
In the past three weeks, analysis suggests, both Israel and Hezbollah have fired ever deeper across the frontier, widening the zone of attacks to a confrontation zone perhaps 12 miles deep – leading to fears that a single incident could tip the confrontation into something more serious. This week an anti-aircraft missile was reportedly fired on a crewed Israeli aircraft.
"We are seeing the escalation going steadily up every few days. It is a steady pattern," Randa Slim, a Lebanese expert with the Middle East Institute recently told Al Jazeera. "The trend is telling … but so far, it doesn't appear to be out of control."
Assessments of Hezbollah's calculation in the escalating clashes fall into two camps, however.
On one side is the view is that Hezbollah is trying to avoid a wider conflict, but also does not feel it can be seen to be passive in the midst of Israel's escalating assault on Gaza; it is therefore limiting attacks to what it believes Israel will not see as a serious provocation.
A second view is that Hezbollah is pursuing an incremental strategy that may reach a point of no return, calibrated to the scale of Israel's ground invasion of Gaza.
Among those in the first camp is Yonah Jeremy Bob, the Jerusalem Post's senior military analyst, who sees Hezbollah's decision not to employ its huge arsenal of long-range missiles, despite Israel's launching a ground campaign in Gaza, as evidence it has decided to stay out of a larger war.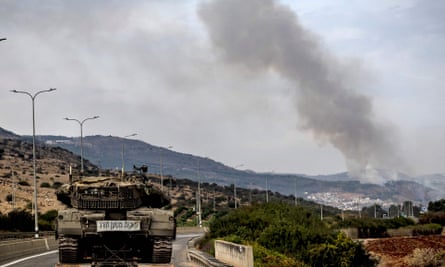 He acknowledges that Hezbollah's activity is no longer sporadic rocket fire but rather "constant daily operations against Israel – including rocket fire that is bigger and travels farther, constant anti-tank missiles, the systematic disabling of border sensors, and attempts to carry out small-scale penetrations into Israel".
However, he says: "All of this might incorrectly lead to the assumption that Hezbollah succeeded in shifting the dynamic of the conflict with Israel – firmly establishing a two-front war."
Instead, "now that the ground invasion into the Gaza Strip [has begun], we can carefully begin to assert that Hezbollah leader Hassan Nasrallah has decided to stay out, not start a war."
And while that may be true, it is little consolation – either for the tens of thousands of people who have evacuated from Israel's north or those who have remained.
In the large resort he manages less than two miles from the frontier, Armin Grunewald surveys the impact on an area renowned for its tourism.
With the hotel dark and shuttered, and its 200 staff on unpaid leave, he is doubtful about reopening in any meaningful way before spring. Only his kitchen is busy, buzzing with volunteers from the local kibbutzim who are using it to cook hot meals for the soldiers deployed to the north.
"I've lived here for three years," he says. "Before 7 October I had heard an explosion once. I think. Now I hear something every day and the drones are flying 24/7.
"I've been reading the Lebanese newspapers recently. The Lebanese don't want a war. But who can control Hezbollah?"