Jamaica was never afraid to stand on the side of justice – silence on Gaza shames us
For Jamaicans, the absence of the country's representative at last week's UN general assembly vote on a call for a "humanitarian truce" in the Israel-Hamas war was more than just an embarrassing political effort to "walk between raindrops", as one government critic put it. It was shameful.
In the annals of international diplomatic history, Jamaica's decision on apartheid in July 1959 was a pivotal moment.
Prior to this, the world had witnessed India's efforts at the UN to condemn South Africa for its racist treatment of Indians in 1946-47, before the country descended into the era of legally defined apartheid. But it was not until more than a decade later that Jamaica become the first nation to initiate sanctions against South Africa.
The response from the South African government was volcanic. They decried the move as a blatant intrusion into their sovereignty, urging the British colonial power to intervene and quash Jamaica's audacity.
The South African authorities were not merely angered; they were deeply apprehensive that Jamaica's action might set in motion a ripple effect of sanctions imposed by other countries. Jamaica, a member of the West Indies Federation since 1958, had the potential to spark a political chain reaction across the British Caribbean.
The Jamaican government's decision was far from impulsive. The implementation of trade sanctions against South Africa had been a topic of intense discourse within the ruling People's National party and among cabinet ministers for nearly two years before its public announcement in 1959. Nurtured within the echelons of government, it was a cogent decision, bearing witness to the imperatives of justice.
As the then Jamaican chief minister, Norman Manley, explained: "The ban on trade with South Africa is a logical and proper act done in respect of a country which denies to its own people all the basic human rights and denies to coloured people all over the world every right of human rights intercourse.
"Since we cannot send a coloured athlete to South Africa, nor even a cricket team, with any pretence of dignity, why should we send our goods?"
Jamaica has never been a country to shy away from controversy, or been afraid to stand on the side of justice, regardless of the risk of being ostracised. After all, its greatest hero, Bob Marley, was the leading Caribbean figure to sing out against injustice and discrimination.
The prime minister, Andrew Holness, after Hamas's murderous madness, came out to show solidarity with Israel and tweeted that Jamaica stood with Israel. He called for a cessation of hostilities and a return to peace within internationally agreed guidelines, and urged them to pursue diplomatic solutions.
Now that Israel has shown its overreaching response against the Palestinians, he has said no more and, to add insult to injury, Jamaica was still deliberating on Friday while the UN general assembly (UNGA) vote was going on. What was there to deliberate? Or was this a deliberate move by one government with business ties to another?
The Caribbean has always been at the forefront of condemning racial discrimination, human rights violations, and religious intolerance. On 9 October, the Caribbean Community (Caricom) said it "abhors the attacks in Israel and the counterattacks in the Palestinian territory of Gaza".
It went on: "The savage nature of the attacks and counterattacks are the antithesis of civilised life and living. Innocent lives are being lost amidst the fervour and violence of the actual combatants."
Twelve Caricom countries voted for the UNGA resolution supporting "the ongoing efforts of the UN towards a two-state solution as the best way to achieve comprehensive peace, security and tranquillity between Israel and Palestine".
Caricom emphasised that it "joins the responsible members of the international community in calling for an immediate ceasefire and end of hostilities by all parties", continuing that "the recent round of hostilities reflects the pain and suffering of ancient quarrels.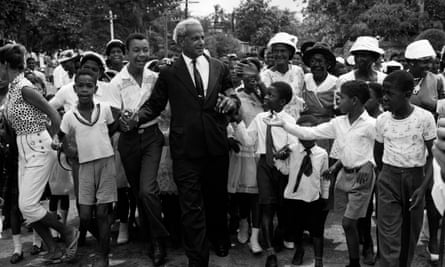 "The ongoing harsh conditions under which the Palestinians live in veritable colonialism and Israel's sense of insecurity will contribute to a cycle of violence until those realities are definitively addressed," Caricom said.
The UN secretary general, António Guterres, one of the more sober thinkers in world politics, called for an end to "epic suffering" in Gaza that amounted to the "collective punishment of the Palestinian people", in violation of international law.
"To ease epic suffering, make the delivery of aid easier and safer, and facilitate the release of hostages," he said. "I reiterate my appeal for an immediate humanitarian ceasefire."
Guterres rightly denounced the "appalling" attacks on innocent civilians by Hamas. But the violence, he went on, did not happen in a vacuum.
"The Palestinian people have been subjected to 56 years of suffocating occupation," he said. "They have seen their land steadily devoured by settlements and plagued by violence; their economy stifled; their people displaced and their homes demolished."
Palestinians have lived under an apartheid system for years.
This war will no doubt be recorded in history as another era of man's inhumanity to man. We in the Caribbean stirred up the Black Power movement in the 1960s and 70s. As proud and resilient descendants of enslaved and indentured peoples, who have lived under colonialism – and to this day are still suffering the economic and social impact of these atrocities – we know what it is to be the underdogs in world politics and to be seen as inconsequential perennially.
As we witness another abhorrent genocide of people during our lifetime, unfolding on the world stage, we can only express condemnation of the warmongers on both sides. But this is just a manifestation of "the hate that hate produces". However, we should never stand by quietly.
As Martin Luther King said: "Injustice anywhere is a threat to justice everywhere."
The proud history of the Caribbean has been let down by Jamaica's government quietly standing by.