Howard University Creates First HBCU Figure Skating Team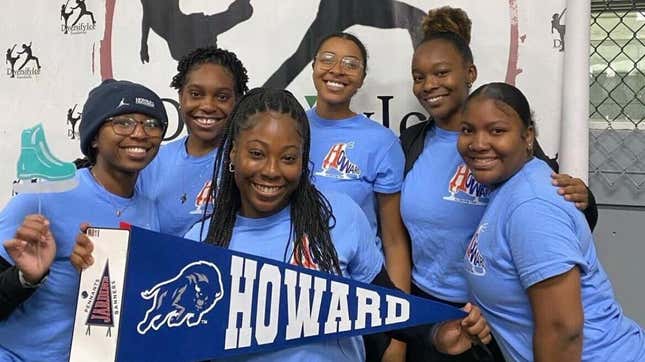 Howard University has just made history as the first HBCU with a figure skating program! Students Maya James and Cheyenne Walker were both skaters before deciding to dedicate their college years to Howard University, which didn't previously have a skating program. The two ladies connected with each other via Instagram in late 2022, and expressed how much they missed doing the sport they grew up perfecting. They then got to work to start the club on their own.
The Real Estate Godfather of Harlem Tackles Gentrification & Generational Wealth | Securing the Bag
It took a semester for the club to be officially registered by the school and U.S. Figure Skating, and in the summer of 2023, the club was clear to start recruiting. Unlike other college sports that usually recruit people with previous experience in the sport, this skating program was intended to be available to everybody. The program is split into two levels. One level is for people with prior experience ready to travel and compete in February 2024 at the University of Delaware. The other group is filled with varying levels of skaters learning how to perfect their skills.
The founder of the Diversify Ice Foundation Joel Savary and Joy Thomas, a fellow board member is coaching the skaters. Savary is a U.S. National and International skating coach who helped his brother train to be in the U.S. Jr. National Championships and eventually on Team USA. He created the foundation to give people with various hardships the opportunity to learn the sport.
In January of this year, Fisk University competed in its first meet as the historic first HBCU with a gymnastics team. In February, Howard University's all-black swim team won its first conference championship. HBCUs are slowly but surely challenging stereotypes by creating all-Black teams that dominate historically majority-white sports. Which sport is next?
While speaking with U.S. Figure Skating, Ariel Clarke who is a member of the team reflected on the importance of making history:
"Being the first of anything is a really big responsibility because you're trying to set the precedent for everyone else," Clarke said. "[Another member of the team, Gabrielle Francis], thought she was the only skater at Howard University and so did I, but the whole time we were in the same space with each other, and we didn't even know. So, if there is another HBCU that feels like they should create a figure skating team or is inspired by our story, I think that would bring a lot of the current skaters on those campuses together to create a powerhouse of HBCU skaters."