Donald Trump Jr. set to testify Wednesday in New York fraud trial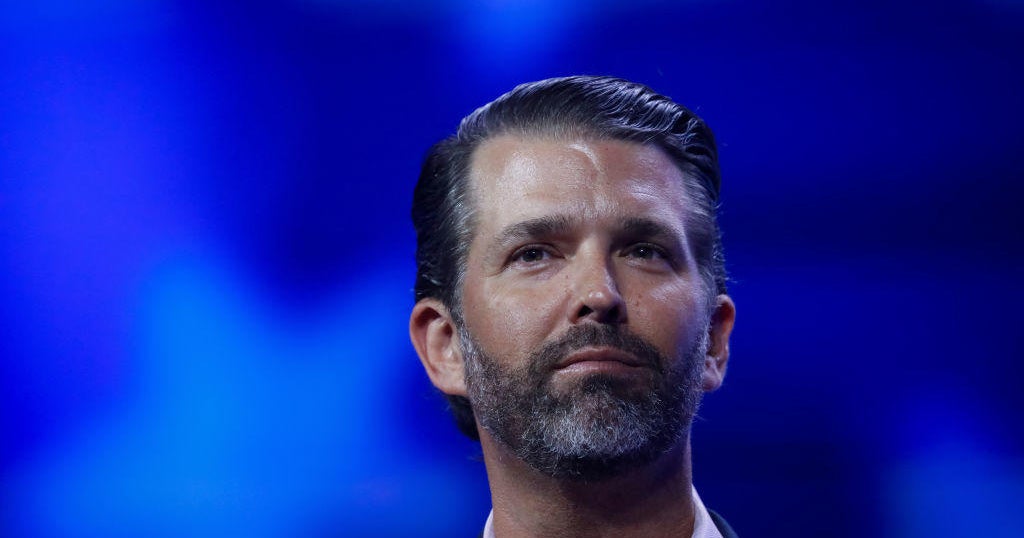 Donald Trump Jr. is expected to take the stand Wednesday in the New York civil fraud trial pitting his family and namesake company against New York Attorney General Letitia James.
The former president's eldest son is the first of four Trumps expected to testify in the trial. Eric Trump, Ivanka Trump and their father Donald Trump are also expected to be sworn in to testify under oath in the coming days.
Their company, the former president and his two adult sons are accused of engaging in a fraud scheme that netted them hundreds of millions of dollars by falsely inflating property valuations, and Donald Trump's wealth, in deals with banks and insurers. Ivanka Trump was named as a defendant when the state's lawsuit was filed in September 2022, but a New York court later dismissed the claims against her for being outside the statute of limitations.
Trump Jr. is a key decision maker at the Trump Organization, where he is an executive vice president. He is also involved in the management of a trust created for his father's assets after the 2016 presidential election. Both roles put him at the center of the state's fraud case.
Lawyers for the attorney general have described Trump Jr. as among a senior group of executives who were privy to closely held details about the company's finances.
"Documents obtained by [the Attorney General] establish that Donald Trump, Jr. received his own memoranda discussing the general financial position of the Trump Organization and detailed analyses as to the performance of specific assets," they wrote in a January 2022 filing in the case.
His work as a company executive involved many of the properties and deals that are a focus of the case, including the financing and development of Trump International Hotel & Tower, Chicago, and Trump International Golf Links in Aberdeen, Scotland, as well as commercial leasing deals at properties including Trump Tower and 40 Wall Street in Manhattan.
After his father was elected president, Trump Jr. signed off on so-called statements of financial condition — documents the state says were core to the fraud scheme. The judge in the case has already ruled that the defendants engaged in fraud. He agreed with James' office that the statements, which portrayed Trump's wealth as billions of dollars more than what was truthful, were given to banks, insurers and others.
Trump Jr. and his siblings were involved with the statements, at least in a limited fashion, even before their father was elected, according to one witness in the case. With the former president watching, shaking his head in seeming disbelief, his former lawyer and "fixer" Michael Cohen testified on Oct. 25 that the three Trump scions were sometimes consulted by another company executive who oversaw production of each year's statement.
The defendants have all denied wrongdoing in the case, and the Trumps have all accused James — an elected Democratic official — of pursuing them for political gain.
"They've set the game up so it's always lose/lose in these blue states. If you don't abide by their narrative they will target you," Trump Jr. tweeted on Sept. 26, after Judge Arthur Engron's pretrial ruling finding the defendants liable for fraud.
They have also accused Engoron himself of bias.
"Are we still pretending that there's even a pretense of objectivity from these judges," Donald Trump Jr. tweeted that same day, about both Engoron and a federal judge overseeing a criminal case against the former president in Washington, D.C.
The lawsuit against the Trumps and their company is seeking $250 million, and several sanctions designed to limit their ability to do business in New York, including permanently barring Donald Trump, Donald Trump Jr. and Eric Trump from serving as an officer or director in any business in the state.