Otto Baxter: Not a F***ing Horror Story review – a fun, clever show about a director with a difference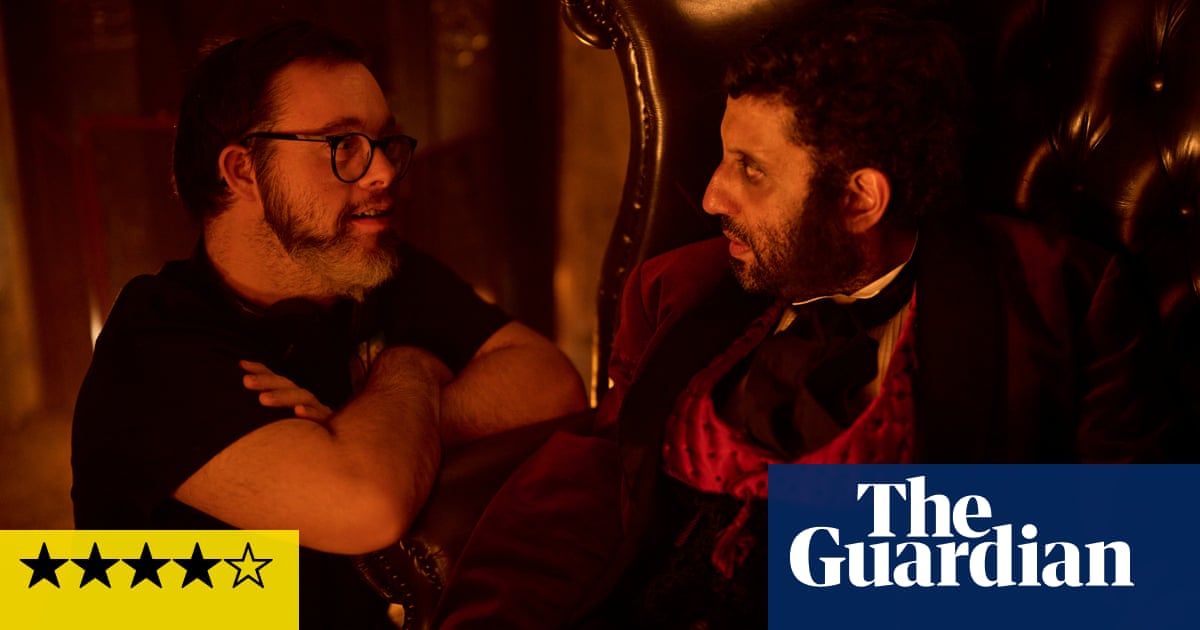 About halfway through Otto Baxter: Not a F***ing Horror Story, we see a snippet of a speech given by the screenwriter Jack Thorne at the Edinburgh TV festival a couple of years ago. "TV has failed disabled people, utterly and totally," Thorne said, as part of his MacTaggart lecture. This documentary, which follows a man with Down's syndrome who writes and directs his own horror film, is a testament to the slow changes that are, hopefully, beginning to emerge. Nestled in between its many layers, one of the main themes seems obvious, in hindsight: Baxter should be telling his own story, and deciding how he wants to tell it.
Baxter is 35, but explains that he has been on TV for most of his life. His mother Lucy, who adopted him when he was a baby, regularly appeared on television to discuss life with her four children, all boys with Down's syndrome, "to show everybody how amazing they are". There are clips from TV vaults, of Baxter and his family on TV-am or The Real Holiday Show. But it was in 2009 that he first worked with Peter Beard and Bruce Fletcher, on a BBC documentary called Otto: Love, Lust and Las Vegas, about him trying to have sex for the first time.
The trio became firm friends, and, as it transpires later in the documentary, Beard and Fletcher have taken on a much more significant role in Baxter's life. But here, they are helping him to write and direct a film about his own life, told as he wants to tell it. Baxter wants it to be a horror story, with a few musical interludes, and this idea comes to fruition as The Puppet Asylum (which was shown directly afterwards, and is a must watch).
It is a long process from page to screen. They begin in 2017, with enough funding secured to start filming, though funding is a constant pressure. We see script meetings, which take on a near-therapeutic quality at times. Beard and Fletcher observe that they rarely see Baxter talking about difficult subjects. He tends to avoid them, preferring to discuss films, music, girls, "top fives or top tens". Writing the story of his life, though, opens up conversations about the choices he makes, and why: from being born a monster ("That's what people always called me," Baxter explains) to honest, complex discussions about his birth parents, and the pain he has held on to for many years – pain that, in some cases, even Lucy did not know about.
Lucy appears regularly, to discuss raising Baxter and his brothers. She wanted to bring them up in the mainstream, she says, though she is frank about the challenges that she faced along the way. There are clips from archive news reports that feature slurs and stigmatising language and concepts that are delivered with awful casualness. There is a steady drip of indignation, and the film stands as an indictment of the historical perception of people with Down's syndrome, but it also suggests that in the last 50 years much has changed; or that things are, at least, in the process of changing.
Perhaps this is an overoptimistic view. Certainly this documentary makes it clear that Baxter faces prejudice and discrimination in many forms. His mother says he encounters this every single day. But the film encourages optimism. The tone is fun, piss-takey and warm. Baxter says he was born in 1897, jumbling the numbers. "That explains the grey in the beard," quips Beard. Baxter's voiceover gives the story its shape and context, but when we see him recording it at the start, he says: "Pete and Bruce … are really fucking annoying." They point out that this is not what it says in the script.
The documentary does not shy away from trickier issues, either. Baxter flirts with one of his stars and refers to another woman on set as "the director's girlfriend"; he is told, on more than one occasion, that such behaviour makes people feel uncomfortable. There is also a powerful discussion with Baxter about his fears for what will happen to him when his mother dies, which leads to an explanation of how Baxter's social care functions, and will continue to function. I am sure this is my own ignorance, but I had never really seen anything like that on screen before.
Ultimately, this clever, thoughtful and amiable film is all about The Puppet Asylum and how it was made, and what Baxter's life looks like to him when explored through his own creative imagination. Within that, there is a clear message that there is so much more potential to be unlocked. "There are many, many other Ottos about," as Lucy says.