'The least we can do is care for their children': Libyans rally to protect Derna's orphans
People in western Libya have rallied round to provide care and breastmilk for young children orphaned by the devastating floods that hit the coastal city of Derna on 10 September.
Hundreds of traumatised babies and young children are thought to have lost their parents in Derna, where whole neighbourhoods were wiped out after two dams broke.
"Infant children do not wish to use artificial feeding bottles, which forced us to search for breastfeeding mothers," said Mona Alashi, a volunteer.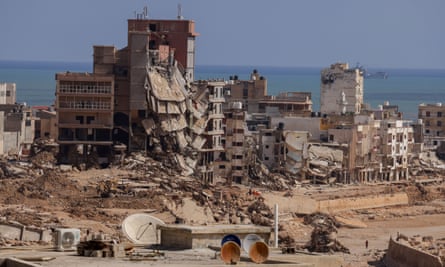 Nawal Alghazal, a 62-year-old resident of Benghazi, has started a campaign to collect breastmilk from women already breastfeeding their own children and distribute it to children whose mothers are dead or missing.
"The least we can do for our country and the people in Derna is to take care of their children," said Alghazal, who has taken 70 young children into her care since the disaster.
Another woman, Marwa Abdelrazzaq, said she was willing to take in a Derna orphan and promised to provide the same care and attention as she does for her own daughter.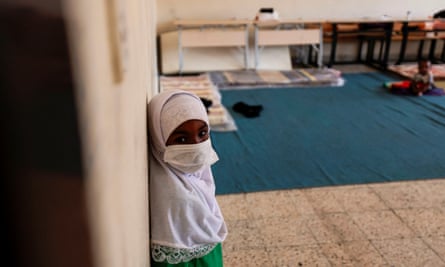 According to Unicef, children who lose their parents or are separated from their families are more vulnerable to dangers such as violence and exploitation.
Noura Eljerbi, a Libyan journalist, nevertheless cautioned against rushing to relocate children before the paperwork was completed to classify them as orphans, which would increase the likelihood of them being matched with relatives.
Eljerbi estimated that about 400 children separated from their families in Derna are now living in two schools converted into shelters. Every day, desperate people come by the schools searching for missing relatives.
In theory the ministry of social affairs is responsible for caring for orphaned children in the first instance and arranging their long-term care with foster families, but after years of political fracturing and violence, trust in institutions of the state is low.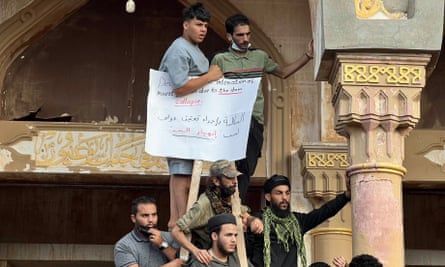 Abdelnabi Abu Araba, a civil activist, said he had received nearly a thousand offers of foster care through his Facebook page and phone contacts. While praising the empathy of his fellow citizens, he also expressed concern that some would-be fosterers were offering to help on impulse after being moved by the horrific scale of the flooding disaster.
Abu Araba emphasised that the ability to provide financial support was not the sole criterion for becoming a foster carer, and that a person's social situation and behaviour should also be assessed. He noted that the social affairs ministry would normally conduct a wide survey of a prospective fosterer before coming to a decision.
The floods in Derna inundated as much as a quarter of the city, officials have said. Thousands of people were killed, with many dead still under the rubble or at sea, according to search teams. Government officials and aid agencies have given varied death tolls ranging from about 4,000 to more than 11,000.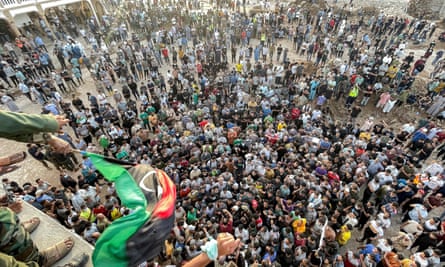 More than 43,000 people have been displaced in the area, including 30,000 in Derna, according to the UN's migration agency. Many people have moved to other cities across Libya, hosted by local communities or sheltered in schools.
Local authorities said they have isolated the worst-damaged part of Derna amid growing concerns about waterborne diseases. Health authorities have launched a vaccination campaign that initially targeted search and rescue teams along with children in Derna and other affected areas.
On Monday hundreds of angry protesters gathered outside the main mosque in Derna, where they castigated the political class that has controlled Libya since the dictator Muammar Gaddafi was ousted and killed in a Nato-supported uprising in 2011.
Bushra Kareem, a 37-year-old volunteer, is working to identify children who have made it out of Derna with and without their families and provide psychological support to help them integrate into schools before the academic year starts.
Kareem said that even if children managed to make sense of what has happened to them, reality could become blurred with their imagination, making them susceptible to "severe disturbances" involving fear, anxiety, and other psychological symptoms.
Several social media pages have shared heartbreaking accounts by children recounting the moment when they were swept away by the flood waters.
Kareem said she was encouraging parents to seek the assistance of volunteer psychological support professionals for children and ensure that these children receive psychological support, either individually or in group sessions with other children.